Product Brief Introduction
This cast iron casserole is one of Sarchi's best-selling models, as well as a hot-selling model in the market. The appearance of this soup pot resembles Staub's classic model, and its quality is comparable to Staub's casserole, and it is a cast iron dutch oven with a relatively high cost performance. One of the. The color of this soup pot is beautiful and there are many sizes. Whether you are just engaged in the cast iron cookware industry or a businessman who has been in the cast iron cookware industry for many years, it is a wise move to buy such a pot and sell it.

About Logo
Usually we can put your logo on the lid, and also on the pot button. If you have other requirements for the logo, of course, there is no problem. You are welcome to put forward your own ideas at any time, and we will give you a satisfaction s solution.
About Accessories
Accessories can also be added, including silicone hot handle holder, proximity gloves, etc.If you have special needs, please let us know and we will do our best to realize it for you.In addition to the following accessories, we can also provide matching glass covers, as long as you have requirements.

About Package
The usual packaging is brown box, color box or white box. Of course, we can also customize it according to your needs. If you are selling online on Amazon or other places, we can provide mail-order packaging to ensure that it can be dropped. Box test, you can click the link to learn about the content of the box drop test. If you are selling in offline stores, we can also provide other packaging methods, such as display boxes. About Sarchi's packaging system, if you want to know more about it, please click here.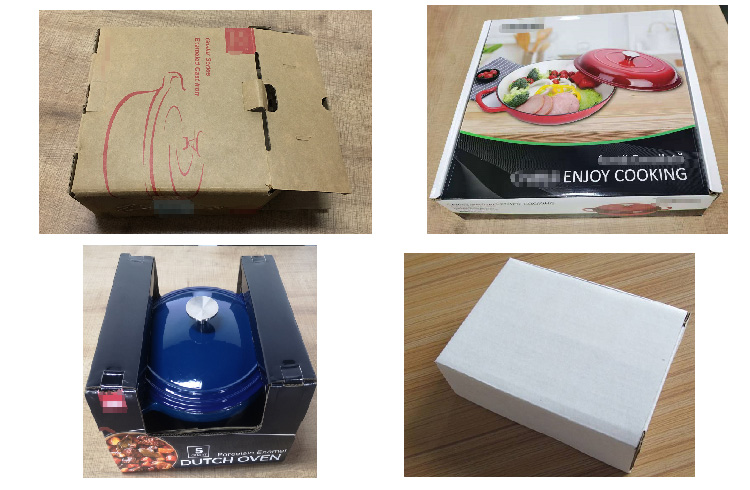 About Product Certificate
Our products can pass FDA, CA65, EU, LFGB and other tests. If you want to view our other test certificates, please click the link.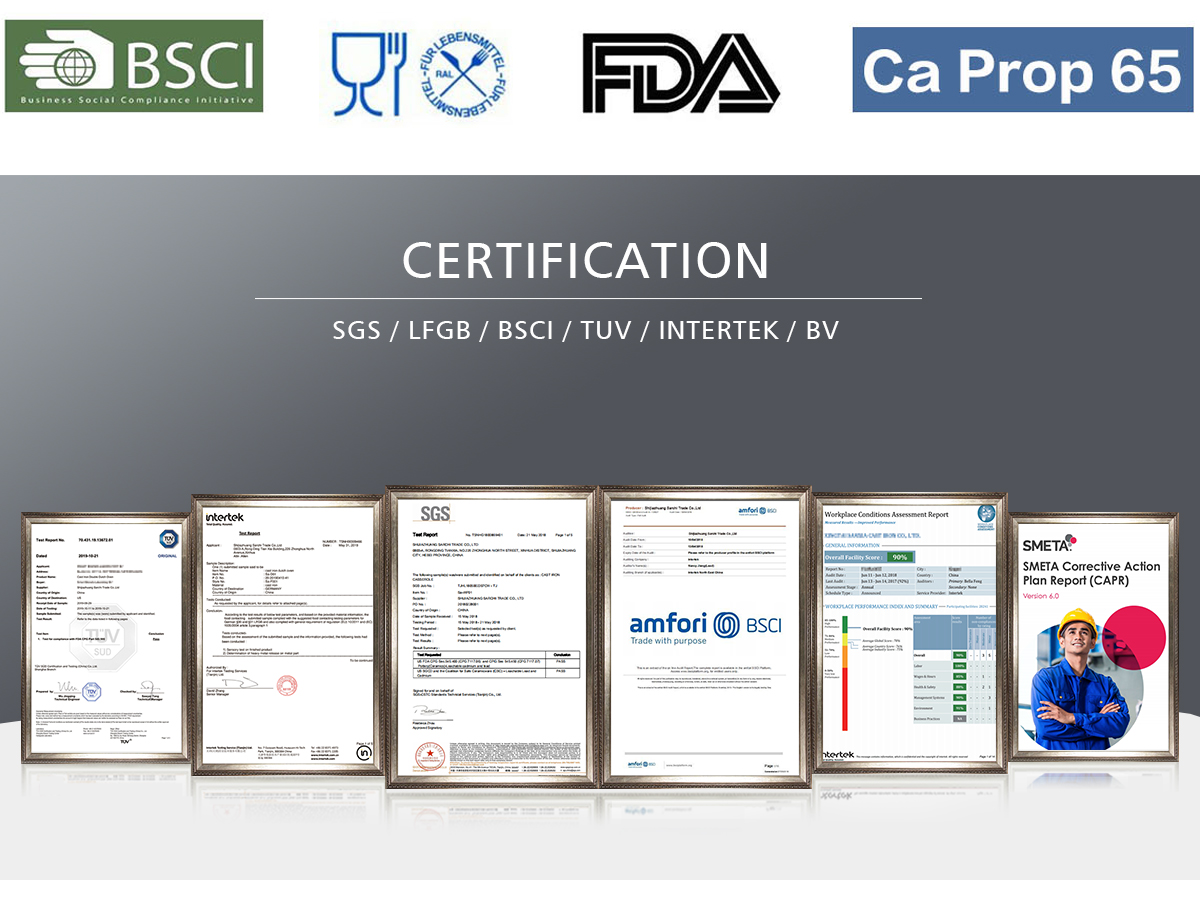 About Factory Strength
Regarding the production process, we will also strictly control, and each process will be supervised by our quality inspectors,if you want to know more about product process,please click the link
If you are interested in this product, please do not hesitate to contact our professional sales staff, they will provide you with satisfactory service.



About Customized Service
We can provide you with the following customized services, if you need these services,please do not hesitate to contact us.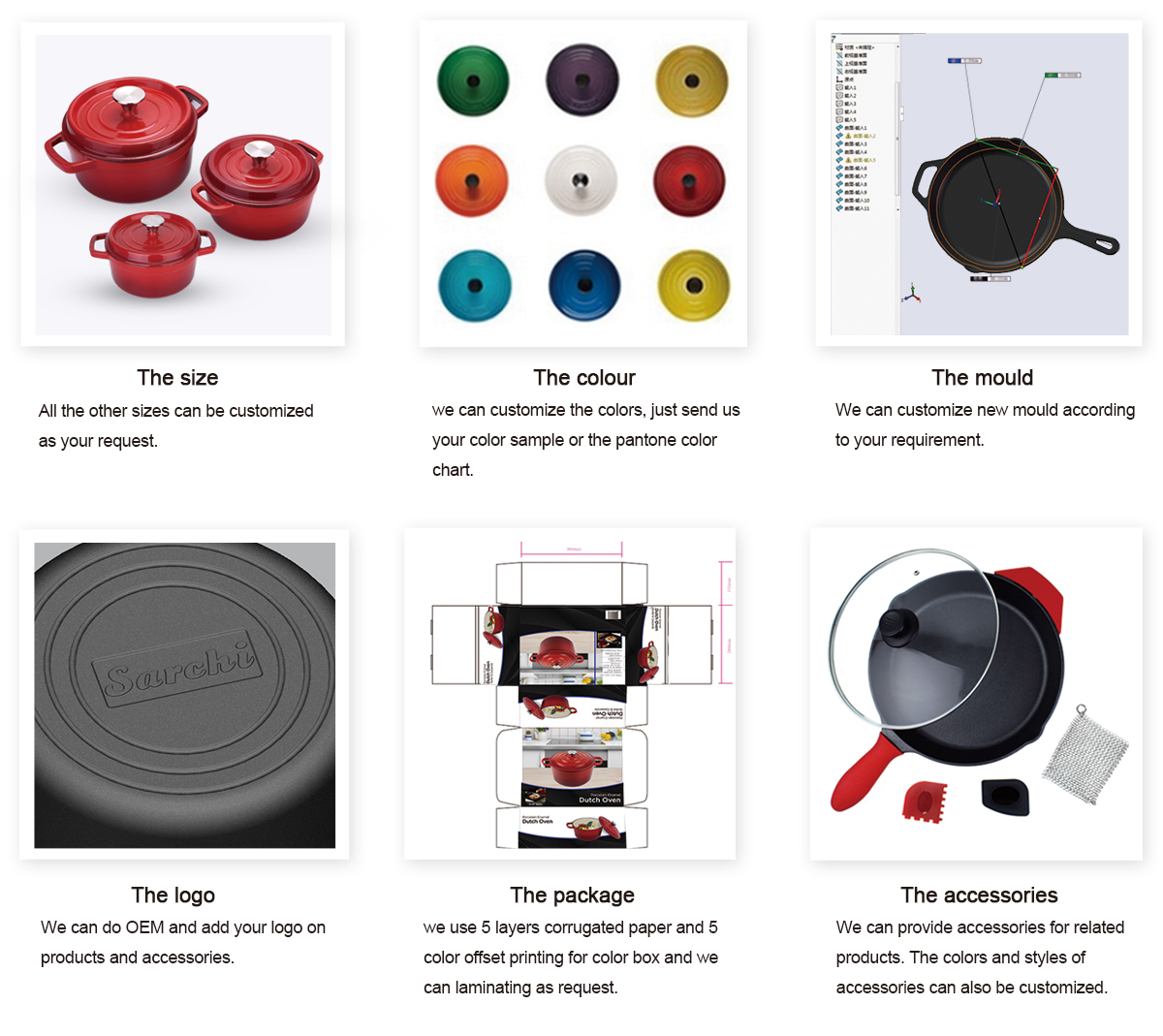 If you are interested in cooperating with us, the following is the process of our cooperation.
Received an inquiry from you-------Sales staff will communicate with you about your needs-------Make samples and mail them-------Sample is satisfied, Checked product price,quantity and delivery date ---- --Receipt of prepayment order and product production-------Receive final payment and delivery
Feature:
1. Heat preservation and uniform heating. The material of the soup pot is cast iron enamel material, which has the heat preservation performance and uniform heating performance of all cast iron pots. This performance makes you more comfortable when cooking.
2. Wide range of uses. This soup pot can cook almost all ingredients, and there is no problem with acidic and alkaline foods.
3. Compatible with all cooktops. It is compatible with all stoves, Works on gas, induction, glass ceramic & electric stove top.
4. Serve directly. Beautiful appearance and heat preservation of food, if you put it on the table, it will be a magical effect. It will not only increase the beauty of eating, but also enjoy the deliciousness.
5. Will not rust. Due to a layer of enamel coating on the pot body, this protects the pot well and will not rust.