Cast Iron Rectangular Griddle

Material

Cast Iron

Size

50.5*26*2.5cm, 42*28.9*2.5cm

Finished

Vegetation Oil

Color

Black

Logo

Available
Detail of cast iron rectangular griddle
A cast iron rectangular grill pan is a versatile cooking tool that is perfect for grilling meats, vegetables, and other dishes. It is made of heavy-duty cast iron, which is known for its durability and excellent heat retention. The pan has raised ridges on the surface, which allow excess fat and grease to drain away from the food as it cooks, resulting in healthier, lower-fat meals. The pan also has a long handle, which makes it easy to lift and move around, and a wide base, which allows it to sit securely on the stovetop or grill. The pan is also compatible with all heat sources, including gas, electricity, and induction, making it a convenient choice for any kitchen. Overall, a cast iron rectangular grill pan is a reliable and essential kitchen tool that is perfect for grilling a variety of dishes.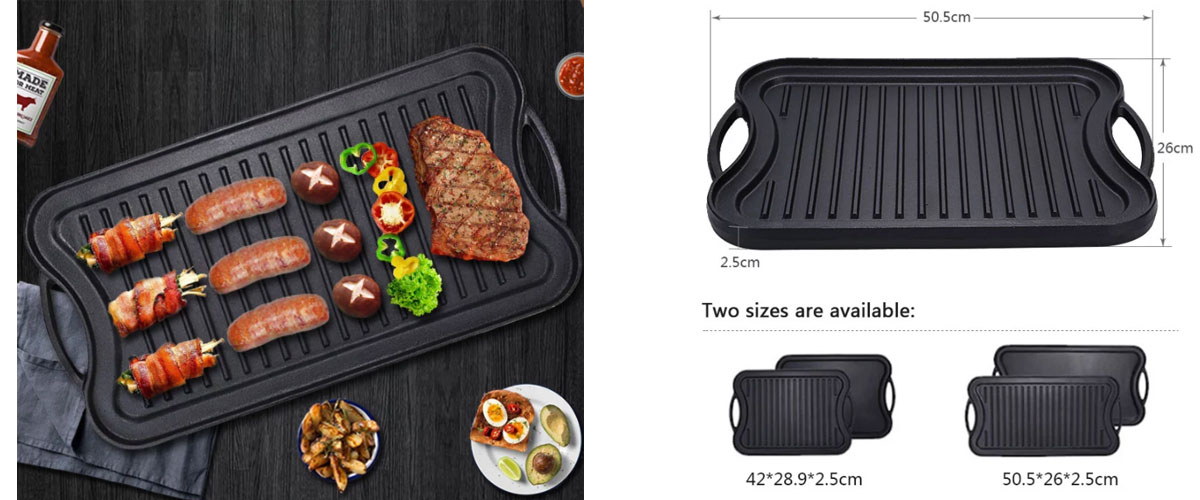 Advantages of the cast iron rectangular grill pan
● Reversible grill/grill pan fits two stovetop burners.
● Heavyweight cast iron transfers and retains heat evenly.
● Pre-seasoned, smooth surface prevents sticking and rusting.
● Lifting handle provides an ergonomic grip and superior control for the grill and skillet.
● Drip tray on each side to collect liquids.
● Low rims for easy turning of food.
● Ideal for use on any type of cooktop, including induction.

This cast iron rectangular griddle is Sarchi's best-selling griddle as well as the market's hot-selling product. Usually, we have two sizes. Other sizes can also be customized according to requirements. This kind of long griddle pan has a large cooking surface and can be used at a time. Turn on two burners at the same time to make breakfast for multiple people, and this griddle pan is double-sided, and both sides can be cooked. One of the raised ribs on the cooking surface is very suitable for burning meat and keeping food away from excess fat. , The meat made is full of color and flavor. The other surface is flat, and fried eggs and toast are handy. Two symmetrical auxiliary handles make it very convenient to move the baking sheet. Its use is more extensive, whether it is at home or outdoors, it is very convenient to use.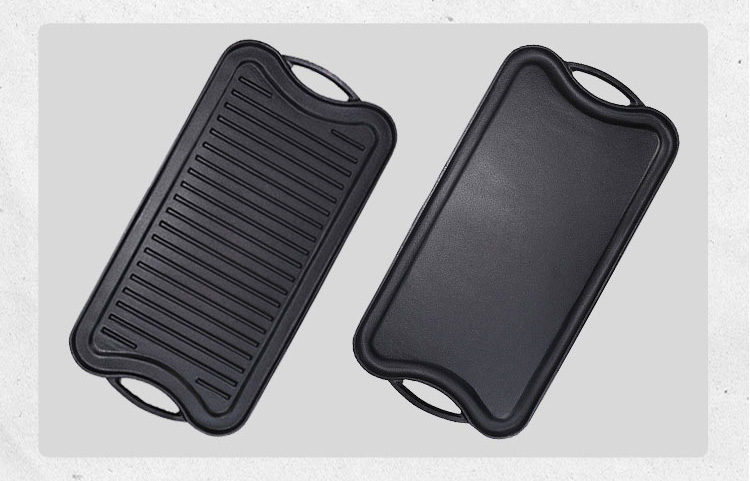 More features of the cast iron rectangular griddle
● About Coating. This Griddle Pan is pre-seasoned with vegetable oil, and after being baked at high temperature, the surface of the griddle pan has a layer of vegetable oil, the griddle pan will be more non-stick, and not easy to rust. The oils used in our coating are all vegetable oils that meet the food grade, which is natural and healthy.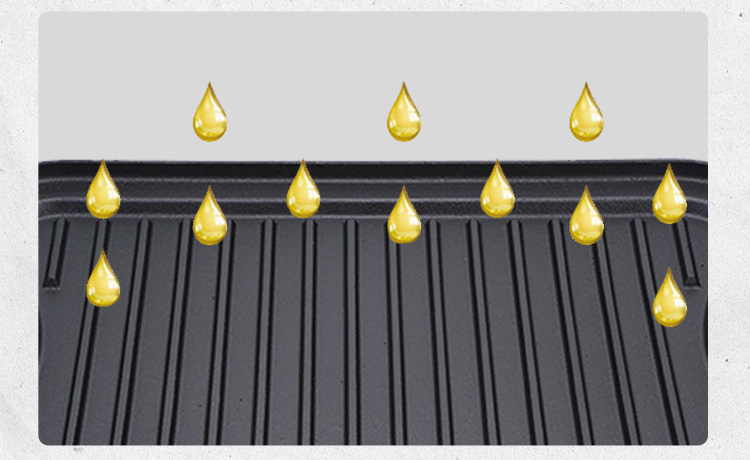 ● About Flatness. Our griddle is hoisted and cleaned in the production process, that is, they are hoisted in the process of cleaning the products to remove sand (many manufacturers use the form of rolling and throwing uniformly when cleaning products for convenience. Which will cause the griddle to deform), which greatly guarantees the flatness of the griddle. We will also test the flatness of the finished product.

● Wider handles than the competition, easier to grip with insulated pads, medium cooking surface area for cooking and grilling multiple foods at the same time.
● Lifetime high-quality commercial cast iron casting for durability and superior heat retention using European cast iron machines suitable for cooking induction ceramic campfire grills and ovens.
● Healthy. When cooking with seasoned cast iron, trace amounts of iron are naturally released, fortifying the diet with minerals.
● The versatile and multi-purpose cast iron grill is perfect for burger steaks, tacos, seven-leaf tacos, vegetables, fajitas, eggs, and even indoor grilling. Double-sided smooth and grilling surfaces for indoor or outdoor grilling.
About Logo
We usually put your logo on the edge of the product. If you have other requirements for the logo, of course, there is no problem. You are always welcome to put forward your own ideas, and we will give you a satisfactory solution.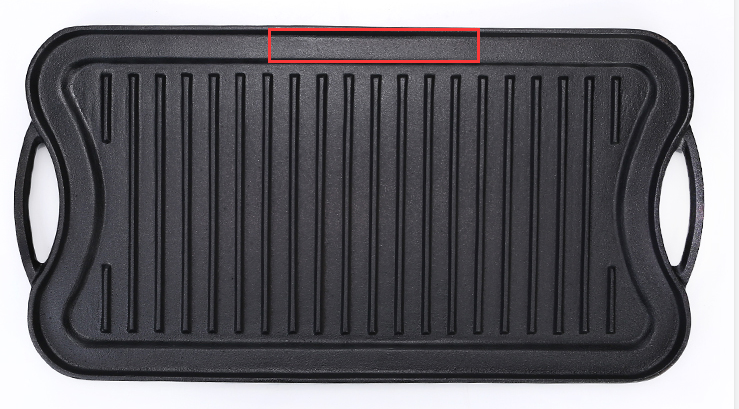 About Package
The usual packaging is a brown box, color box, or white box. Of course, we can also customize it according to your needs. If you are selling online on Amazon or other places, we can provide mail-order packaging to ensure that it can be dropped. Box test, you can click the link to learn about the content of the box drop test. If you are selling in offline stores, we can also provide other packaging methods, such as display boxes.
About Accessories
Accessories can also be added, including a silicone hot handle holder, chainmail scrubber, scrapers, etc. If you have special needs, please let us know and we will do our best to realize them for you. In addition to the following accessories, we can also provide matching glass covers, as long as you have requirements.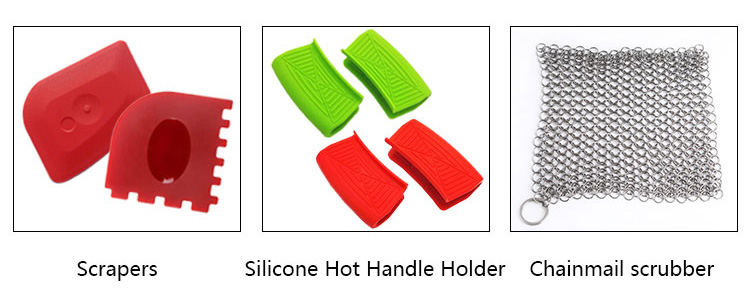 About Product Certificate
Our products can pass FDA, CA65, EU, LFGB and other tests. If you want to view our other test certificates, please click the link.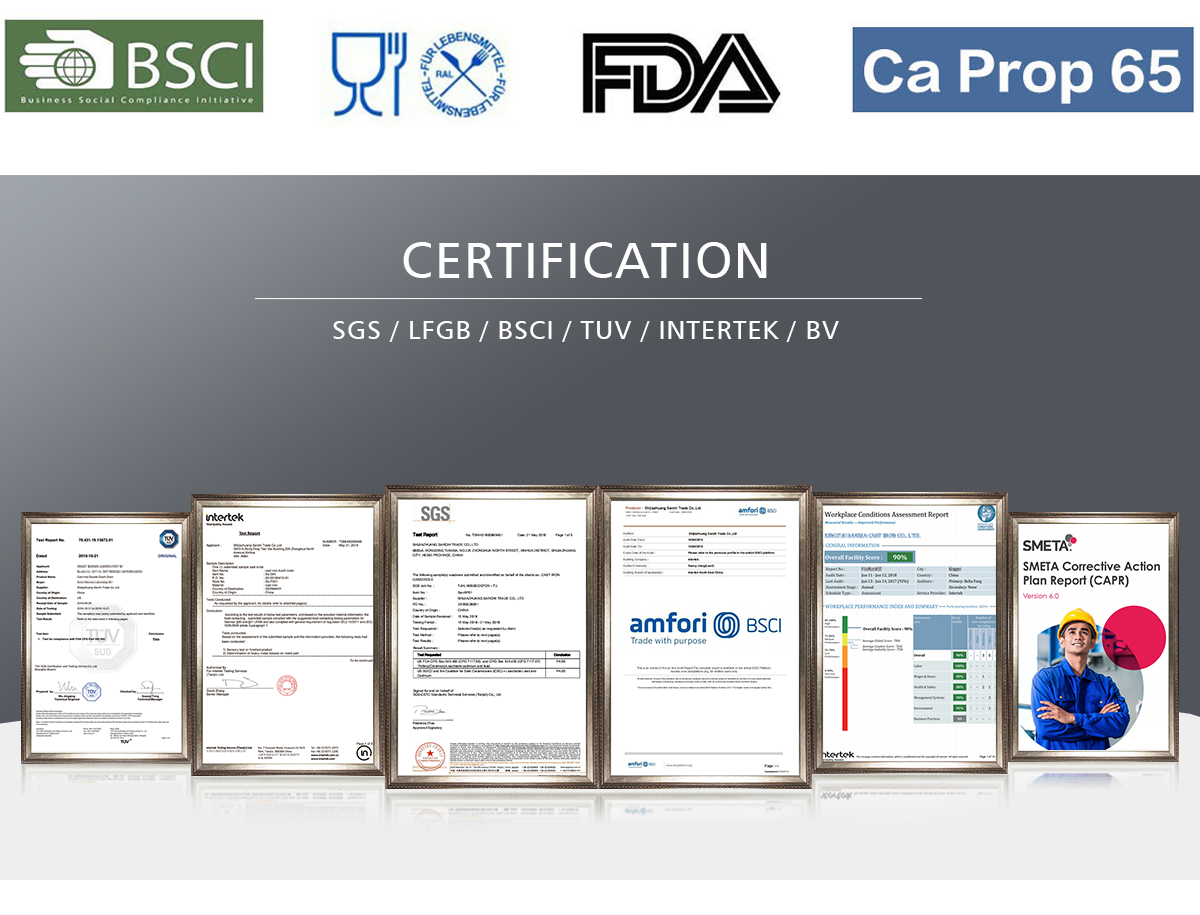 About Factory Strength
Regarding the production process, we will also strictly control and each process will be supervised by our quality inspectors),if you want to know more about the product process, please click the link
If you are interested in this product, please do not hesitate to contact our professional sales staff, they will provide you with satisfactory service.



About Customized Service
We can provide you with the following customized services, if you need these services, please do not hesitate to contact us.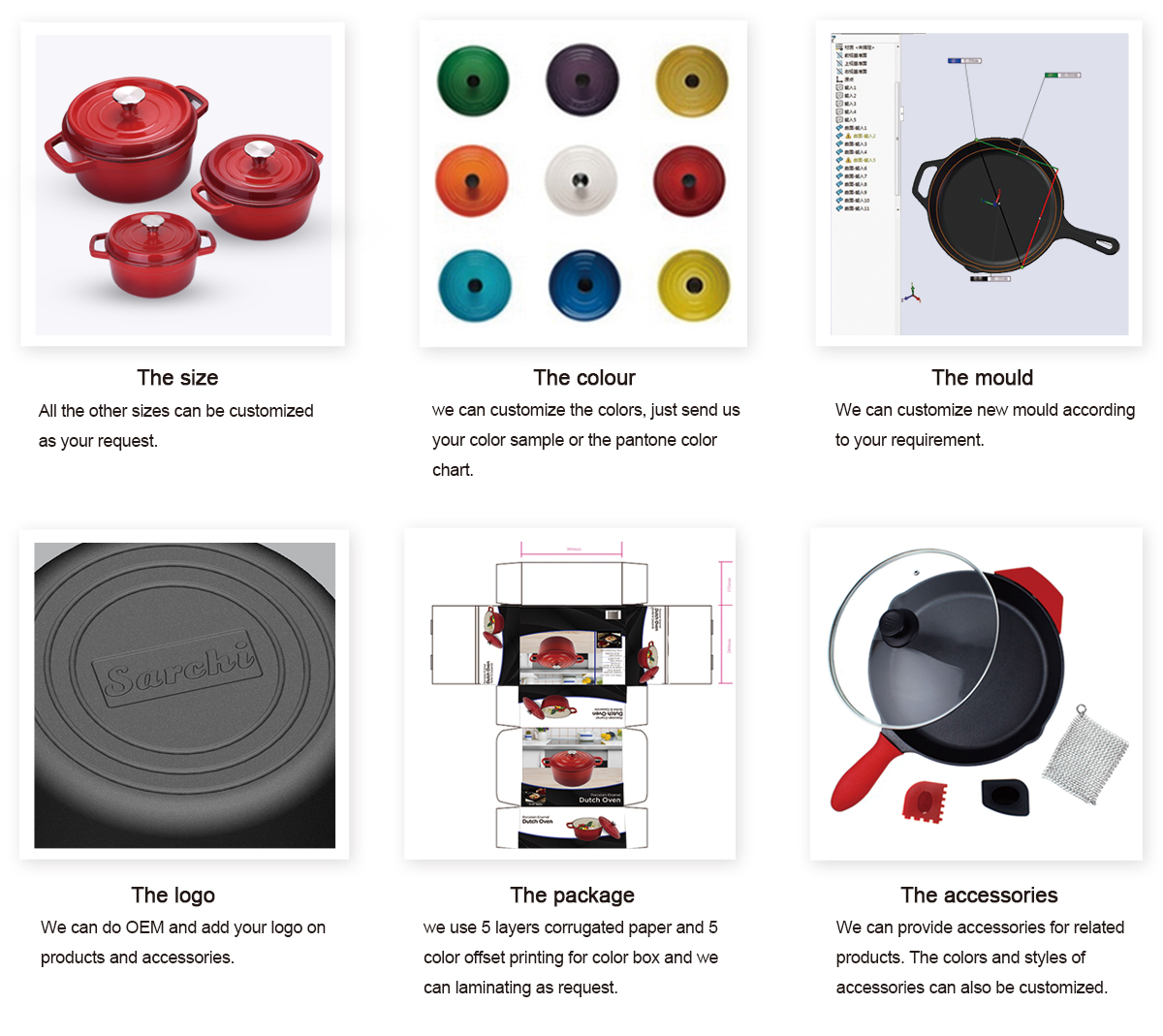 About Service Process
If you are interested in cooperating with us, the following is the process of our cooperation.
Received an inquiry from you-------Sales staff will communicate with you about your needs-------Make samples and mail them-------Sample is satisfied, Checked product price,quantity and delivery date ---- --Receipt of prepayment order and product production-------Receive final payment and delivery
Feature:
1. Heat Preservation of Cast Iron Material. The cast iron frying pan has good heat preservation, which can make the cooked food more delicious.

2. Large Cooking Surface. One griddle can use two burners at the same time, which makes it possible to cook for more people at one time. It is a perfect choice for family dinners or parties.
3. Double-sided Cooking. One side has a ribbed design for BBQ, and the other side is flat to meet different cooking needs.
4. The Shallow Edge. The shallow edges make it easy to maneuver spatulas and other cooking utensils to flip pancakes and french toast, fry eggs and sausage, and toast paninis and grilled cheese sandwiches.
5. Strong and Durable. Cast iron products are very strong and durable. No matter how you use them, they will not be easily damaged. Even if they are not properly maintained and cause rust and other problems, they can still be renewed after simple treatment. If you maintain them properly, they can become a generation of Legendary treasure.
6. Wide Range of Uses. This griddle has great applicability, whether you are in an induction cooker or an open flame stove, an outdoor grill, or a campfire, this product can be well controlled.
7. Naturally Not Sticking. The griddle is coated with vegetable oil before leaving the factory and has been treated at high temperatures. The product can be used directly after opening the box and has a natural non-stick effect. If it is well maintained, the more it is used, the less sticky it will be. To learn how to care for cast iron frying pans, please click here.