Is A Sarchi Reversible cast iron Grill/Griddle worth it? In short, yes. A cast iron griddle is an excellent, versatile product that you can use for most things. From stove to oven to outdoor grill to campfire with grace and ease. We took the grill pan for a tour of the kitchen and the backyard, cooking everything from breakfast to dinner. We found the size to be large enough for family cooking but small enough to store easily. But is this the grill you're looking for? We have the details.
Performance: A kitchen workhorse that can go outside to play
Made from cast iron that's conveniently pre-seasoned, this cast iron rectangular griddle works much like a very large cast-iron frying pan. It heats evenly and retains the heat, so you'll get consistent cooking and impressive searing or grill marks. At lower temperatures, our pancakes cooked through before they burned.
Material: Pre-seasoned cast iron
While this cast iron grill/griddle comes pre-seasoned, the nonstick qualities will improve with additional seasoning or with continued use, particularly if used for fatty foods. If you're planning on cooking bacon, steaks, or burgers right away, the grill will accumulate seasoning naturally. If you plan on cooking pancakes and tortillas, it might be wise to give the grill just a little extra seasoning. This griddle pan is also very durable and will last for years.
Heating Capacity: Heats slowly, retains heat for a long time
This cast iron rectangular griddle takes a little time to heat up, and the heat spreads across the entire surface, so you won't find hot spots. Once it's warm, it stays that way, so if you drop a cold steak onto the grill, the grill won't lose its temperature. Even after you turn the heat off, the pan will remain hot, which can help keep foods warm, but it's a good idea to use mitts when you need to move them.

Wide range of uses: Can be applied to various stoves
This 20 x 10.5-inch reversible cast iron griddle is an all-in-one griddle. You can use the flat side for pancakes and you flip it and you have a heavy-duty grill for your steak. Designed to fit over two burners for maximum cooking space.
In the oven, it works well for baking bread and flatbread, and it fits two personal-sized pizzas with ease. It can also be in the oven for oven-grilled vegetables. But that's not all. On our outdoor grill, this pan handled small foods that would've otherwise fallen through the grill grates—and even eggs to top our burgers. This cast iron griddle can withstand temperatures up to 500ºF. No matter what kind of stove, oven, or grill you have, you'll be able to use this handy grill and griddle.
Cleaning: Cast iron care
This grill should be treated just like any other cast iron cookware. It should not be washed in the dishwasher or left to soak in water. It can be washed with hot water and salt to remove any bits of food without damaging the seasoning. While most people never wash cast iron with soap, it's not actually forbidden, but it may require extra seasoning later. An occasional soapy wash to remove sticky sauces or excess grease won't harm it.
What We Look for in a Quality Cast Iron Grill/Griddle?
Regarding the cast iron griddle that was deformed, which is also the main bad review for this item on Amazon, Do you already know the solution to this problem?
Here is what our Sarchi handle during production to avoid deformation:
1. In the production process, after the casting is completed, steel balls will be used to clean the coarse sand on the casting. We have two types of equipment for ball cleaning, scrolling cleaning, and hanging cleaning, and for relatively large products such as griddle pans, we will always use the hanging steel ball cleaning process to avoid deformation, regardless of this process will be higher cost.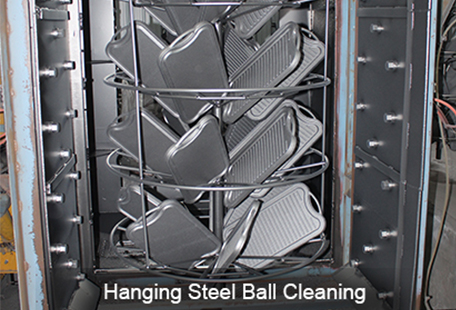 2. During the production-baking process, we also have two kinds of equipment, rack baking, and hanging baking, as in the following picture, for the relatively big size product, we will always choose hanging baking to avoid deformation, regardless of the cost. ( center area of the rack baking is with relative higher temperature, which will result in the deformation, but hanging backing with more even heating)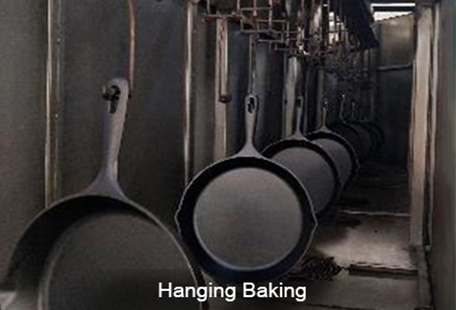 3. Besides all the above, our QC will do a flatness test for each batch order, we use a feeler gauge to test if the flatness is within the standard.
4. With all the above process, we barely with bad feedback or complaint about the deformation issue, which help customers to gain more market share and improve the brand influence.
Sarchi is committed to creating high-quality and durable cookware and has been working hard. We not only create cookware that you trust and love, but we do our best to keep it with you for a long time and prepare for the successful cooking of authentic and delicious food. The discovery of delicious food is endless, and our creation and improvement of all kinds of cookware are also endless. Contact us to make Sarchi cookware the best companion in your career and life.