Material

Cast Iron

Size

25*25*5cm, Other sizes can be customized

Finished

Vegetation Oil

Color

Black

Parts

Chainmail scrubber, Silicone handle holder, Scrapper can be available

Logo

Available
Feature:

1. Cast iron material heat preservation and even heat distribution. The cast iron grill pan has good heat preservation and even heat dissipation, which can make the cooked food more delicious.
2. Wide range of uses. This cast iron square grill pan can meet your different cooking needs, whether it is the food of any material, acidic or alkaline enameled cast iron grill pans can be easily controlled, and it also has great applicability, whether you are in an induction cooker or an open flame stove, both You can use this product.
3. Humanized design. The design of the vice handle and the long handle allows you to control the frying pan more easily, and the double-sided pouring nozzle can easily transfer cooking juice and seasonings.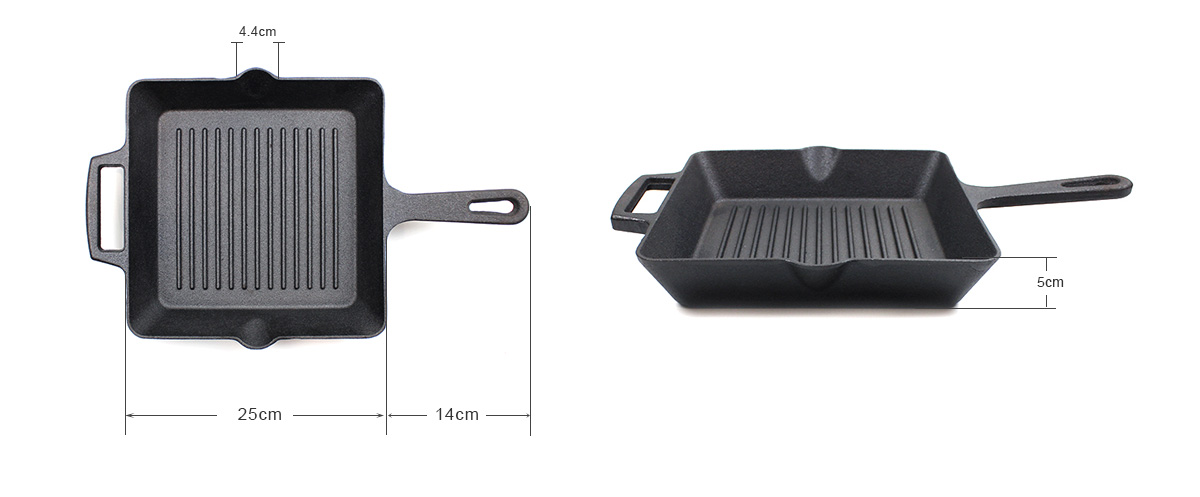 The Detail Of Cast Iron Grill Pan
Sarchi's cast iron grill pan is our best-selling product and a hot-selling product on the market. It is made of cast iron and has raised grill ribs on the cooking surface. The cast iron square grill pan has greater retention and distribution of heat. Bake in it, Fry in it, BBQ in it. The bbq grill pan is suitable for cooking in: induction, ceramic, campfire, grill, oven, & more. Also, our square grill skillet is deeper and has a wider cooking surface, allowing you to sear, bake and fry better. Our intricately designed pour spouts with drip-catchers for easy cleanup. The bottom and rim of the pan are calculatedly designed to prevent warping & cracks due to temperature changes. We can also provide enamel-coating cast iron grill pansin various colors and styles.


About Logo
Of course, we can also add your logo on the back of the frying pan, Of course, you can also add your logo to any position of the frying pan, as long as you customize a set of molds, not just letters, if there are patterns, we can also do it for you.
About Accessories
Accessories can also be added, including silicone grips, pot brushes, scrapers, etc. If you have special needs, please let us know and we will do our best to realize it for you. In addition to the following accessories, we can also provide matching glass covers, as long as you have requirements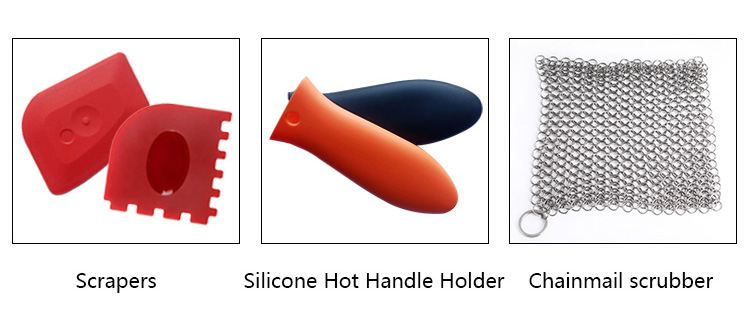 About Package
The usual packaging includes brown box and color box or white box. There are also packaging methods for adding color cards to the product. Of course, we can also customize it according to your needs. If you are selling online on Amazon or other places, our Mail packaging can be provided to ensure that it can pass the box drop test. If you are selling in offline stores, we can also provide other packaging methods, such as display boxes.



About Product Certificate
Our products can pass FDA, CA65, EU, LFGB, and other tests. If you want to view our other test certificates, please click here. Click to view how we control the quality of cast iron cookware .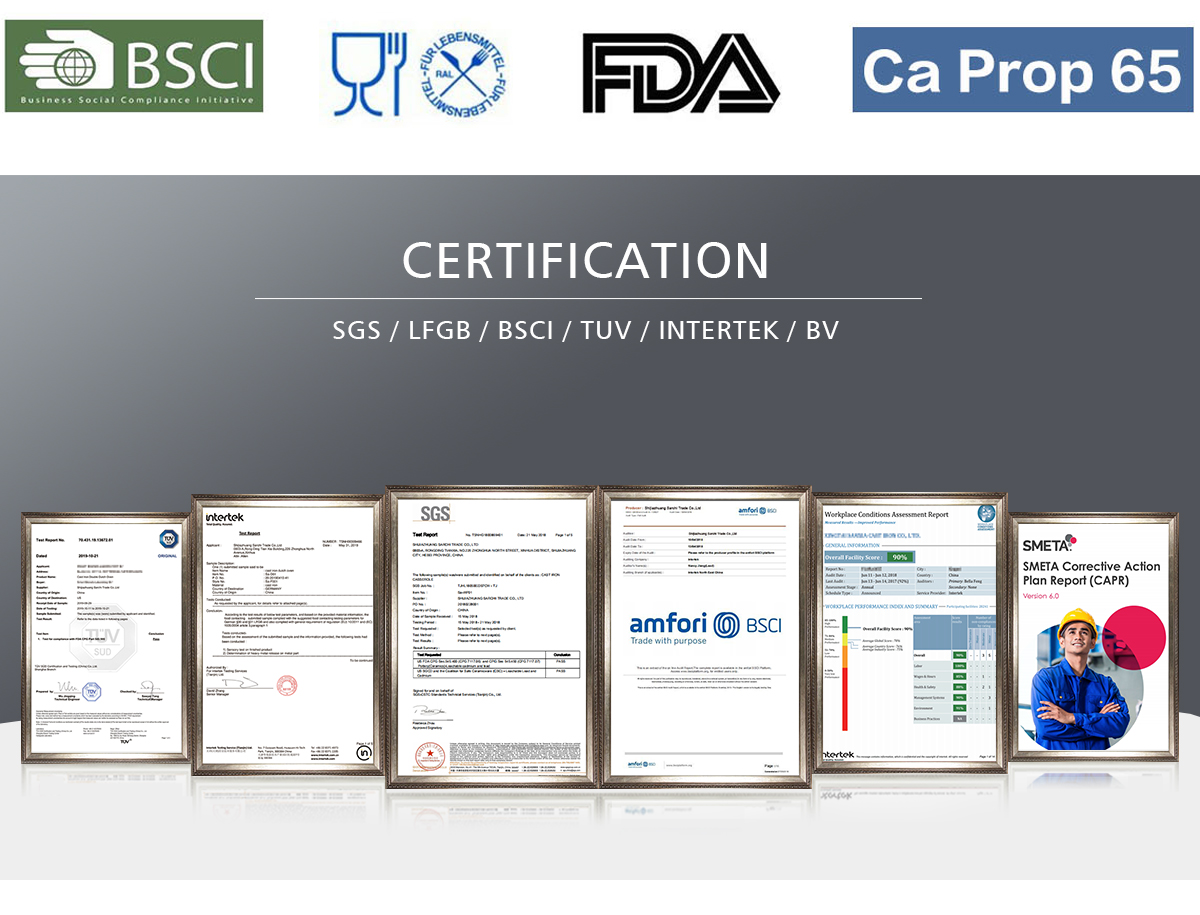 About Factory Strength
Regarding the production process, we will also strictly control, and each process will be supervised by our quality inspectors,if you want to know more about product process, please click here
If you are interested in this product, please do not hesitate to contact our professional sales staff, they will provide you with satisfactory service.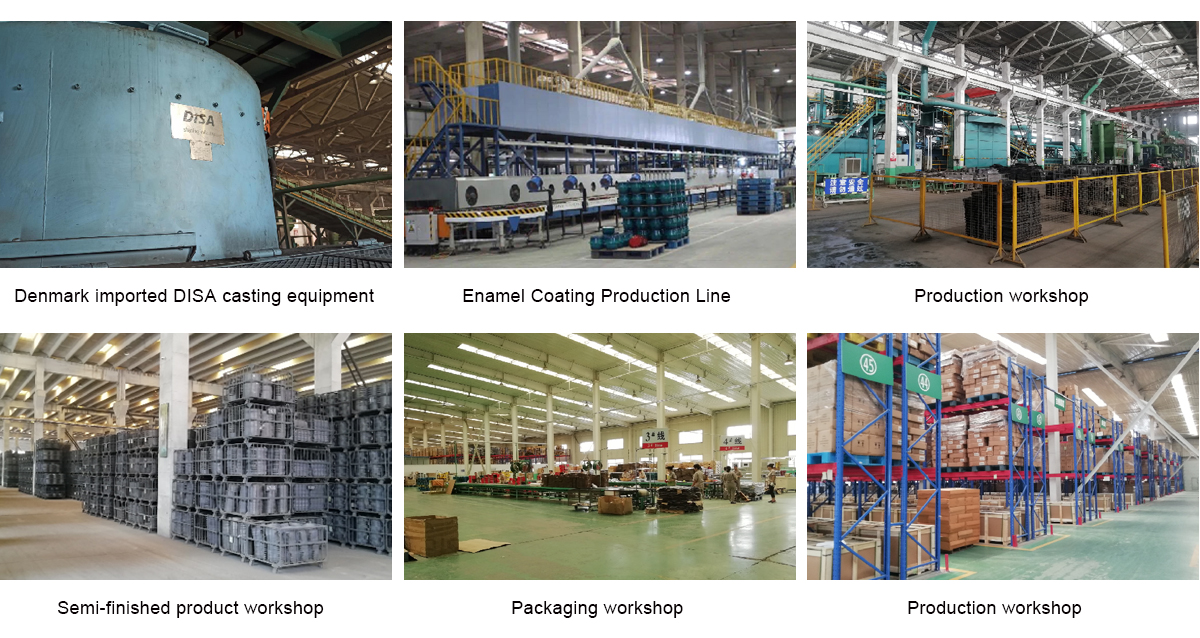 About Customized Service
We can provide you with the following customized services, if you need these services, please do not hesitate to contact us.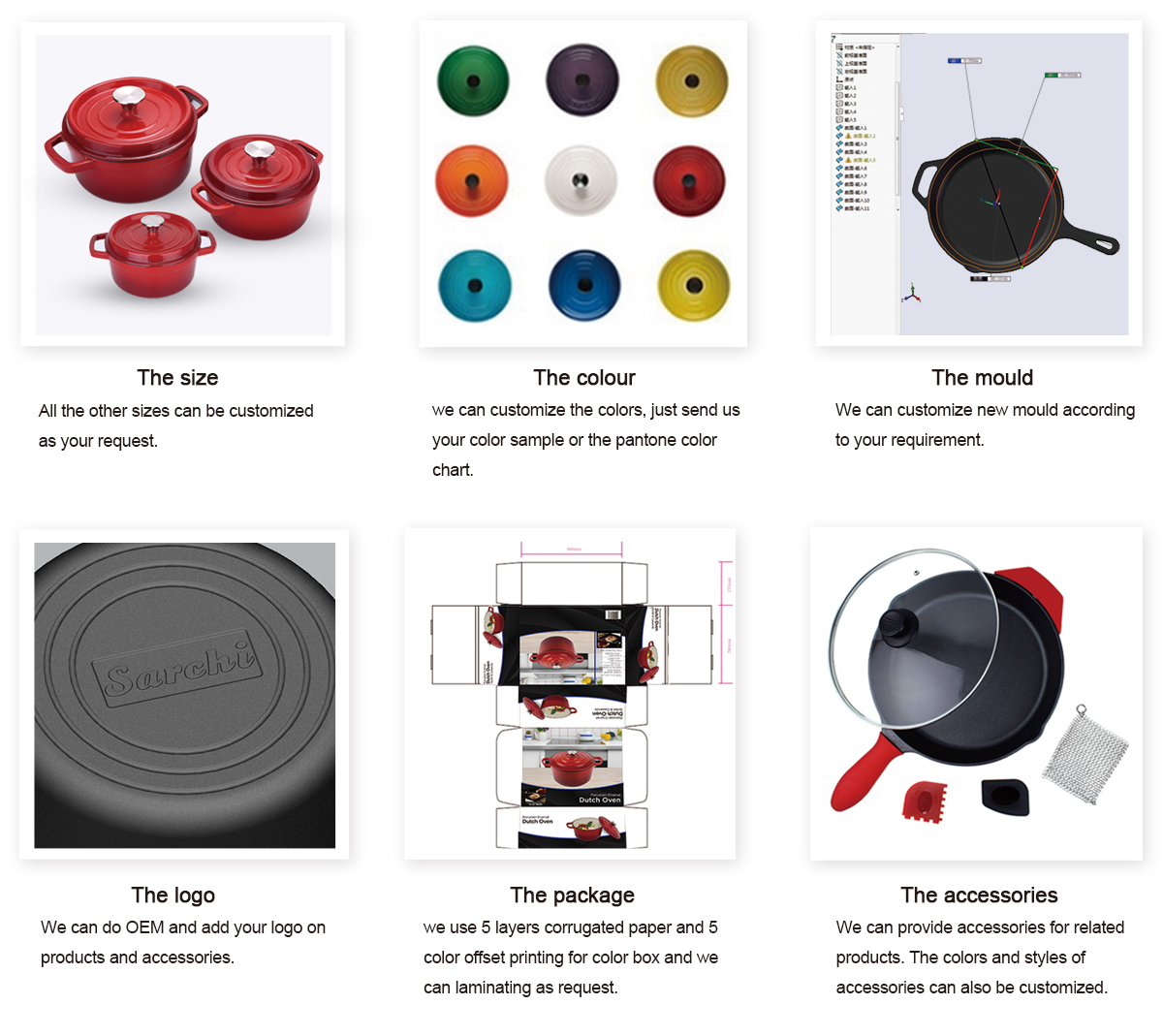 If you are interested in cooperating with us, the following is the process of our cooperation.

Received an inquiry from you-------Sales staff will communicate with you about your needs-------Make samples and mail them-------Sample is satisfied, Checked product price,quantity and delivery date ---- --Receipt of prepayment order and product production-------Receive final payment and delivery