In our last article, we introduced our quality control process and know our quality control process is mainly divided into three aspects: raw material inspection, inspection during production, and pre-shipping inspection. So today, I will mainly show you our testing certifications that our cast iron cookware can pass and the testing equipment.
The testing certification is a point that customers are very concerned about, today we mainly introduce to you the international standard and certification that we can pass from three aspects: testing organization, testing items, and testing reports.
The first is the testing organization, usually, we will use SGS, Intertek, TUV, etc. Of course, we can also perform testing in designated testing institutions according to customer requirements.
The testing items are mainly divided into heavy metal testing and sensory testing. For heavy metal testing, different customers have different requirements, some customers usually test lead and cadmium, and some need to do the 21 heavy metal testing. Sensory testing mainly includes appearance, off-odor test, and off-taste test. The test reports and certificates we can pass include FDA, CA65 for the US market, and LFGB, EU for the European market.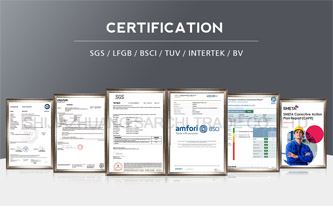 We know that some customers need these test reports to sell products in the destination country, so if you have special requirements for testing, we can cooperate to complete them.
The next part is our testing equipment, which includes vernier calipers, which mainly measure the size of products. The feeler gauge, mainly to test the flatness of the product. Thickness gauge to test the bottom thickness and wall thickness of the product.
Constant temperature gun, test the temperature of each point when the product is heated. The enamel coating thickness gauge is mainly used to test whether the thickness of the enamel coating is up to standard and uniform. The steel ball drop tester is used to test the glaze adhesion of enamel products.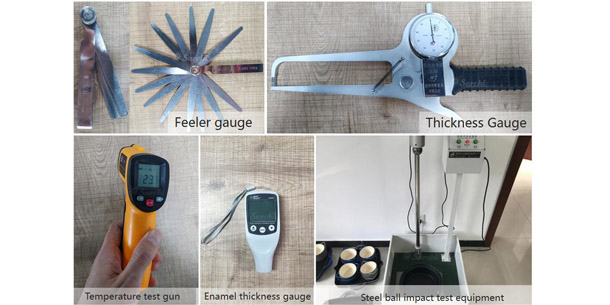 These are the testing equipment in the factory laboratory, you can see that they are very comprehensive and professional, we use them to control every parameter of our products can meet customer requirements.

The above is our entire quality management system. Our professionalism and dedication ensure that you can rest assured in every process when working with us. If you are looking for a reliable cast iron cookware manufacturer and professional partner, please contact us.