Have you ever wondered how to use a pie iron when camping? We really enjoy using pie irons when camping to create delicious recipes. A pie iron (also known as a camp cooker) is a small hinged cast iron camp cooking tool with a long handle. It is used for grilling and baking food over a campfire. It is a super easy way to make breakfast, lunch, and dinner recipes while camping. Today, I will show you how to make the most of the pie iron.

Season it like you would cast iron.
If you buy new pie irons, make sure you season them properly to create a non-stick surface and prevent rusting. You can season them as you would any cast iron pan: oil them repeatedly and bake them over an open campfire or grill. This way, none of your camp snacks will stick to the pan. Like a regular cast iron pan, the pie iron becomes more and more seasoned with each use and will last for years.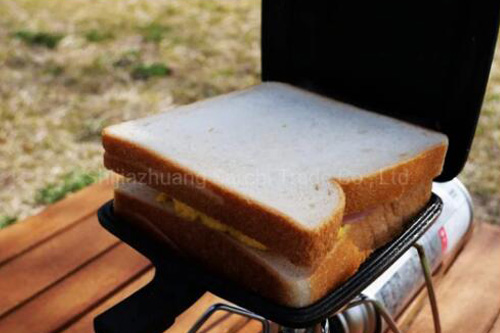 Pie Iron
To prepare this cast iron cooking tool.
Wash the pie iron thoroughly with hot water and detergent before use.
Dry the pie iron thoroughly.
Next, coat the entire pie iron with vegetable oil.
Heat the cooking iron over a campfire or grill for 15 minutes.
Allow the campfire pie iron to cool completely before wiping off any excess oil with a paper towel.
Repeat the oiling and heating process every time the plate becomes sticky.
Consider sandwiches.
Remember, you can use a pie iron in every meal (including dessert). Sandwiches are one of the ultimate platform foods and can accommodate any flavor and filling you can imagine. So, whether it's savory or sweet, you can go as far as you like. Fill your waffle sandwich with bacon and a hard-boiled egg or marshmallow fluff and raspberry jam! Make a beautiful Hot Pocket with crescent dough, brie, fig jam, and prosciutto!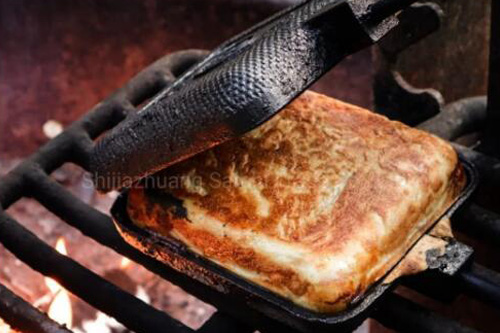 Cast Iron Camping Sandwich Toaster
Cooking with a pie iron.
When cooking with a cast iron camp cooker, first apply non-stick cooking spray to the inside of both irons. Alternatively, you can butter both sides of any bread you decide to use for the recipe. This step is important so that your tasty treats don't stick to the iron and burn.
Place your recipe ingredients in the pie iron before closing and locking it.
Cook the recipe over an open fire. Most recipes take five to ten minutes to cook, but the time can vary greatly depending on the heat of the fire. I recommend leaving the campfire pie iron on the fire for two minutes before releasing it to check for cooking, then turning the pie iron over to cook the other side.
Be careful when handling metal latches and handles as they will get hot as they cook.
How to clean your sandwich maker?
Simply rinse the sandwich makers in warm water and clean them with a cloth.
Dry completely with paper towels, apply more oil if needed and store it in a safe place.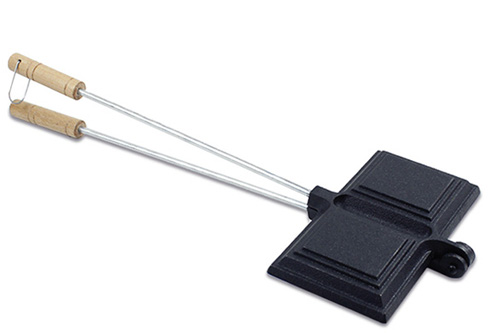 Double Cast Iron Square Campfire Pie Iron
Advantages of Sarchi cookware campfire pie iron:
1. Heat Preservation of Cast Iron Material. The campfire pie iron has good heat preservation, which can make the cooked food more delicious.
2. Strong and durable. Cast iron camp sandwich makers are very strong and durable. No matter how you use them, they will not be easily damaged. Even if they are not properly maintained and cause rust and other problems, they can still be renewed after simple treatment.
3. Wide range of uses. This cast iron pie iron has great applicability, whether you are in an induction cooker, an open flame stove, an outdoor grill, or a campfire, a cast iron pie cooker can be well controlled.
4. Ergonomic design. The cast iron pie iron has fully removable handles and a head, making it easy to wash and fit in a backpack. A hook keeps the head securely closed while cooking to seal in flavors and protect your food.
Click to view the Cast Iron Single Square Campfire Pie Iron.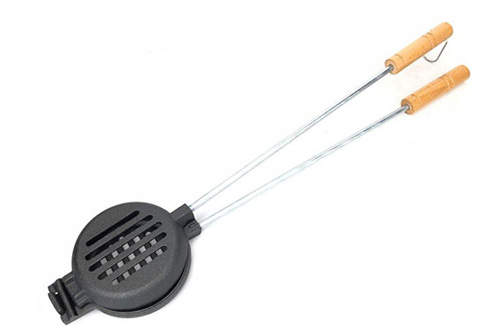 Camping Cast Iron Sandwich Maker
Where to find this great camp cooking tool?
We love this square pie iron (aff link) because of its larger size and long handle.
The toasted sandwich maker is a handy helper to anybody who loves toasties, delicious sandwiches, and the great outdoors. Heavy Duty Rectangle Cast Iron Design. Sarchi cookware Cast iron cooker with two-part hinge and 38.2cm(14.9inch)long handle; can be placed over a flame or nestled between coals. It is very easily reassembled.
You can also find these camp cookers at most outdoor shops. Be sure to buy one made of cast iron as they are more weather resistant and last longer than others.