Cast Iron Camp Sandwich Maker Pie Cooker

Material

Size

19.4*10.1cm, Other sizes can be customized

Finished

Color

Parts

Chainmail scrubber, Silicone handle holder, and Scrapper can be available

Logo
A camping sandwich maker is a compact and portable appliance used for making sandwiches while camping or on outdoor trips. It works by heating and toasting the bread and ingredients, similar to a panini press or waffle maker.
Applications:

Quick and easy meal preparation while camping, hiking, or picnicking
Cooking sandwiches, paninis, and waffles in outdoor settings where a traditional kitchen is not available
Ideal for outdoor camping, caravanning, and recreational vehicles
Advantage:

Portable and compact, easy to carry and store
Requires only minimal setup and preparation
Can cook a variety of sandwiches and meals, providing a tasty and nutritious option while in the great outdoors.
Click to view the Cast Iron Single Square Campfire Pie Iron

Cast Iron Camp Sandwich Maker Pie Cooker
The cast iron campfire sandwich maker is guaranteed to transform your camping experience into a true family hit. Easier to carry than most campfire cooking tools, it's the perfect camp cooker for the woods, mountains, or garden. Sturdy & pre-seasoned for life using innovative technology, the cast iron pie iron is non-stick, high heat & pressure-resistant, and rust-free if kept dry. Your grandchildren will be using the campfire sandwich maker decades from now.


What is a pie iron?
Pie irons have been around for a long time. Also known as a camp cooker, campfire sandwich maker, or pudgy pie maker, they are typically made of a cast iron two-piece casement with a clasp attached to a long handle that is used to grill, bake or create hot pocket meals, pies, and snacks right over the campfire.
The toasted sandwich maker is a handy helper to anybody who loves toasties, delicious sandwiches, and the great outdoors. Heavy Duty Rectangle Cast Iron Design. Cast iron cooker with two-part hinge and 38.2cm(14.9inch)long handle; can be placed over a flame or nestled between coals. It is very easily reassembled.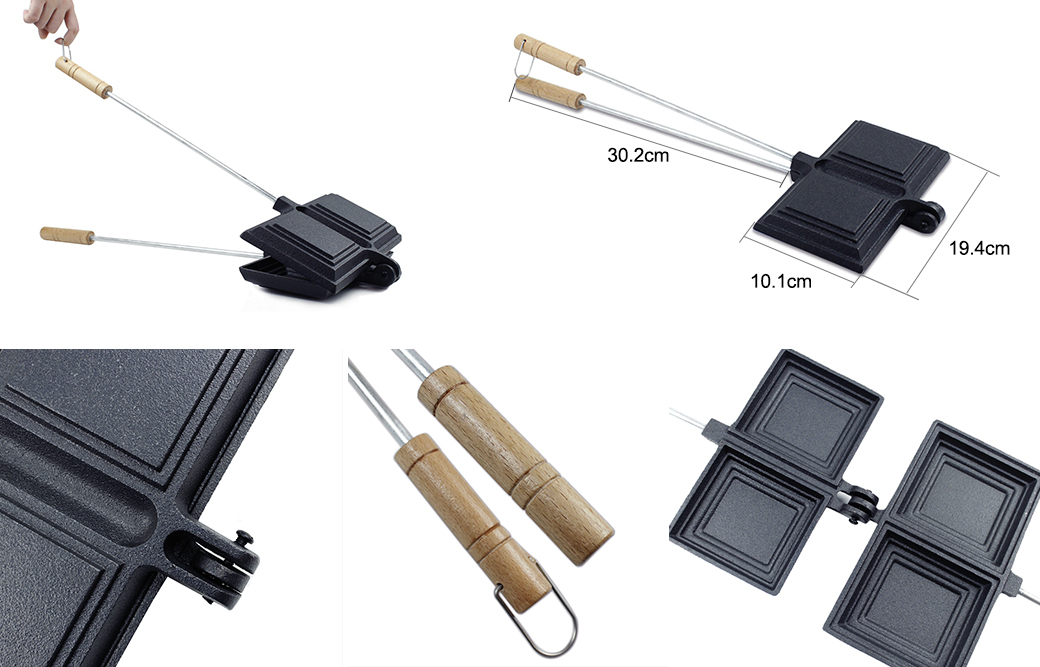 The details of the campfire pie iron:
Two-part Hinge - Cast iron cooker with a two-part hinge, can be placed over a flame or nestled between coals. It is very easily reassembled.
Long Handle - Easy to grasp and prevents hand burns. With a locking buckle, easy to carry and storage does not take up space.

Handy Sandwich Maker - Great for making sandwiches, sandwiches toaster, paninis, eggs, grilled cheese, cookies, and even pizza, etc.

OEM/Customized Logo
Usually, we will put your logo on the back of the product, usually the letters of the logo, of course, it can also be a pattern, as long as we make a new mold according to your requirements, if you have other requirements for the logo, of course, no problem, please feel free to welcome You put forward your own ideas, we will give you a satisfactory solution.
About Accessories
Accessories can also be added, including silicone hot handle holders, proximity gloves, etc. If you have special needs, please let us know and we will do our best to realize it for you.In addition to the following accessories, we can also provide matching glass covers, as long as you have requirements.

About Package
The usual packaging is a brown box, color box, or white box. Of course, we can also customize it according to your needs. If you are selling online on Amazon or other places, we can provide mail-order packaging to ensure that it can be dropped. Box test, you can click the link to learn about the content of the box drop test. If you are selling in offline stores, we can also provide other packaging methods, such as display boxes.

About Product Certificate
Our products can pass FDA, CA65, EU, LFGB, and other tests. If you want to view our other test certificates, please click the link.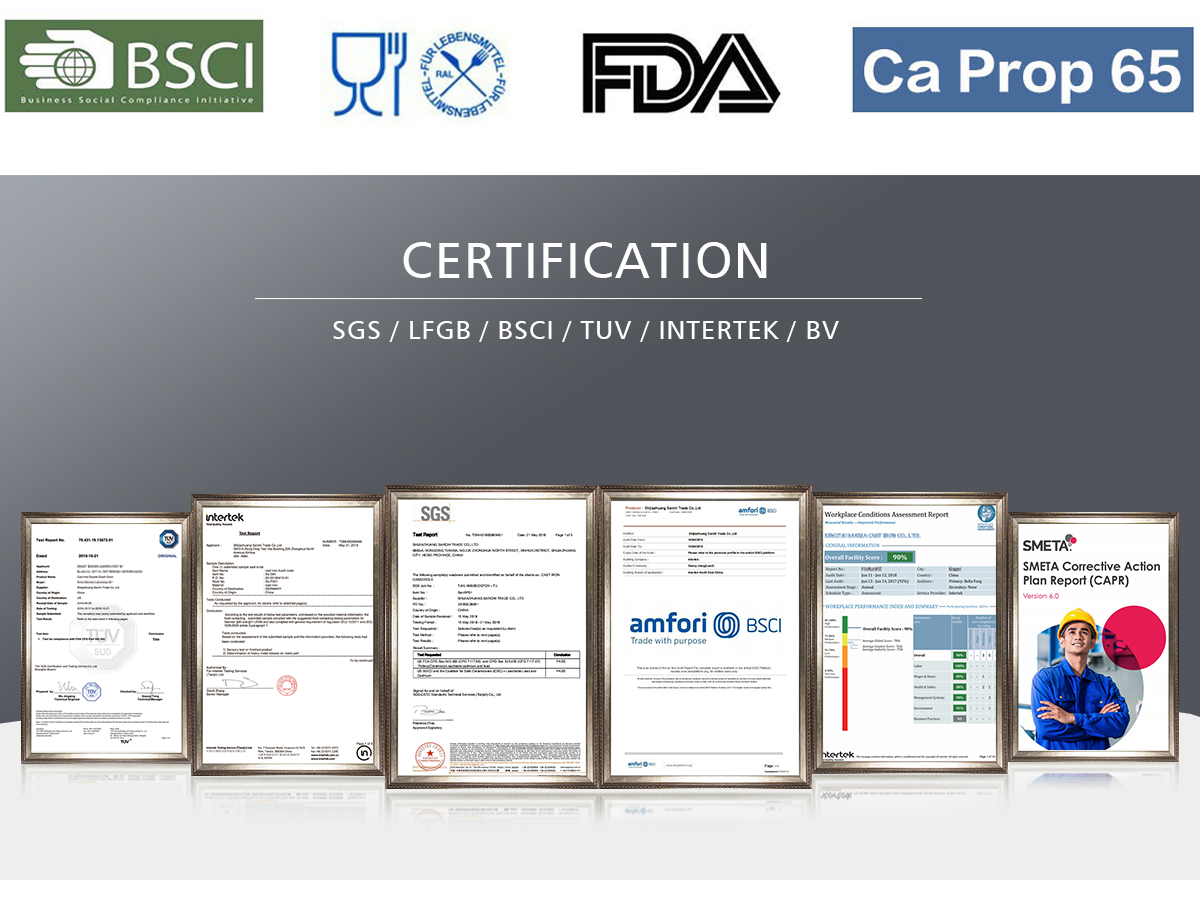 About Factory Strength
Regarding the production process, we will also strictly control it, and each process will be supervised by our quality inspectors, if you want to know more about product process, please click the link.
If you are interested in this product, please do not hesitate to contact our professional sales staff, they will provide you with satisfactory service.




About Customized Service
We can provide you with the following customized services, if you need these services, please do not hesitate to contact us.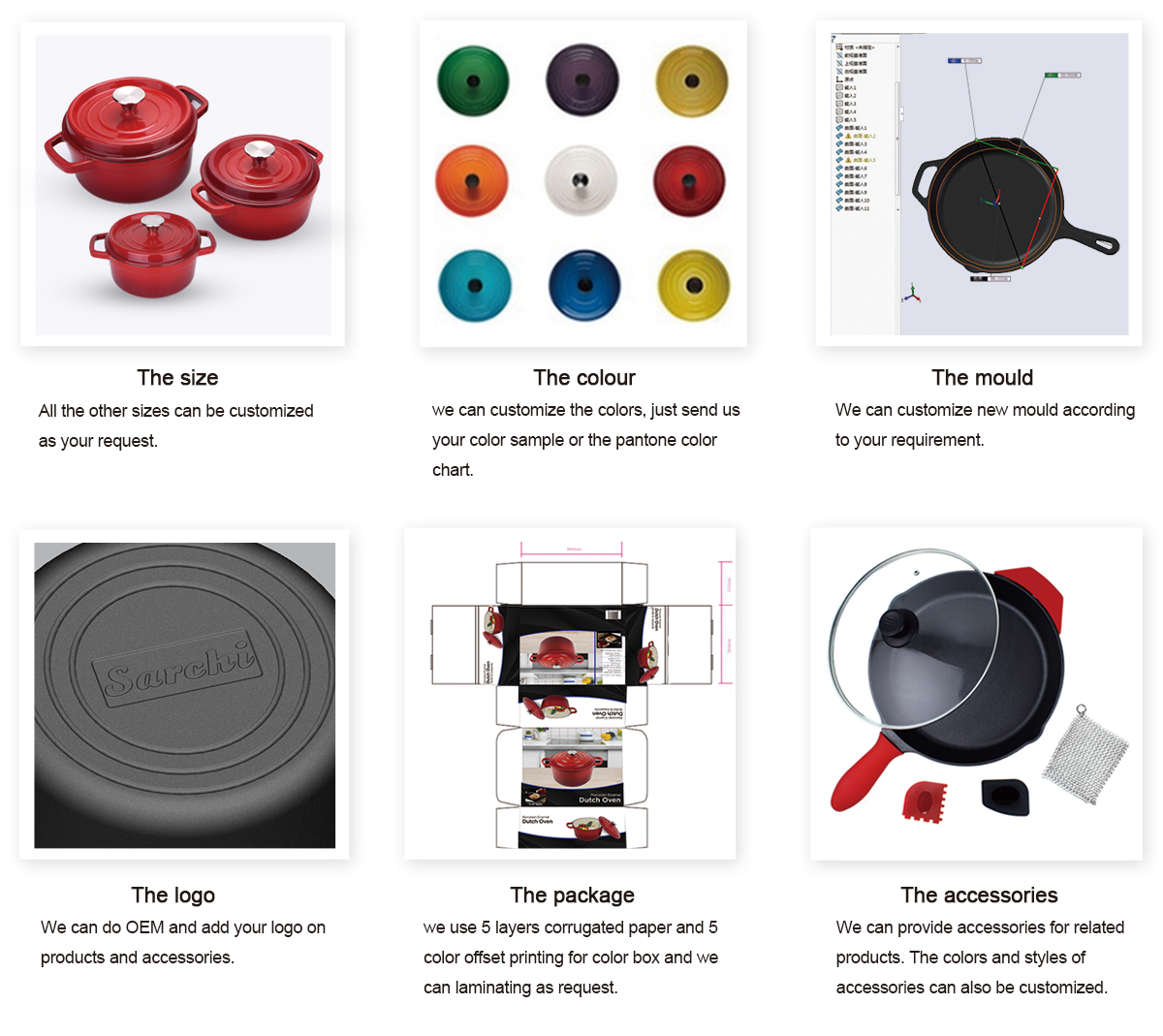 About this campfire pie iron:
1. Heat preservation of cast iron material. The campfire pie iron has good heat preservation, which can make the cooked food more delicious.
2. Strong and durable. Cast iron camp sandwich makers are very strong and durable. No matter how you use them, they will not be easily damaged. Even if they are not properly maintained and cause rust and other problems, they can still be renewed after simple treatment. If you maintain them properly, this can become a generation of Legendary treasure.
3. Wide range of uses. This cast iron pie iron has great applicability, whether you are in an induction cooker, an open flame stove, an outdoor grill, or a campfire, this product can be well controlled.
4. Ergonomic design. The cast iron pie iron has fully removable handles and a head, making it easy to wash and fit in a backpack. A hook keeps the head securely closed while cooking to seal in flavors and protect your food.