If you've been tempted to buy a Moroccan tagine for the first time and wondered what delicious dishes you could make with its conical ceramic container - you've come to the right place. This traditional cookware is ideal for preparing rich, slow-cooked meat, poultry or fish, and is the perfect one-pot meal to share at a dinner party.
This guide will show you how to buy Moroccan cookware and where to buy Moroccan cooking pots.
What is a tagine?
A tagine, sometimes spelled "tajine", is a traditional Moroccan cooking vessel made of ceramic or unglazed clay with a rounded base and low sides. A conical lid sits on the base during the cooking process. The conical lid traps steam during the cooking process and returns the liquid to the clay pot, resulting in a richly flavored, moist dish.
Tagine is also the name given to Maghrebi or North African dishes cooked in Tagine pots, which are closely associated with Moroccan cuisine, slow-cooked savory stews made from meat, poultry, or fish cooked with vegetables, aromatic spices, dried fruits, and nuts.
Several factors need to be considered when choosing the best tagine pot for cooking.
What kind of dish will you be cooking?
How much experience do you have with the tagine?
How often do you use your tagine?
How much money do you want to spend on your tagine cookware?
Cooking in a tagine requires some experimentation until you understand how yours works. An unglazed clay tagine cooks very differently from a cast iron enamel tagine. For beginners who don't want to spend a lot of time fussing over traditional clay tagines, it makes sense to go for the glazed version. These tend to be more expensive, but you can cook many different things with them, with or without a lid.
Those who want a more traditional tagine should look for an unglazed clay tagine. these are easily available in Morocco and are a good choice if you are visiting and want to take something home with you. They can also be purchased abroad and are a good option if you don't want the extra weight.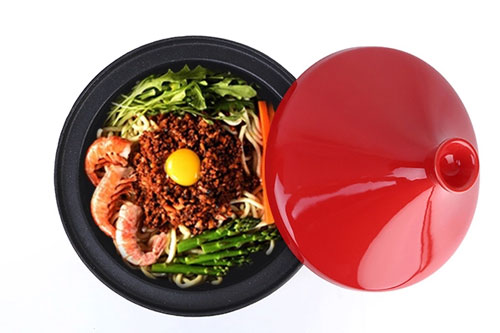 Best Tagine Pot
What to look for Buying an authentic tagine pot?
1. Purpose.
There are differences between a cooking tagine and a serving tagine - mainly in terms of glaze and function. In the Moroccan market, you will find a large number of eye-catching labels carefully painted in bright colors. These are supply tagines and they are not safe. For cooking, use simple clay designs without paint or external decoration.
2. Fit.
A tagine consists of two parts that fit closely together. So you want to check the fit of your tagine by opening and closing the lid a few times to make sure there is no wiggle room or gap around the edges.
3. Sizes.
Tagines come in a variety of sizes, the most common being individual (one or two servings), family size (four to five servings), and large (six to eight servings). Get the version you think you will use most often; an overcrowded pan that is too small will result in uneven cooking and insufficient space for liquids, while a pan that is too large is more likely to break if the moisture content is not carefully monitored.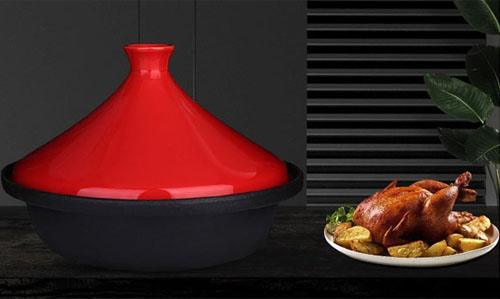 Large Tagine Cooking Pot
4. Cast iron.
Durable cast iron tagines are a great choice for less experienced cooks as they don't crack or burn as easily as clay. They can also cook well at very high temperatures and can even be thrown into the oven if you run out of space on the hob. Cast iron is probably the most versatile and durable, but they are also the most expensive. Nevertheless, for something that will last a lifetime, the price is probably worth it. What is the best tagine to buy: Sarchi cookware has some of the best cast iron tagine pots for sale on the market.
This Sarchi durable and versatile pot can be used on induction tops, gas stoves, or in the oven. This Tagine can be used to cook dishes that require high-temperature settings or slow cooking. This makes them flexible and reliable cookware for different types of recipes. Cast iron tagine is usually more durable and longer-lasting if properly maintained.
Where to Buy a Tagine Pot?
Not all tagine pots on the market are good value for money and you will need to find the best tagine pot for your needs.
The most important things to check before buying a tagine pot are the size of the tagine pot, the composition of the tagine pot (some tagine pots contain toxic lead), and the type of tagine pot you have (glazed vs unglazed). This is all the detailed information you will need.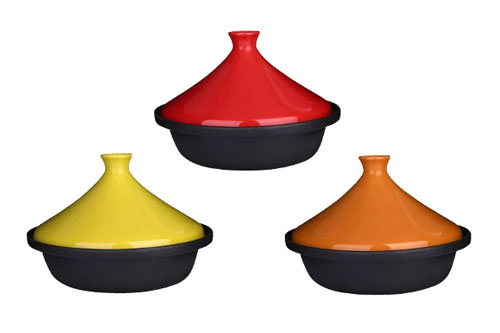 Cast Iron Tagine Pot Cookware
What size tagine to buy?
The size of the tagine pot that suits you depends on the number of people you want to serve it to. A small tagine pot with a base of between 8 and 10 inches is perfect for 2 people.
If you are hosting more people, get a larger tagine pot. For example, for a party of 3 to 4 people, a large tagine pot with a base of about 12 inches is the best choice. Remember that if your tagine dishes will be part of a varied menu (for example, with a number of main courses or side dishes), then even for a party of 4 people, a small tagine of 8-10 inches will be sufficient.
Want to learn more about the Moroccan cooking pot? Contact us today to secure an expert consultation!