The Cookware Manufacturers Association reports that sales have increased by more than 225% in this decade. Over 10% of cookware sales are now cast iron - a significant increase compared to 10 years ago. So what is it that has brought international chefs and home cooking enthusiasts back to using cookware that is almost as good today as when it was first invented?
In short: Durability.
Pots, pans, waffle irons, muffin tins, loaf pans, and more are as good now as they were when they were made 100 years ago. Few products made by human beings can boast such a reputation.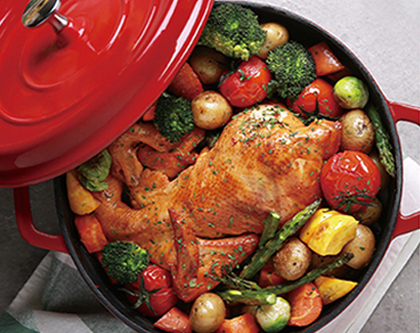 Cast Iron Enamel Kitchen Cookware
History
The earliest signs of cast metal can be traced back to China in the fourth century BC. Ancient engineers soon realized that metal could be used to make weapons, and for centuries this was its primary use. As manufacturing became more efficient, the creation of various castings followed, and by the 19th century, the ability to forge with iron was widespread.
Iron products first came to America in 1619, but at that time we were not yet using the process to make cooking utensils.
What characteristics should you look for in an enameled cast iron pan?
Heat distribution
A piece of cookware is only as good as its performance. When you get down to business, you want your cookware to do its job - to cook. Even heat distribution is the key to getting perfect cooking.
Weight
The weight is a major factor in the purchase of a satisfactory piece of cast cookware, and while not always true, the heavier items tend to hold more heat and provide a more authentic iron cooking style. Advances in the casting of metal have led to lighter options that provide nearly the same experience, but the weight of the cast iron giants over the last century has substantially changed.
Lids
If you want tender vegetables, juicy roast meat, and fluffy rice, you need a tight-fitting lid. Why is that? If the lid is loose, too much moisture will leak out. The result is that the food dries out.
Handles
Whether it's a pan, a frying pan, or a Dutch oven, you want comfortable handles.
For cast iron pans, it is best to have a looped secondary handle on the opposite side of the large handle. This allows you to hold the skillet with two hands, distributing the weight and making it more secure.
A wide-looped handle is also a must for a Dutch oven. A nice cast iron Dutch oven can go from cooker top to cooktop to table, but only if you can hold it. A good handle is essential.
A large enough loop handle will allow you to carry your cookware easily, even with oven mitts on.
The Best Enameled Cast Iron Cookware Sets
1. Cast Iron Enamel Casserole
The Enameled Cast Iron Casserole is a great choice for a family feast. Suitable for different cooking methods such as sauteing, stewing, boiling, frying, etc. Porcelain enamel finish, healthy for family cooking, and nonstick for easier cleaning. The enameled cast iron dutch oven must take different cooking fun for your family!

Enameled Cast Iron Casserole
2. Enamel Cast Iron Grill Pan
Sarchi's enamel grill pan is our best-selling product and a hot-selling product on the market. It is made of cast iron and sprayed with enamel on the whole body. It is beautiful and practical and has raised grill ribs on the cooking surface. It is very suitable for scorching meat, keeping food away from excess fat, and the meat is delicious in color and flavor.
Our 11" square pan has a few measurements you should know: The pan measures 28 x 28 x 4.5 cm. Size and color can be customized, we can also add your logo onto products. Use with confidence on all cooking surfaces: gas, electric, induction, oven, broiler, grill, and even the fire pit.
3. Cast Iron Pancake Pan
Seasoned 12" round crepe pan with loop handles features even, fast heating, and excellent heat retention. Golden pizza crust every time. Great for roasted vegetables, pork chops, chicken, and beef. Not even the most expensive stainless or aluminum cookware can rival the even heating, heat retention, versatility, value, and durability of Cast Iron. Double-handled cast iron crepe pan, cast iron Tawa. Great for making roti, chappati, dosa, tortillas, etc. Great for both indoor and outdoor use, handles on each side are easy to grip. Both round and square handles are available.

Cast Iron Induction Crepe Pan
The cast iron Tawa heats up within a few minutes, distributing the heat evenly, and can be used over the campfire, gas stove, electric, etc. Get a free quotation.
4. Cast Iron Saucepan
This cast iron saucepan is ideal for simmering soups, sauteing vegetables, baking casseroles, cooking pasta, and simmering tomato sauces. Cast Iron Cookware transfers and retains heat evenly to thoroughly cook, caramelize, and sear food juices to crusty brown perfection. Perfect when gathering with friends and family for warm dinners or Sunday get-togethers.

Cast Iron Saucepan
This cast iron saucepan is deep enough to bring liquids to high heat quickly. This makes it perfect for boiling water for dishes like milk and pasta much faster. And you can use this mini cast iron sauce pot for cooking sauce. You can prepare different soups, stews, gravies, and other foods like mashed potatoes or custard. There is a pour spout on the saucepan for draining pan juices without making a mess. And the long handle makes it easy to move around the kitchen and allows for more control when using the saucepan.
If you want to purchase a cast iron saucepan, contact us now!
Are you interested in learning more about the best enameled cast iron cookware for sale and how they can benefit you? Contact us today to secure an expert consultation!