The 2023 Chicago Houseware Show (IHA) has been held in McCormick Place, Chicago, USA from March 4th to March 7th. The Chicago Houseware Show IHA is not only the largest houseware show in the United States but also It is an exhibition that combines trade and communication and provides industry and consumers with the trend of future household products. is an insight into the consumer expectations that drive purchases, and an examination of future color and design trends for inspiration, clarity, and meaning.
Here, we see new products, innovative designs, consumer trends, the latest data, expert insights, and the hottest colors to help shape the future of everyone's favorite place—home.
Sarchi cookware focuses on the production, R&D, and customization of kitchen cookware, and has accumulated rich production experience. This exhibition will bring newly designed exhibitors, to share our philosophy, love life, walk into nature, embrace freedom, and lay the foundation for your quality of life!
The new product unveiled at the exhibition is our well-polished ISARCHI series. This series includes matte enamel Dutch ovens with rich colors, frying pans with wooden handles, and Serving pans, which can be sold as a set or as a single product. The fresh matte enamel pot body and the smooth glossy enamel pot bottom perfectly match, which solves the problem of most ordinary pot bottoms on the market wearing out the stove. At the same time, the pot shape with perfect lines and beautiful colors attracted many customers' praise and purchase as soon as it is launched.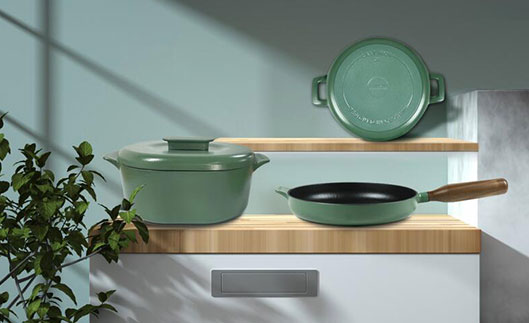 There is also an important new non-stick series, which is an innovation of Sarchi cookware's progressive manufacturing of traditional cast iron materials. Machining the interior of cookware creates a surface structure with ideal nonstick properties. Additional vegetable oil flavoring further enhances these properties. The sheen of the metal combined with the smoothness to the touch is a very natural way to achieve perfect cooking results. The pure wood structure handle has superior performance in heat insulation and feels comfortable to the touch, and the flat anti-scratch design protects your cooker, which is worthy of long-term trust and use. German design, scientific and rigorous, bring a more comfortable cooking experience to your kitchen life.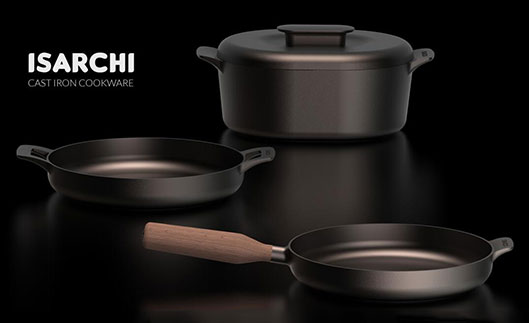 Loving life can be reflected in the daily three meals a day, family gatherings, and the exquisite life of a single person. Using cooking utensils in the kitchen to present a taste feast for the family, yourself, or friends, while enjoying the happiness brought by food, a rich color, novel design, and functional and durable cooking utensils are definitely the owner's favorite, it can be frying pans, dutch ovens, baking pans, barbecue & outdoor cooking cooker, its material can be cast iron or carbon steel, Its coating can be pure oil, enamel, non-stick, or stainless steel. In short, you like this cooker very much, and it is also friendly to the kitchen heater.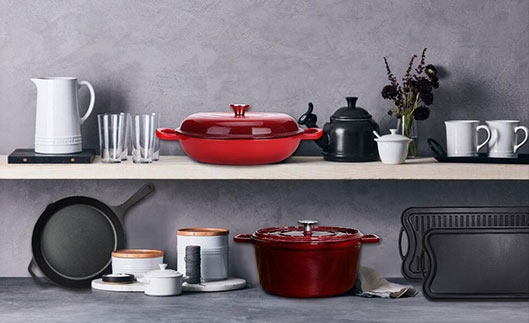 "Product innovation is the engine that keeps the home furnishing industry dynamic and profitable." Sarchi is adhering to this philosophy, is committed to research and development to create the best cookware, and has always been passionate about innovative cookware products. We aspire to be a leader in cookware products, creating innovative solutions for consumers so that they can enjoy a perfect, healthier, and more sustainable cooking experience.
If you are also in the field of cookware and want to become a partner with us on the road of cookware innovation, please contact us.