Pre-seasoned Cast iron wok

Material

Cast Iron

Size

33*33*10cm
Volume
6.5QT
Finished
Vegetation Oil
Color
Black
Logo
Available
About this cast iron Chinese wok:
Cast iron has superior heat retention for even cooking, restaurant quality searing, and comes pre-seasoned, non-stick cooking surface when used with a thin layer of oil. It's also ridiculously strong and rugged.
Large handles and a curved(flat) base for easier handling. Unparalleled heat retention and even heating. Use to sear, sauté, bake, broil, braise, fry, or grill. Use in the oven, on the stove, on the grill, or over a campfire. Seasoned for a natural, easy-release finish that improves with use.
The pre-seasoned cast iron wok with handles personifies quality and performance. Its diameter of 33 cm and height of 10 cm makes it ideal for the preparation of any recipe. Its heavy-duty construction allows superior heat retention and even cooking. The ergonomically designed handles allow easy handling and storage. Suitable for use in grill and oven.

The advantage of Cast Iron Chinese Wok
Versatile ability-One of the most popular cooking utensils in China, cast iron woks are valued for their versatile ability to be used in a variety of cooking techniques, from stir-frying, deep-frying, and steaming to making soups and stews.
Nonstick & Rustproof - This cast iron stir fry pan is pre-seasoned with vegetable oil as this prevents the iron from rusting as well as gives the wok a non-stick surface.
Flat sturdy base, handles- Traditional woks have rounded bottoms, but our Cast Iron Wok has a flat, sturdy base, making it great for gas and electric stovetops and even outdoor grills.
Can be matched with wooden lids- We can provide you with glass lids or wooden lids, the lid prevents spatter and keeps the temperature consistent for steaming, poaching, and simmering.
About Logo
Usually, we will put your logo on the back of the product, usually the letters of the logo, of course, it can also be a pattern, as long as we make a new mold according to your requirements, if you have other requirements for the logo, of course, no problem, please feel free to welcome You put forward your own ideas, we will give you a satisfactory solution.
About Accessories
Accessories can also be added, including silicone hot handle holders, proximity gloves, etc. If you have special needs, please let us know and we will do our best to realize it for you.In addition to the following accessories, we can also provide matching glass covers, as long as you have requirements.

About Package
The usual packaging is a brown box, color box, or white box. Of course, we can also customize it according to your needs. If you are selling online on Amazon or other places, we can provide mail-order packaging to ensure that it can be dropped. Box test, you can click the link to learn about the content of the box drop test. If you are selling in offline stores, we can also provide other packaging methods, such as display boxes.

About Product Certificate
Our products can pass FDA, CA65, EU, LFGB, and other tests. If you want to view our other test certificates, please click the link.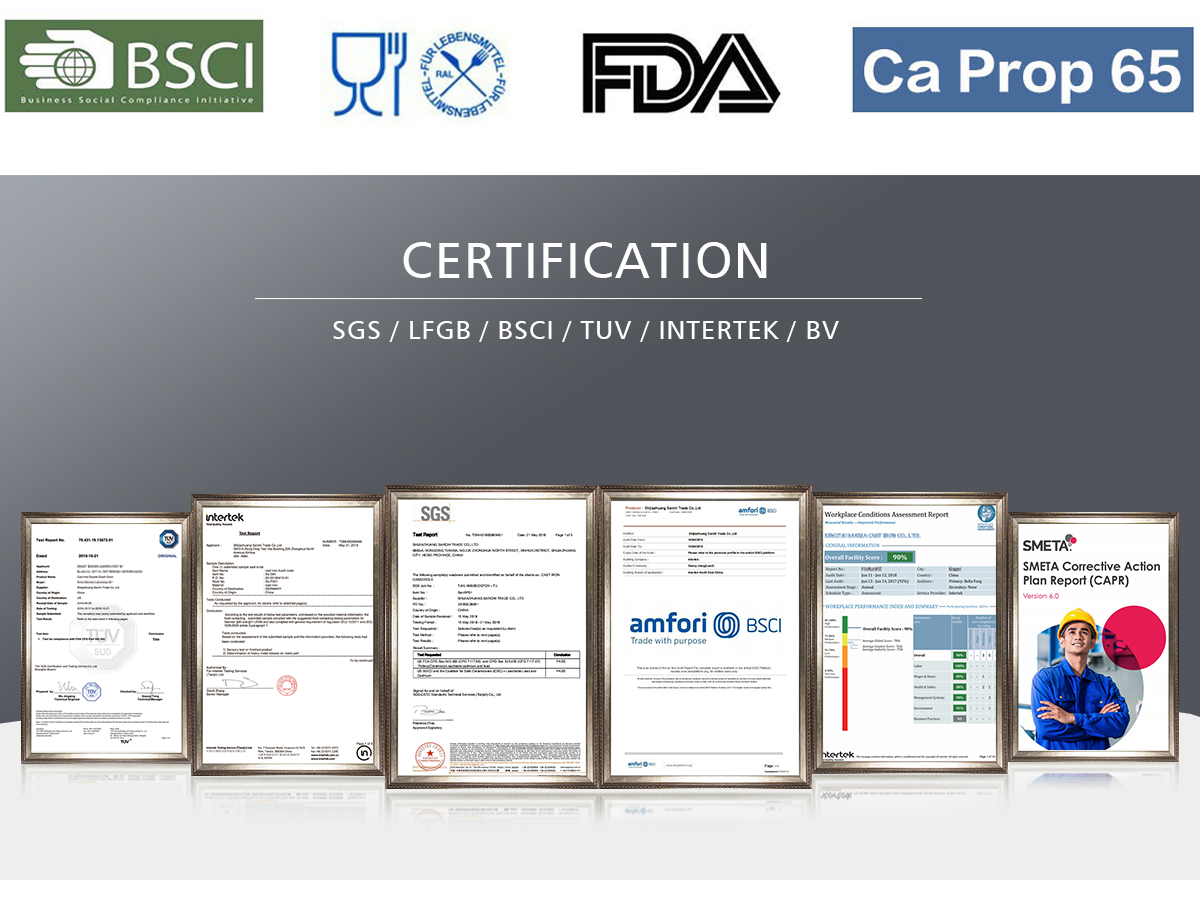 About Factory Strength
Regarding the production process, we will also strictly control it, and each process will be supervised by our quality inspectors, if you want to know more about product process, please click the link.
If you are interested in this product, please do not hesitate to contact our professional sales staff, they will provide you with satisfactory service.




About Customized Service
We can provide you with the following customized services, if you need these services, please do not hesitate to contact us.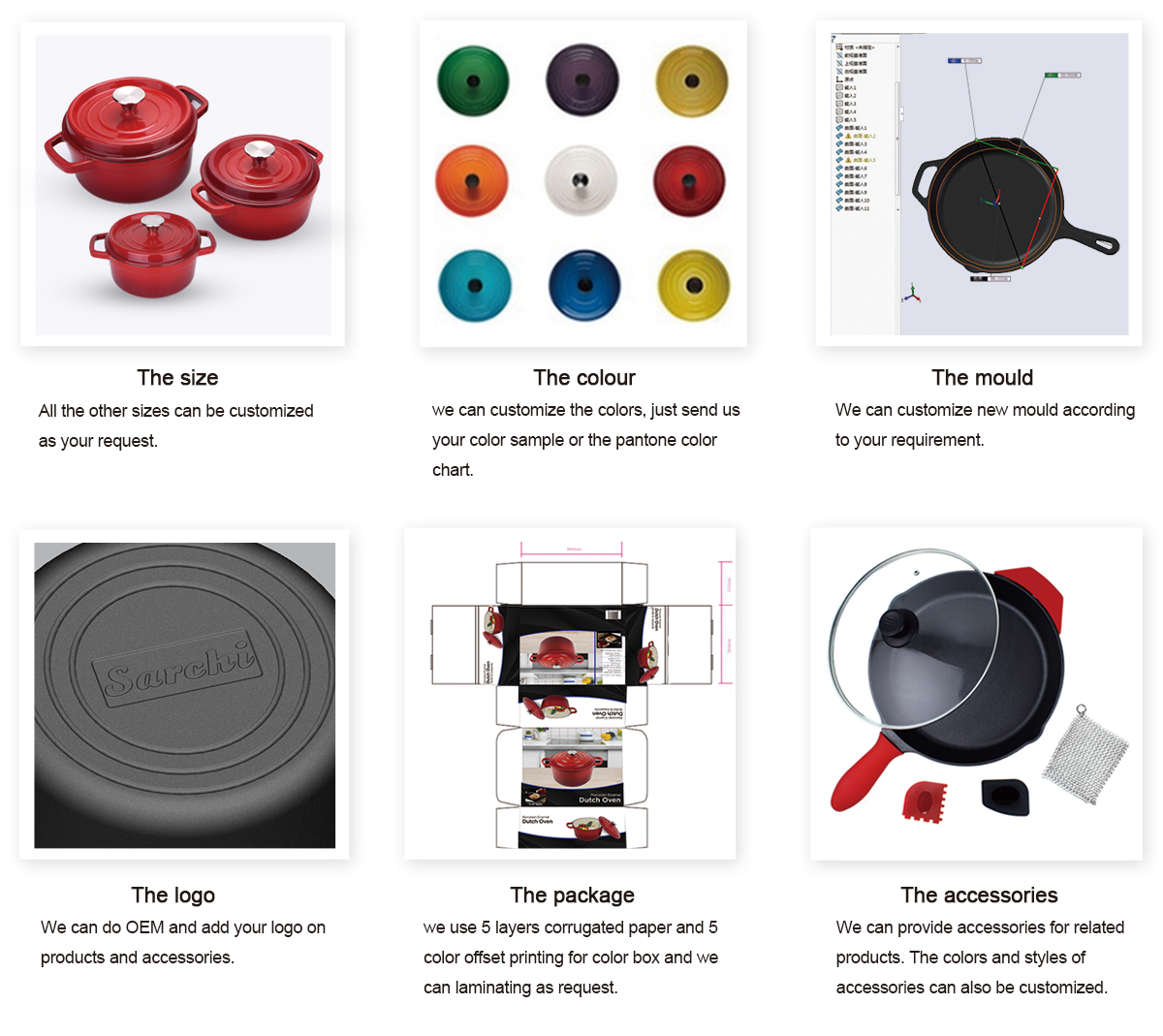 Feature:
1. Heat Preservation of Cast Iron Material. The cast iron wok has good heat preservation, which can make the cooked food more delicious.

2. Strong and durable. Cast iron products are very strong and durable. No matter how you use them, they will not be easily damaged. Even if they are not properly maintained and cause rust and other problems, they can still be renewed after simple treatment. If you maintain them properly, this can become a generation Legendary treasure.
3. Wide range of uses. This product has great applicability, whether you are in an induction cooker, an open flame stove, an outdoor grill, or a campfire, this product can be well controlled.
4. Easy to Clean. Do not leave standing water in the cast iron cooking grate for longer than 10-15 minutes. Wipe off excess oil and food residue with a paper towel or cloth.