Cast Iron Turkey Bird Sitter Chicken Sitter

Material
Cast Iron
Size
28*28*5cm
Finished
Vegetation Oil
Color
Black
Parts
Chainmail scrubber, Scrapper can be available
Logo
Available


The advantage of cast iron Turkey chicken sitter
1. Cast iron Chicken Sitter retains heat for a long duration of time, even after removing it from the heat source.
2. Cast Iron Turkey Chicken Roaster is an innovative cast iron cast cooking tool that is used to grill any type of meats and chicken as well as vegetables. It provides a wonderful and fun way to have a BBQ party.

3. Table Top BBQ Grill for Use with Gas Stovetop. Thick & heavy iron casting for professional use.
4.No matter if at home or in front of a campfire, it's the opportunity to create something special for family or friends.
5. Cast iron is PFOA & PFC free and it meets FDA regulations. Made of cast iron and designed for rapid, even heating and cooling.
Cast Iron Turkey Bird Sitter Chicken Sitter
Roast delicious chicken or turkey quickly and evenly using a Nonstick Pre-Seasoned poultry roaster and holder cast iron advantage of the natural heat retention and redistribution.
Pre-Seasoned Perfect roasting rack Fully cooks entire chicken, turkey, and duck, Suitable for a chicken up to 10 lbs.
Safe for use on all types of heat sources, including gas, charcoal, barbecue grills, electric, and induction, and oven safe up to 500F.

You can prepare a chicken, quail, or a small duck in the oven or a suitable grill thanks to the optimal heat distribution of this cast-iron roaster. Your meal will be juicy and cook evenly.

While your meat is cooking, its surplus fat and juices will flow into the drip pan, creating delicious and crusty skin.
Fill with spices, herbs, and stock to flavor your poultry dish with your favorite seasonings. The preseasoned surface can be used immediately, and the natural anti-adhesive effect of the cast iron will improve with each use.

About Accessories
Accessories can also be added, including silicone hot handle holders, proximity gloves, etc. If you have special needs, please let us know and we will do our best to realize it for you. In addition to the following accessories, we can also provide matching glass covers, as long as you have requirements.

About Package
The usual packaging is a brown box, color box, or white box. Of course, we can also customize it according to your needs. If you are selling online on Amazon or other places, we can provide mail-order packaging to ensure that it can be dropped. Box test, you can click the link to learn about the content of the box drop test. If you are selling in offline stores, we can also provide other packaging methods, such as display boxes. About Sarchi's packaging system, if you want to know more about it, please click here.

About Product Certificate
Our products can pass FDA, CA65, EU, LFGB, and other tests. If you want to view our other test certificates, please click the link.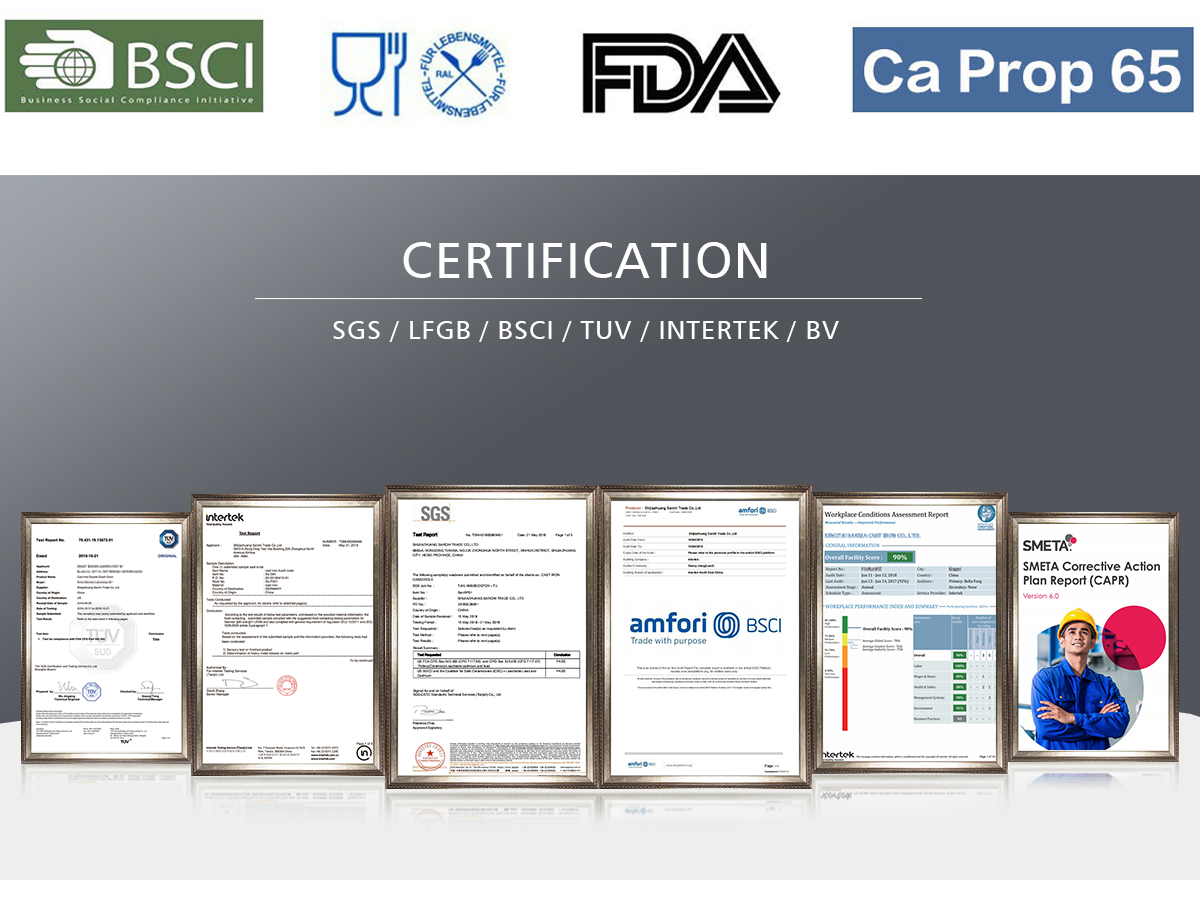 About Factory Strength
Regarding the production process, we will also strictly control it, and each process will be supervised by our quality inspectors, if you want to know more about product process, please click the link.
If you are interested in this product, please do not hesitate to contact our professional sales staff, they will provide you with satisfactory service.




About Customized Service
We can provide you with the following customized services, if you need these services, please do not hesitate to contact us.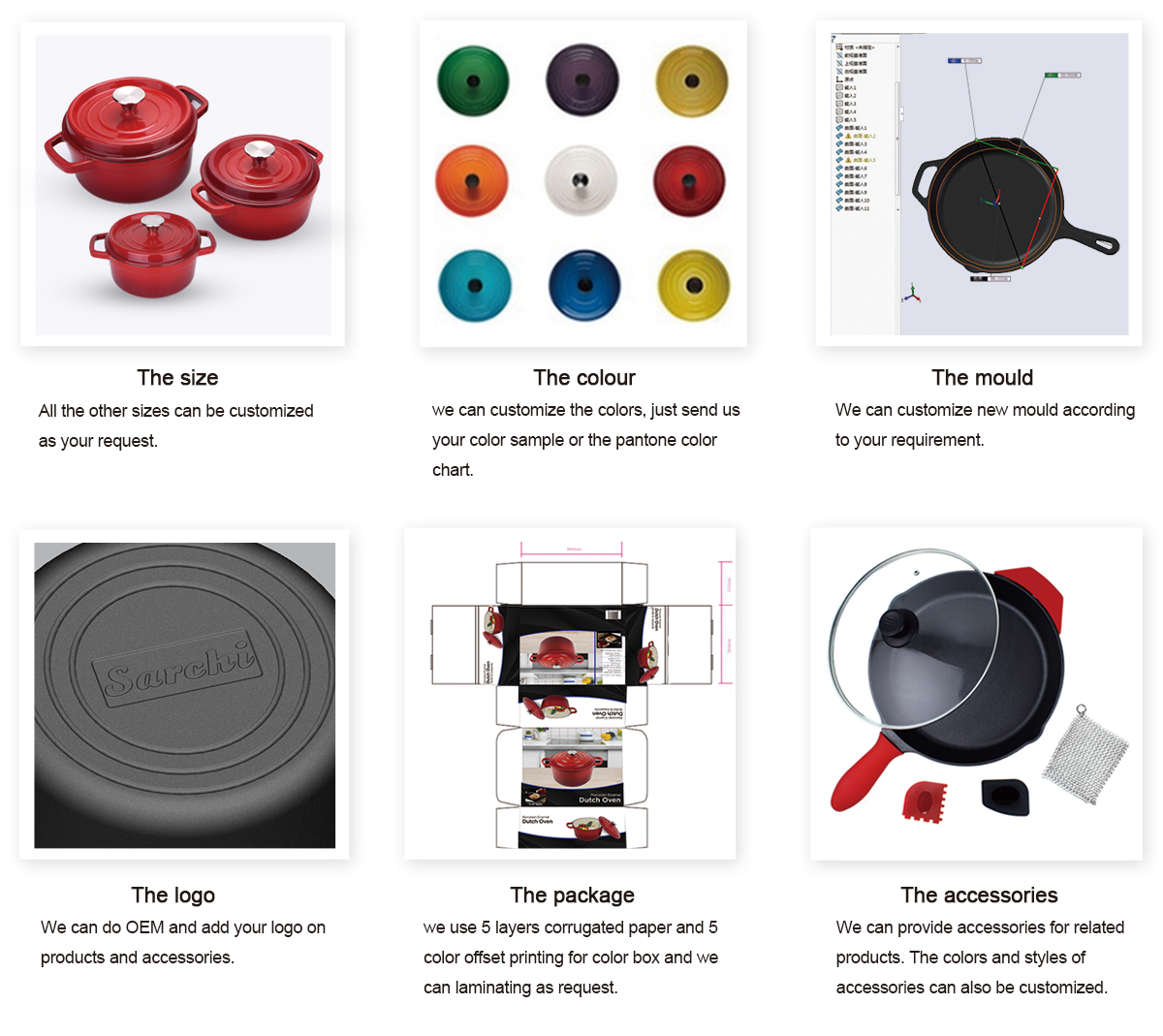 Feature:
1. Heat Preservation of Cast Iron Material. The cast iron turkey chicken sitter has good heat preservation, which can make the cooked food more delicious.

2. Strong and durable. Cast iron products are very strong and durable. No matter how you use them, they will not be easily damaged. Even if they are not properly maintained and cause rust and other problems, they can still be renewed after simple treatment. If you maintain them properly, this can become a generation of Legendary treasure.
3. Wide range of uses. This product has great applicability, whether you are in an induction cooker, an open flame stove, an outdoor grill, or a campfire, this product can be well controlled.