Cast Iron Outdoor Cookware Dutch Oven
All-round Dutch Oven - The integral legs on both pot and lid allow the oven to sit perfectly over the campfire; the lid can also be used as a skillet for frying.
Compared with lots of other materials, the Sarchi Dutch Oven is made of high-quality cast iron and will last a lifetime if cared for properly. It can be used both on the stove and in the oven at home, providing value for money.
Energy-saving - Heat is evenly distributed and held, making it great for deep frying, searing, and baking. It also has the advantages of great heat insulation and a good seal, so even a novice camper can do a delicious roasted chicken with this pot.
Customized service - The cast iron camping dutch oven is one of Sarchi's most popular products, and it is also a very popular dutch oven on the market. We can provide you with customized services, if you want to make the surface an enamel coating, other colors and accessories, and even your logo on the products, you can contact us at any time.



About Logo
Usually, we will put your logo on the back of the product, usually the letters of the logo, of course, it can also be a pattern, as long as we make a new mold according to your requirements, if you have other requirements for the logo, of course, no problem, please feel free to welcome You put forward your own ideas, we will give you a satisfactory solution.
About Accessories
Accessories can also be added, including lid lifter, tripod, dutch oven bags, silicone hot handle holder, etc. If you have special needs, please let us know and we will do our best to realize it for you. And we can also add your logo on the product or on the accessories as long as you have requirements. as long as you have requirements.

About Package
The usual packaging is a brown box, color box, or white box. Of course, we can also customize it according to your needs. If you are selling online on Amazon or other places, we can provide mail-order packaging to ensure that it can be dropped. Box test, you can click the link to learn about the content of the box drop test. If you are selling in offline stores, we can also provide other packaging methods, such as display boxes. About Sarchi's packaging system, if you want to know more about it, please click here.

About Product Certificate
Our products can pass FDA, CA65, EU, LFGB, and other tests. If you want to view our other test certificates, please click the link.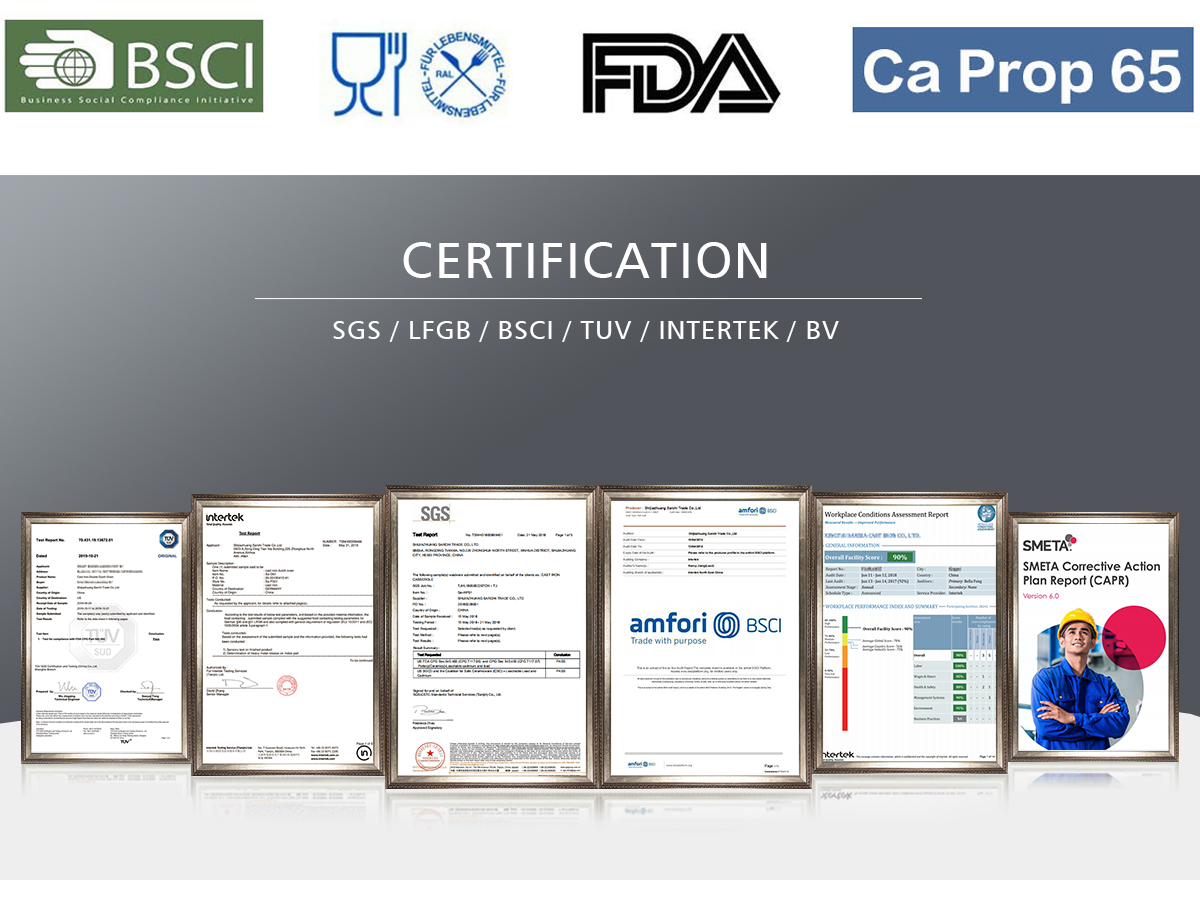 About Factory Strength
Regarding the production process, we will also strictly control, and each process will be supervised by our quality inspectors, if you want to know more about product process, please click the link.
If you are interested in this product, please do not hesitate to contact our professional sales staff, they will provide you with satisfactory service.




About Customized Service
We can provide you with the following customized services, if you need these services, please do not hesitate to contact us.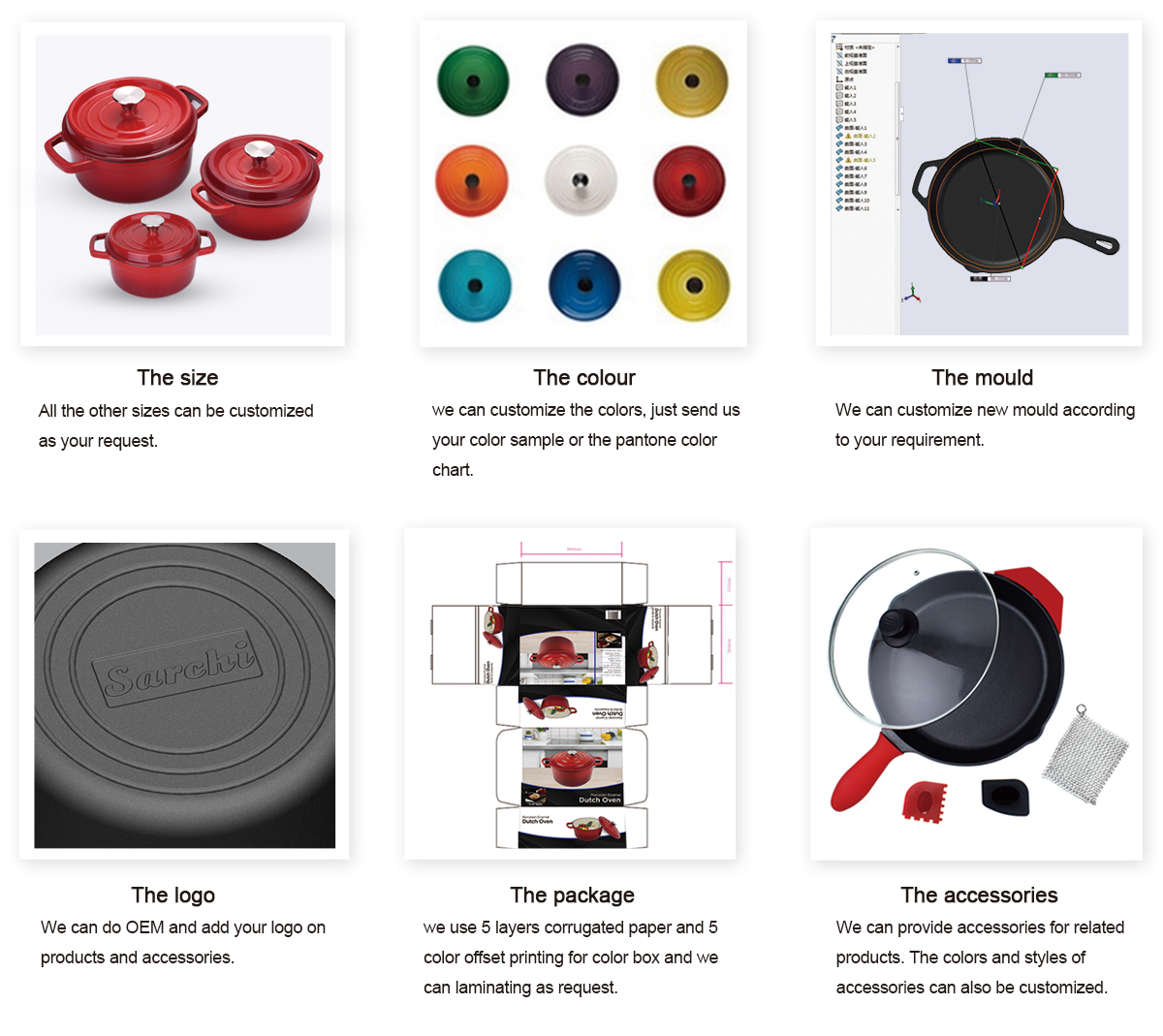 Feature:
1. Heat Preservation of Cast Iron Material. The camping cast iron dutch oven has good heat preservation, which can make the cooked food more delicious.

2. Strong and durable. Cast iron products are very strong and durable. No matter how you use them, they will not be easily damaged. Even if they are not properly maintained and cause rust and other problems, they can still be renewed after simple treatment. If you maintain them properly, this can become a generation Legendary treasure.
3. Wide range of uses. This product has great applicability, whether you are in an induction cooker, an open flame stove, an outdoor grill, or a campfire, this product can be well controlled.
4. Naturally does not stick. The outdoor dutch oven is coated with vegetable oil before leaving the factory and has been treated with high temperatures. The product can be used directly after opening the box and has a natural non-stick effect. If it is well maintained, the more it is used, the less sticky it will be.