A Set Of Three-Piece Cast Iron Skillet

Material

Cast Iron Enamel

Size

6inch(15*15cm) , 8inch(20*20cm) , 10inch(25*25cm)

Weight

0.8kg,1.2kg,2.1kg

Finished

Oil or enamel

Color

Red, Blue, or other colors

Accessories

Chainmail scrubber, Silicone pot holder available

Package

Put in the bubble plastic bag, then put in the box, put in the carton

Logo

Available
Premium quality cookware - The Enamel Cast Iron Fry Pan 3 Pcs Set features premium cast iron construction. Each piece is coated with a porcelain enamel coating, which creates a glossy and vibrant finish and a natural non-stick and rust-resistant surface.
Ergonomically designed - This Enameled Cast Iron Skillet is designed with a pouring spout to make it easier to pour liquids from the pan. It also has a long handle to make it more comfortable to hold and put inside the oven. Use a handle grip, potholder, or oven mitt to lift the pan while cooking as the handle gets hot.
Highly versatile cooking pan - With its excellent heat retention and the ability to cook food evenly, our Cast Iron Skillets are perfect for different cooking techniques such as pan-frying, sautéing, braising, roasting, baking, broiling, and more – safe in most stovetops.

About Details
The three-piece cast iron fry pan set is composed of three sizes of fry pans. This set is very popular in the market, and it is sold on Amazon and major shopping malls around the world. The sizes are 6inch, 8inch and 10inch respectively.
About Logo
Of course, we can also add your logo on the back of the frying pan, Of course, you can also add your logo to any position of the frying pan, as long as you customize a set of molds, not just letters, if there are patterns, we can also do it for you.
About Coating
The coating of this pan is an enamel coating. The process we use is the most advanced spraying process in the world. The enamel has strong adhesion and is not easy to fall off. After a 225g steel ball falls from a height of 80cm onto the enamel surface, The enamel surface has no effect. The color of the enamel coating can be customized according to your requirements, and we can also make a pure vegetable oil coating, depending on your needs. Contact us for more product tests.

About Accessories
Accessories can also be added, including silicone grips, pot brushes, scrapers, etc. If you have special needs, please let us know and we will do our best to realize it for you. In addition to the following accessories, we can also provide matching glass covers, as long as you have requirements


About Package
Regarding the packaging, this can be customized according to your needs. If you are selling online on Amazon or elsewhere, we can provide mail-order packaging to ensure that it can pass the box drop test. If you are selling in offline stores, we can also provide other packaging methods, such as display boxes.

About Product Certificate
Our products can pass FDA, CA65, EU, LFGB, and other tests. If you want to view our other test certificates, please click here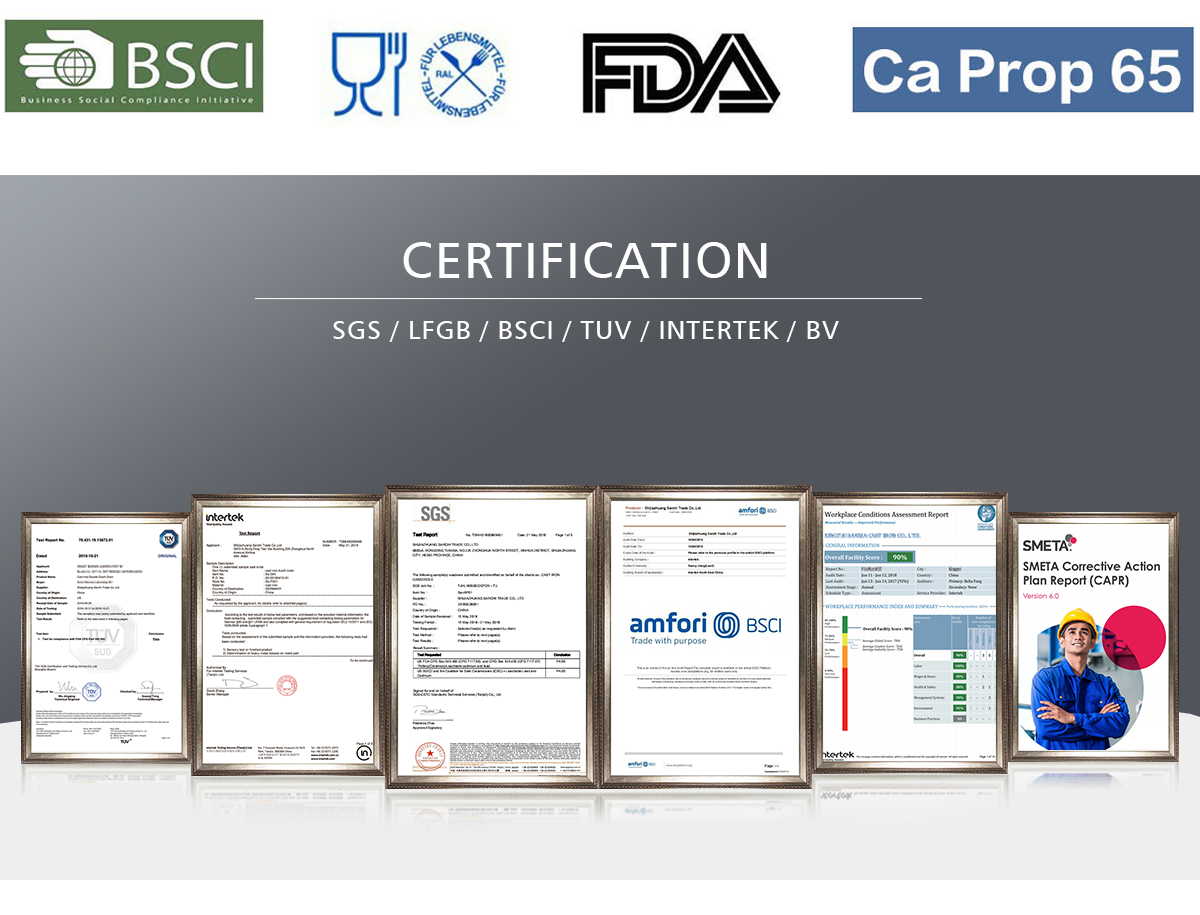 About Factory Strength
Regarding the production process, we will also strictly control, and each process will be supervised by our quality inspectors, if you want to know more about product process, please click the link
If you are interested in this product, please do not hesitate to contact our professional sales staff, they will provide you with satisfactory service.



About Customized Service


We can provide you with the following customized services, if you need these services, please do not hesitate to contact us.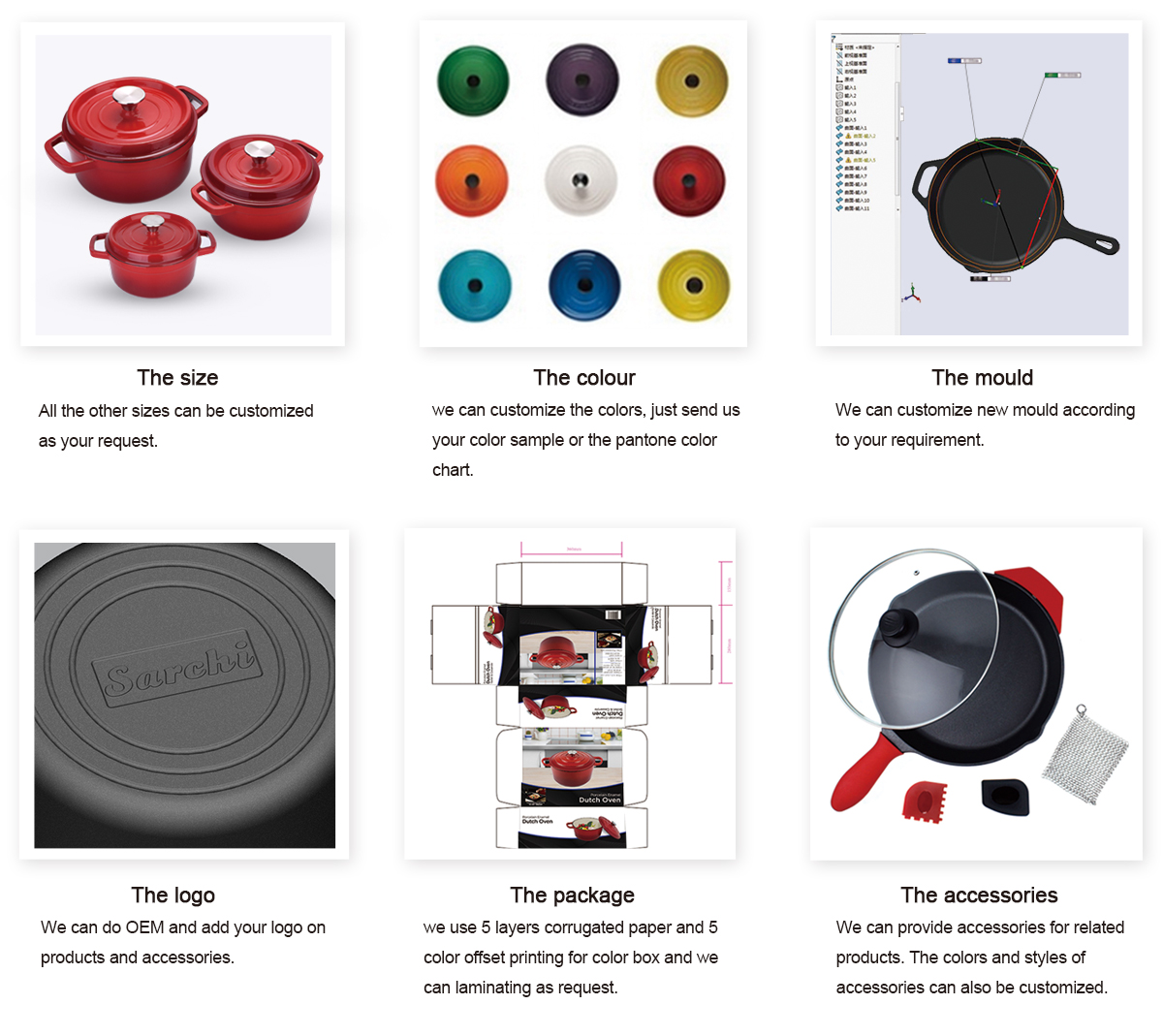 About Service Process
If you are interested in cooperating with us, the following is the process of our cooperation.
Received an inquiry from you-------Sales staff will communicate with you about your needs-------Make samples and mail them-------Sample is satisfied, Checked product price,quantity and delivery date ---- --Receipt of prepayment order and product production-------Receive final payment and delivery
Feature:
1. Will not rust. Because there is a layer of enamel coating, the product will not rust. Unless you can use violence to peel off the enamel coating, the enamel cast iron pan will not rust.

2. Cast iron material heat preservation and even heat distribution. The cast iron frying pan has good heat preservation and even heat dissipation, which can make the cooked food more delicious.
3. Wide range of uses. This product can meet your different cooking needs, whether it is food of any material, acidic or alkaline enameled cast iron frying pans can be easily controlled, and it also has great applicability, whether you are in an induction cooker or an open flame stove, both You can use this product.