What's the best experience in an RV? Camping and barbecuing, of course. Go to sleep watching the starry sky and wake up listening to insects and birds. Escape the hustle and bustle of the city, return to the natural life, feel the beauty of the original, and bring extraordinary colors to the ordinary life. Camping is a wonderful outdoor activity, bring your equipment, find a quiet place to camp in the mountains, and enjoy the tranquility and happiness of nature.
It is important to choose a camp site, and we remind you to check the local weather to avoid heavy rain and wind, and to prepare the necessities of life.
As night falls, people start to crave for a nice and relaxing meal. Barbecue is the hot comfort in the ordinary life. You don't have to hear the smoke of the world, but eat the taste of the world. A different kind of barbecue experience, grilling a different kind of new ideas. The taste of vanilla is gone, leaving only a light natural fragrance.
Meat is the common theme of human barbecue.The skewer is the basic form of Chinese barbecue, sprinkled with seasoning powder, accompanied by the sound of nourishment, three or five friends, barbecue beer, a blessing on earth!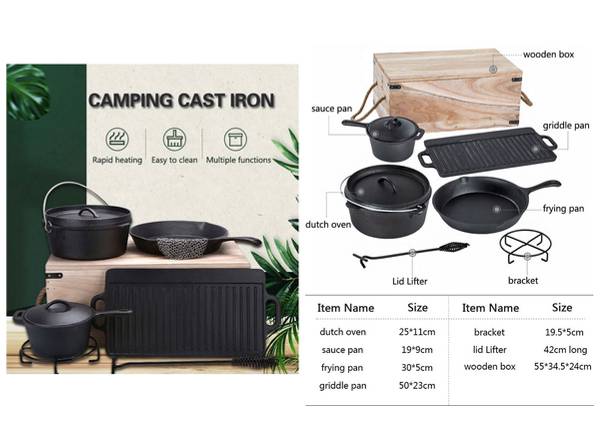 Outdoor camping cast Iron cookware set is a must-have cookware for BBQ or outdoor camping. It includes cooking utensils such as frying pans, dutch oven, griddle, sauce pans, plus matching tools, and a wooden box packaging. Complete categories, more convenient to carry. The whole set of cookware is made of cast iron, and is 100% seasoned before leaving the factory. It is ready to use out of the box. Cast iron cookware is more suitable for campfires. It is strong and durable and is not easily damaged. It is a good choice for camping.
Regarding each product in the outdoor suit, we have classic collocations. Of course, we can also deploy them according to needs. For example, the number of products in the suit can be reduced or increased, and single purchase is supported.For example, for outdoor dutch oven, we can provide three styles to choose from. For other special needs, you can contact our sales team for further communication.
Sarchi Cookware was founded in 2013, located in Hebei province, China. We are specialized in cast iron cookware. Our products have been exported to more than 30 countries and regions. We have cooperated with at least 150 customers and supplied more than 100 brands. Strictly Quality Control and timely After Sale Service make more than 90% cusomters reorder products every year.