About Cast Iron Outdoor Cooking Set in Wooden Box
1. Cast iron outdoor cooking set can be used on a gas stove, directly in the fire, or with burning ash. The preseasoned cooking pot set is ideal for outdoor and camping cooking. Cookware can also be used indoors.
2. The dutch oven is a cast-iron pot with a precisely fitting lid that you can cook, roast, stew, fry, and bake. Thanks to its high mass, the Dutch Oven regulates uneven heat and thus enables even cooking.
3. Cast iron outdoor cooking set in a wooden box comes with a convenient wooden box, so you can keep everything in one place.
4. Easy to clean - Pre-seasoned and non-stick surfaces help to ensure that cleaning is quick and easy.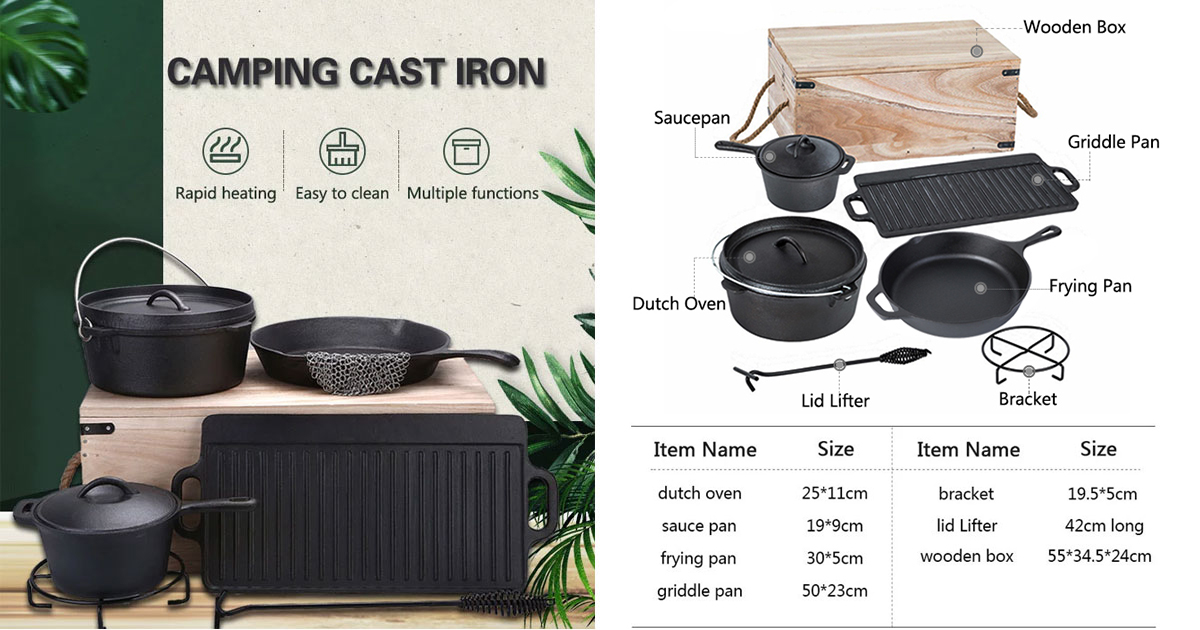 Product Introduction
Cooking outdoors can be a fun and enjoyable experience, especially when you have the right tools and equipment. A cast iron outdoor cooking set is a versatile and durable option for your backyard or campsite cooking needs.

Made from cast iron, these cooking sets are strong and able to withstand high heat, making them ideal for grilling, smoking, and even baking. The material is also naturally non-stick, so you can easily cook and clean it without worrying about food sticking to the surface.

One of the benefits of using a cast iron outdoor cooking set is the ability to evenly distribute heat. Cast iron is a great conductor of heat, so it can help to cook food evenly and consistently. This is especially useful when grilling, as it can help to prevent hot and cold spots on the grill, leading to more evenly cooked food.

Another advantage of using a cast iron outdoor cooking set is the durability of the material. Cast iron is highly resistant to wear and tear, and with proper care, it can last for decades. It is also very easy to clean, as you can simply scrub it with a wire brush and hot water after use.
When shopping for a cast iron outdoor cooking set, there are a few things to consider. First, consider the size and weight of the set. If you plan on taking it with you on camping trips, you may want to opt for a smaller and lighter set. On the other hand, if you plan on using it mostly at home, a larger set may be more practical.
You should also consider the type of cooking you will be doing. Different sets may come with different types of cookware, such as griddles, skillets, or dutch ovens. Choose a set that includes the types of cookware you need for your preferred outdoor cooking methods.

In addition to the cookware, you may also want to look for a set that includes accessories such as tongs, spatulas, and other utensils. These can be handy for flipping and handling food on the grill or stovetop.
One important thing to consider when using a cast iron outdoor cooking set is proper care and maintenance. To keep your set in good condition, it is important to season the cookware before use. This involves coating the surface with oil and heating it in the oven to create a protective layer. This helps to prevent rust and make the surface more non-stick.
After use, be sure to thoroughly clean the cookware and dry it completely before storing it. If you notice any rust forming, you can easily remove it with a wire brush and re-season the cookware.
Overall, a cast iron outdoor cooking set is a great investment for anyone who loves to cook outdoors. It is durable, versatile, and easy to care for, making it the perfect choice for backyard grilling, camping trips, and more. Whether you are an experienced outdoor chef or just starting out, a cast iron set is sure to become a staple in your outdoor cooking arsenal.

About Product Detail
Regarding each product in the outdoor suit, we have classic collocations. Of course, we can also deploy them according to needs. For example, the number of products in the suite can be reduced or increased, and a single purchase is supported. For example, for the outdoor dutch oven, we can provide three styles to choose from. For other special needs, you can contact our sales team for further communication.

The cast iron outdoor cooking set is must-have cookware for BBQ or outdoor camping. It includes cooking utensils such as frying pans, a dutch oven, griddles, and saucepans, plus matching tools, and wooden box packaging. Complete categories, more convenient to carry. The whole set of cookware is made of cast iron and is 100% seasoned before leaving the factory. It is ready to use out of the box. Cast iron cookware is more suitable for campfires. It is strong and durable and is not easily damaged. It is a good choice for camping.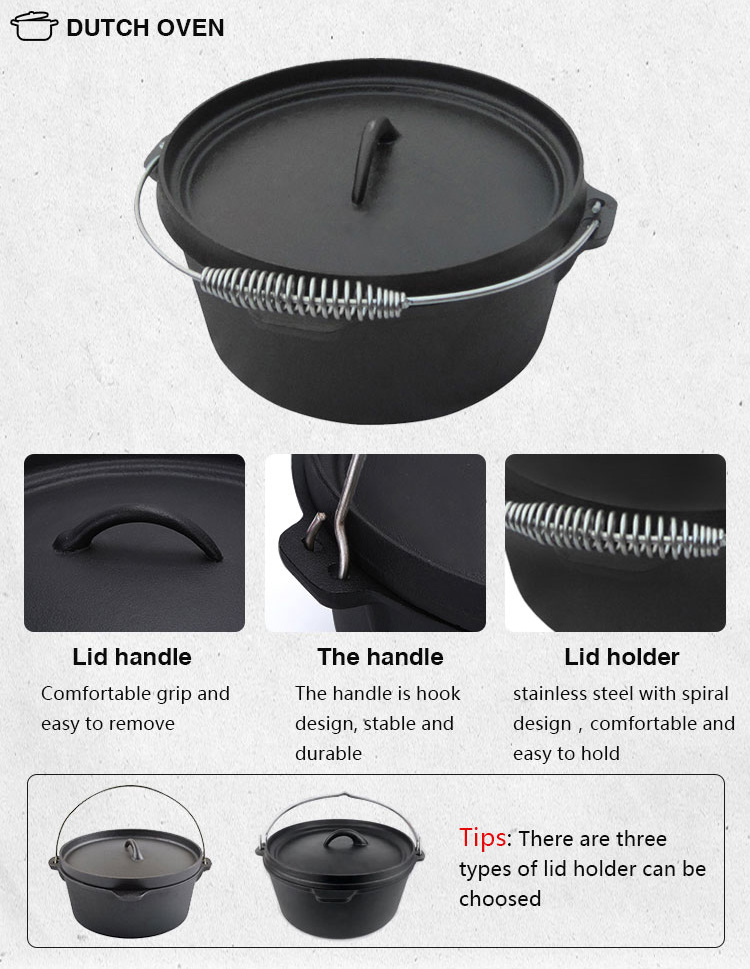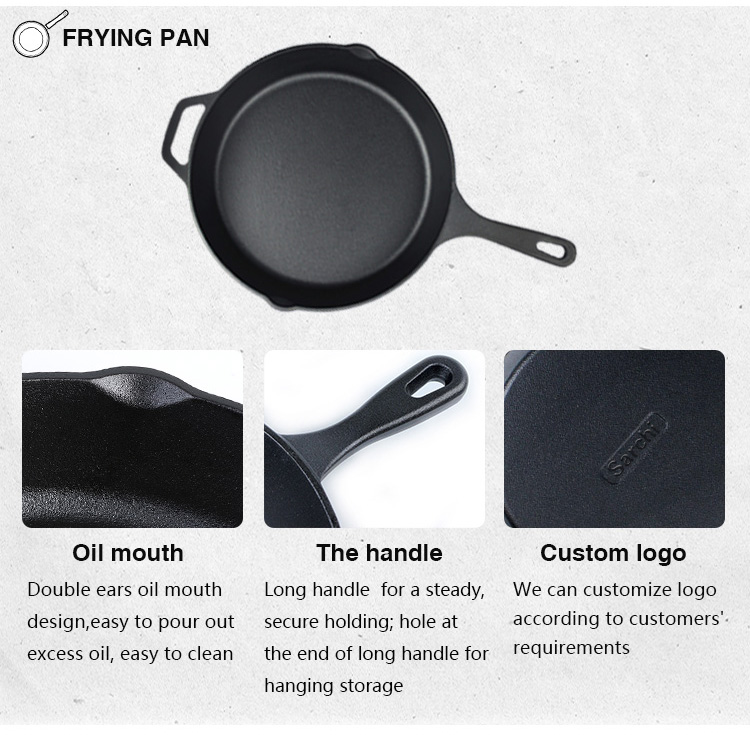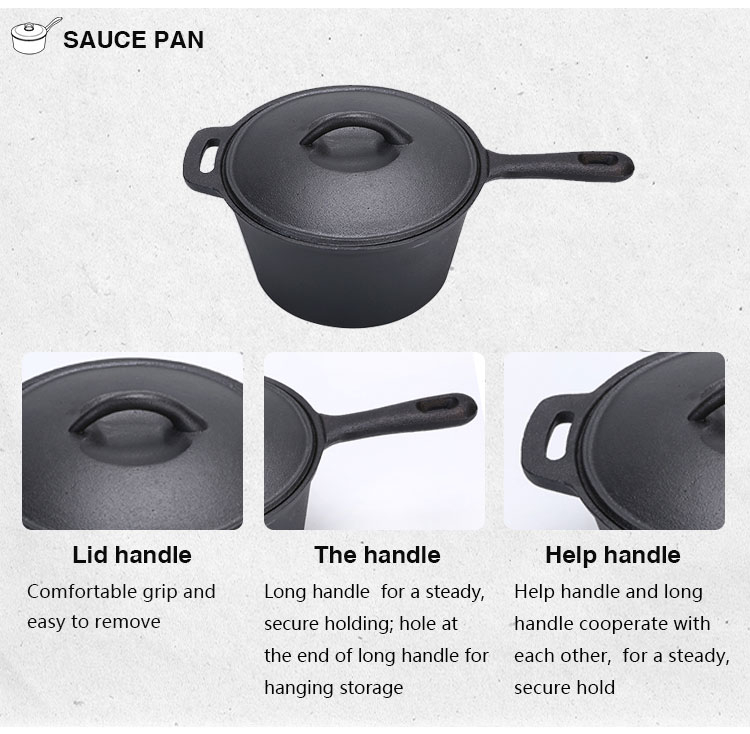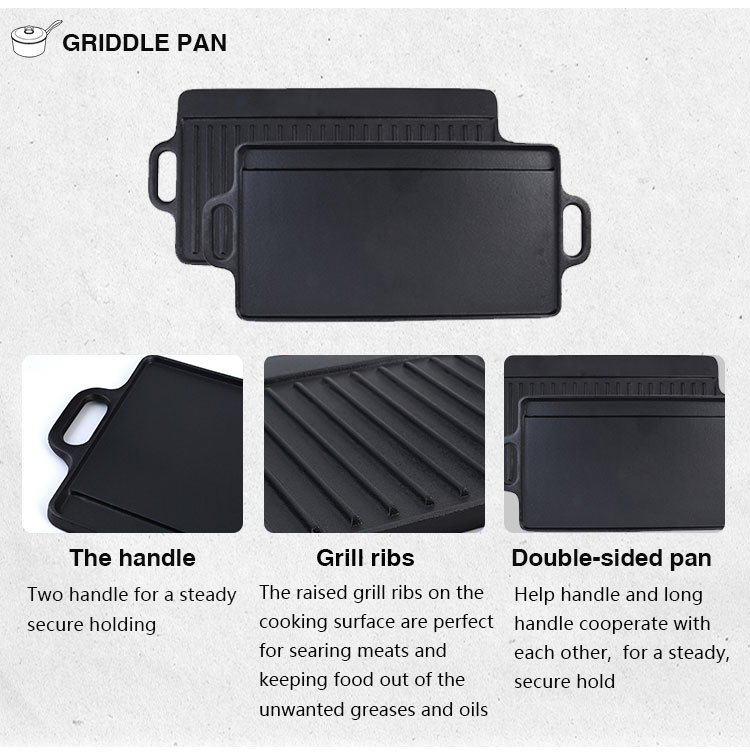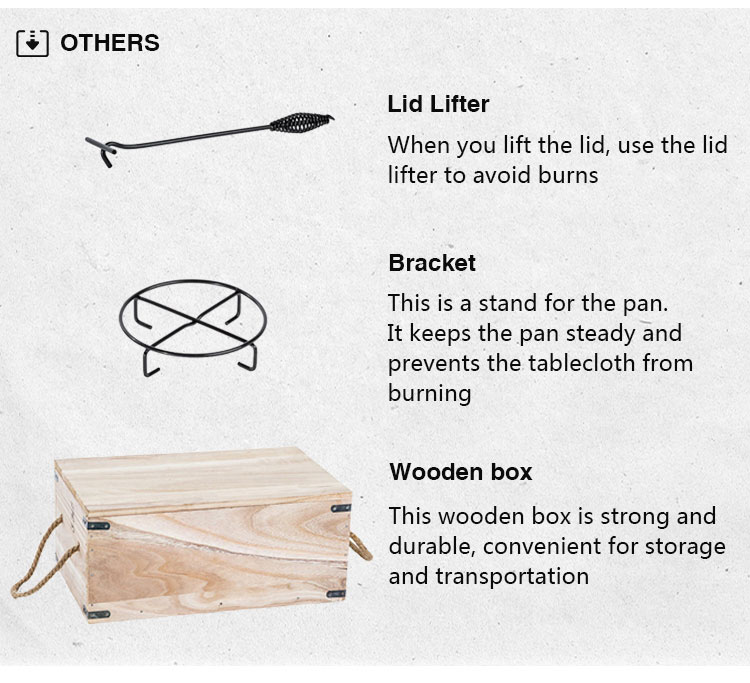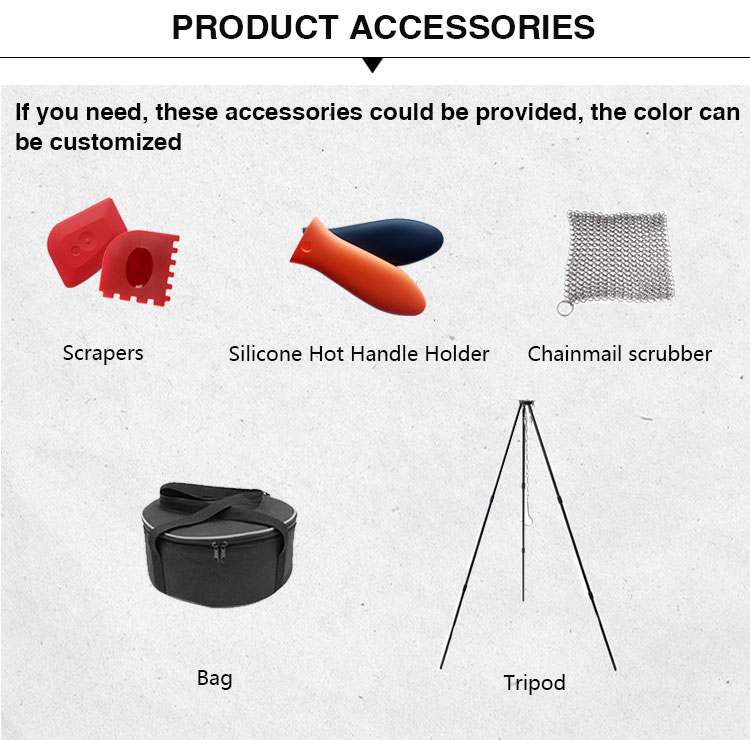 About Product Certificate
Our products can pass FDA, CA65, EU, LFGB, and other tests. If you want to view our other test certificates, please click here.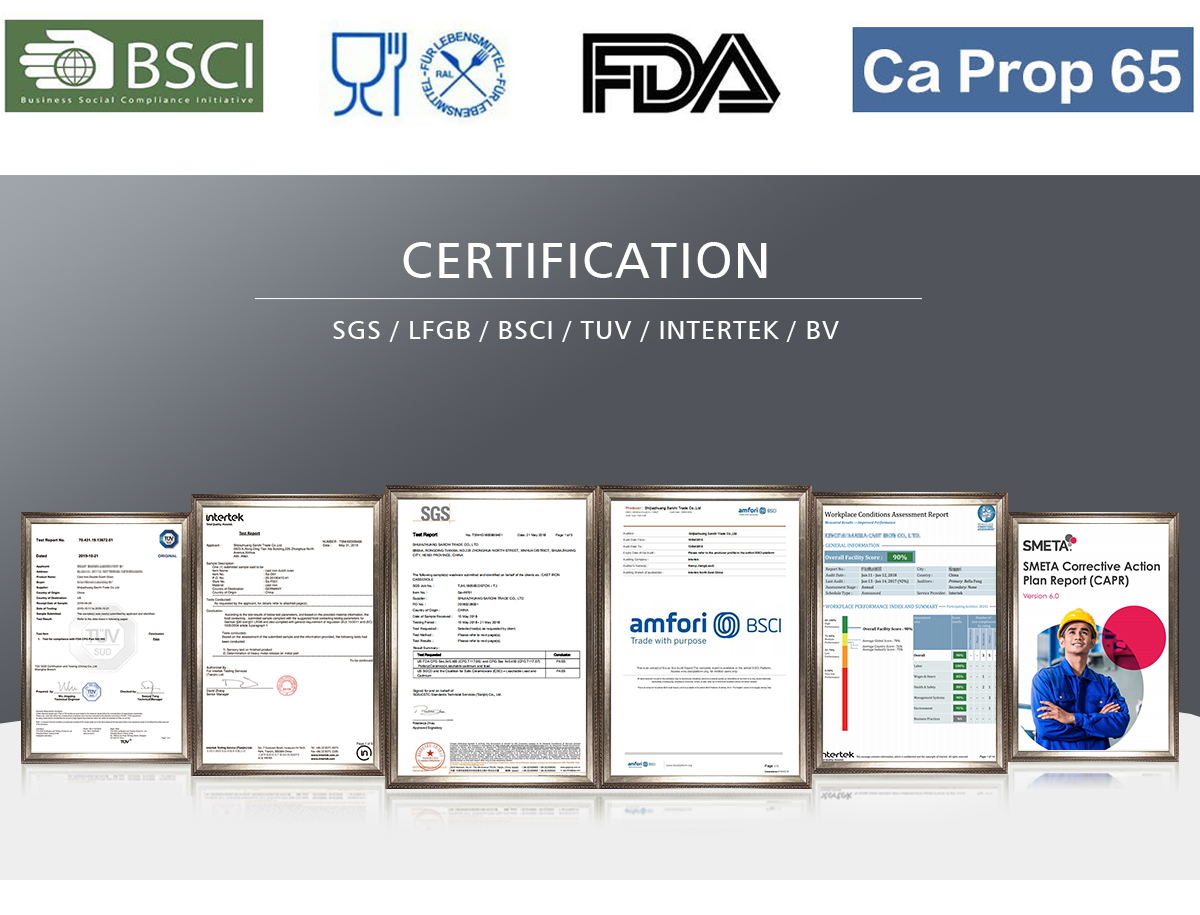 About Factory Strength
If you are interested in cooperating with us, the following is the process of our cooperation.
Received an inquiry from you-------Sales staff will communicate with you about your needs-------Make samples and mail them-------Sample is satisfied, Checked product price, quantity and delivery date ---- --Receipt of prepayment order and product production-------Receive final payment and delivery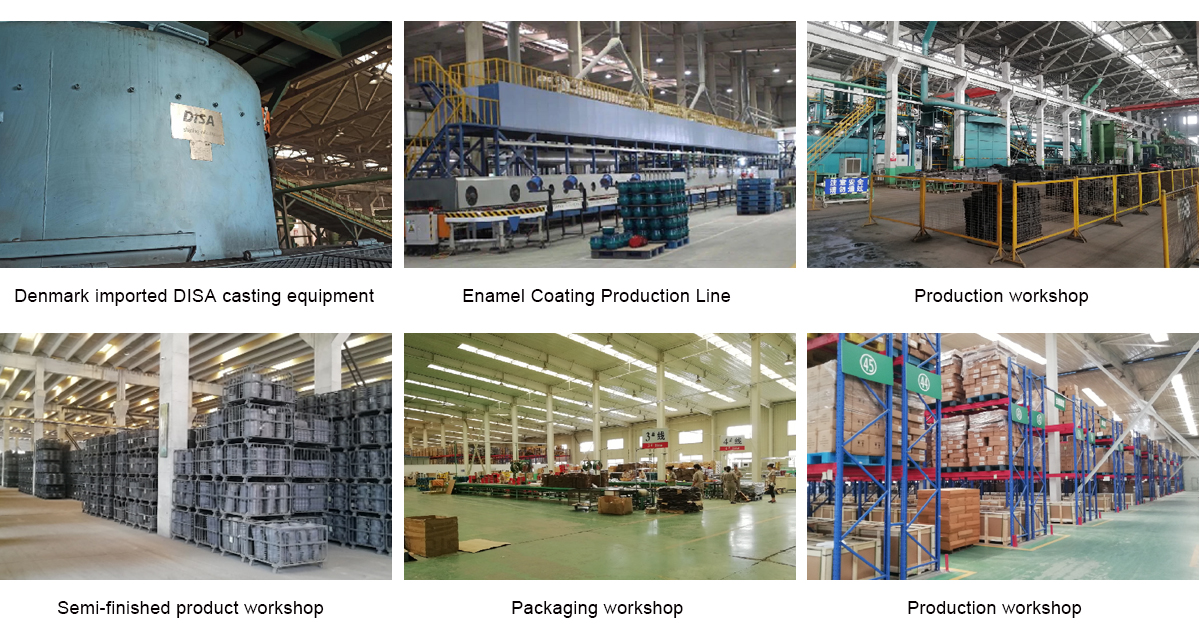 About Customized Service
We can provide you with the following customized services, if you need these services, please do not hesitate to contact us.