Cast iron cookware is a great way to create delicious meals. It will heat up quickly and evenly, which means your food will taste better every time you use it! Plus, cast iron lasts longer than other types of pots or pans. These are all reasons why having the best cast iron cookware set can be a great investment for any kitchen.
A cast iron cookware set is a cookware that has been around for centuries. It is durable, versatile, and affordable. Cast iron cookware sets are one of the best cookware sets in the kitchen because they are so easy to clean up after you use them. If you want a quality pot or pan without having to spend a lot of money, then this article is for you!
You may have heard that cast iron cookware is the best, and you may be wondering how it differs from other types of cookware. The truth is, there are so many benefits to using this type of cookware that it's worth a look! Here is some more information about these best-cast iron cookware sets.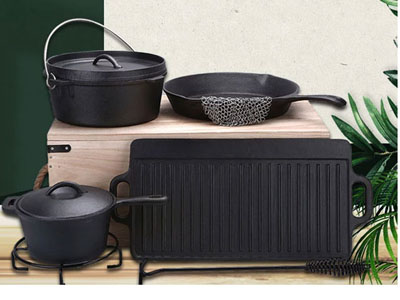 Sarchi Cast Iron Cookware Set In Wooden Box
What is cast iron cookware?
Cast iron cookware is the most commonly used type of cookware in the world. It has been around for over 2000 years and many believe it has helped make possible the famous cuisines of Chinese, Indian and French cooking. Using cast iron cookware can improve the flavor by locking in the natural juices. It is also perfect for cooking at high temperatures, making it better at grilling meat than almost any other material. Cast iron cookware is easy to clean and you can wash it by hand or put it in the dishwasher. They are extremely durable and can last a lifetime if properly maintained.
Sarchi cast iron cookware set is must-have cookware for BBQ or outdoor camping. It includes cooking utensils such as frying pans, dutch oven, griddle, saucepans, plus matching tools, and wooden box packaging. Complete categories, more convenient to carry. The whole set of cookware is made of cast iron and is 100% seasoned before leaving the factory. It is ready to use out of the box. Cast iron cookware is more suitable for campfires. It is strong and durable and is not easily damaged. It is a good choice for camping.
Sarchi Cast Iron Cookware Set In Wooden Box
About cast iron cookware set in wooden box
1. Cast iron cookware set can be used on a gas stove, directly in the fire, or with burning ash. The preseasoned cooking pot set is ideal for outdoor and camping cooking. Cookware can also be used indoors.
2. The dutch oven is a cast-iron pot with a precisely fitting lid that you can cook, roast, stew, fry, and bake. Thanks to its high mass, the Dutch Oven regulates uneven heat and thus enables even cooking.
3. Cast iron cookware set in wooden box comes with a convenient wooden box, so you can keep everything in one place.
4. Easy to clean - Pre-seasoned and non-stick surfaces help to ensure that cleaning is quick and easy.
Sarchi Cookware is specialized in cast iron cookware. Strict quality control and service enable more than 90% of customers to make reorder every year. Welcome to contact us today or visit our website to learn more about cast iron cookware.