The Dutch oven is one of the most important kitchen tools a home cook can have. Dutch ovens are usually made of coated or uncoated cast iron and look like heavy-duty pots and pans. In addition to their sturdy handles and durable design, they have thick-walled lids that help collect heat and steam, allowing them to cook food evenly. They can be used in the oven or on the hob to bake bread, stew meat, braise soups, and much more. The possibilities for Dutch ovens are truly endless.
What is a double dutch oven you may ask? Before you start your research into double Dutch ovens versus Dutch ovens, you need to know what a double Dutch oven is.
It is a cast-iron cooker with a base similar to a traditional Dutch oven. The lid is usually flatter than the original and has a handle on each side as it is designed so that it can be cooked like a frying pan.
The difference between a double dutch oven and a dutch oven is that the design is deeper than a normal lid, allowing you to flip the lid over and use it as a frying pan. It has both the handles and the oven in the same position. You can therefore use the heat from the oven to prepare food on the lid.
Alternatively, you can use the lid as a separate frying pan for any heat source used in the Dutch oven itself.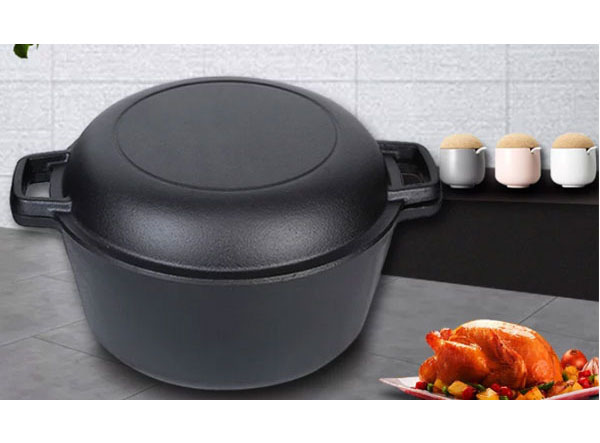 Features of the Double Dutch oven
The lid of a Double Dutch oven is thicker than the flat lid of a standard Dutch oven. It is also hemispherical in shape, which is because the versatile lid can double as a frying pan.
The main advantage of this hemispherical lid is that you can flip the lid over to prepare the condiments for your meal while preparing it in the Dutch oven. Examples include potatoes, sweet potatoes, fried onions, and fried eggs.
When the lid is on a double Dutch oven, it is deeper than a regular Dutch oven. This is a great feature as you can prepare more food to feed more family and friends.
Such a versatile pan can be expensive, but for every expensive option, there is also a more budget-friendly option. Although it may seem like an investment at first, remember that double Dutch ovens are among the most durable pieces of cooking equipment available. In fact, they can last for years, and in some cases a lifetime.
The main difference between an original Dutch oven and a double Dutch oven
The Dutch oven has a less deep lid which is used to seal the Dutch oven and retain moisture to allow for slow cooking.
The cast iron on the lid is not as thick as a double Dutch oven as it cannot be used for cooking, but only to seal the Dutch oven and retain heat and flavor.
Which Dutch oven is best for you?
The double Dutch oven is based on the original Dutch oven, so it has all the features of the original Dutch oven, but offers you great flexibility when it comes to cooking and saves you time at the same time.
Double Dutch ovens are popular and dutch oven cast iron is perfect for outdoor cooking and camping as they have the ability to cook in both the lid and the oven.

Pre-Seasoned 2 in 1 Enameled Cast Iron Double Dutch Oven
The double-sided dutch oven is one of Sarchi's most popular products, and it is also a very popular dutch oven on the market, but it is not only a dutch oven, but it is also a frying pan, put the lid of the dutch oven can also be used as a frying pan, which makes this The dutch oven has a wider range of uses. Cast iron material, seasoned before leaving the factory, ready to use. Of course, if you want to make the surface an enamel coating, there is no problem. We can also make various spray colors, which can be customized according to your requirements. If you want to get more information about the best dutch oven for camping, please contact us.