When you consider the quality of a fully cooked steak, it's easy to see why cast iron skillet steaks are the best. A delicious, juicy, and tender steak has a nice crust on the outside, which is caused by searing the meat at extremely high heat. While this is a whole lot of science behind why trust us when we say that a quality sear brings out the maximum flavor in your favorite steak. Look around and see that when you think of your favorite cut, whether it's something as lean as a strip or as marbled as a rib eye, there's plenty to see.
Cast iron pans can absorb and retain a lot of heat. Non-stick pans or traditional grills can cause heat to escape quickly, making the crust difficult to reach. They can also be easily transferred to the oven and are perfect for the final "finishing" stage of steak in a skillet.
How to Cook Steak in a Cast Iron Skillet?
You've probably heard that cooking steak in a cast-iron skillet is a great choice for grilling, and it is. But have you ever wondered how to cook steak in a cast-iron skillet? Here's everything you need to know.
Cooking steak in a cast-iron skillet is ideal because cast iron heats very evenly and holds heat very well. A preheated cast iron skillet provides the intense heat needed to sear the outside of the steak to a crispy, delicious golden brown, while also steaming the inside to perfection. This method works well for steaks 1" to 1-1/2" thick.
You can also choose to cook the steak on a cast iron steak grill plate and in the oven. This feature is especially useful when using the reverse baking technique, which is very useful for thick-cut steaks, including 2-inch thick filet mignon and thick-cut bone-in rib-eye steaks.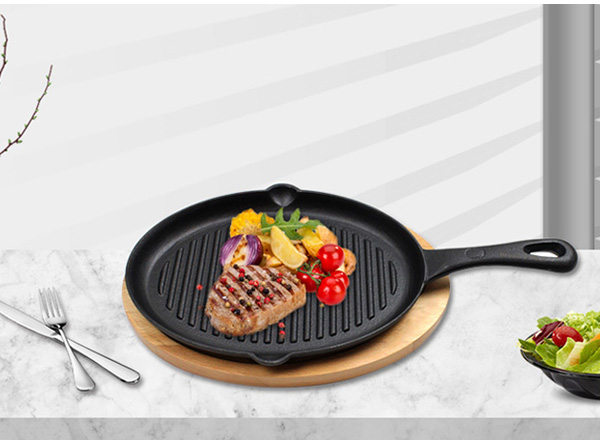 Cast Iron Steak Grill Plate
Make sure the steak is completely melted.
Season steak as desired; we recommend Kansas City Steak Original Steak Seasoning.
Heat the cast iron skillet on high for about 5 minutes. A very hot skillet will provide the best sear.
Pour 1-2 tablespoons of vegetable oil into the pan (enough to cover the bottom), then immediately place the steak in the hot pan.
Cook steaks until internal temperature is 5°F below desired final temperature, turning once for 1-inch thick steaks and occasionally for thicker steaks.
Remove and let steaks rest for 5 minutes before serving, then cover lightly with tin foil. During this time, the meat temperature will continue to rise by about 5°F (called "residual cooking").
Steaks are also important because the heat of cooking pulls the juices from the meat toward the surface. If you thinly slice it immediately after cooking, those delicious juices will end up on your plate, not on the skirt. Allowing the steak to rest will give the juices time to sink into the entire meat and keep it moist and flavorful.