The early morning sun shines through the window, the hot pans "nip", the spoons and moulds clash with a crisp metallic sound, and the aroma of thick muffins spreads out to the enjoyment of the sound.
Muffins are a spontaneous food, varying from place to place. In the UK, muffins are a thin layer, in the US, American muffins are slightly thicker little rounds. In Asia, especially in Japan, the thick Japanese puff pastry is round and chunky and unique in the puff pastry world.
A thick muffin without baking powder. The texture is firm and dense, and the small size of two or three pieces Just enough to power through the day.Drizzle with honey and garnish with blueberries and carrots. A quick 10-minute breakfast can be perfect.
Make them at home in your spare time! The muffins are fluffy and creamy, making them a great breakfast and afternoon tea partner.
= Ingredients =
Muffin mix 150g / 1 egg
Milk 100ml / Honey to taste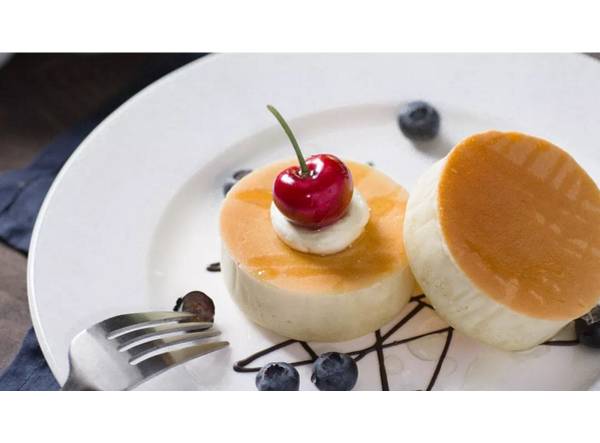 = Steps =
1.Pour the egg into a bowl and whisk to form a liquid.
2.Pour in the milk and stir slightly.
3. Pour in the muffin mix and mix well. Don't worry about the small lumps, just mash the big ones.
4. Prepare a 4-inch round mousse ring. Cut the baking paper to the same height as the mould, make a circle the same size as the mousse ring and glue the two ends together. Place the greaseproof paper into the moulds and place them directly on the heat over medium heat. If you have a cast iron muffin pan, you don't need to do this!
5. Pour the muffin batter into the cast iron muffin pan, filling it about halfway, and slightly smoothing the surface with the back of a spoon.
6. Pour about 20g of water into the pan (not on the bottom of the muffin), cover the pan with a lid, turn the heat down (always low), cover and simmer for about 15 minutes.
7. After 15 minutes, when the muffins have set on the top, take out the moulds with anti-burn gloves.
8.Remove the greaseproof paper from the sides and turn the muffins over and cook for another 5 minutes.
9.Remove from the oven and serve with a drizzle of honey and fruit.
Tips
1.If you make a lot at once, you can wrap them in cling film and store them in the fridge for up to 2 days.
2. Be careful not to wrinkle the greaseproof paper when pouring in the muffin mixture, otherwise the sides will be uneven.
If you want to know more about the cast iron muffin pan price, please contact us.