In winter, you can't be happier than sitting around a hot pot with three or five friends, feeling the heat and watching the ingredients tumble happily. A Fondue pot with melted cheese or sweet chocolate, strawberries, bread cubes and other ingredients, and a rich flavour with a pulling texture, is definitely an unforgettable feast for the palate.
Cheese fondue
Cheese fondue is very common in Switzerland, and the history of this Swiss national dish can be traced back to perhaps 800 B.C. It is described in the literature as "a mixture of sheep's milk cheese, wine and flour". Today's Swiss cheese fondue is usually made by simmering cheese and wine together in a clay pot and then served with bread for dipping.
The distinctive aroma of cheese can often be smelled on the streets of Switzerland in winter, and different regions of the country have their own preferred varieties of cheese. Cheese fondue is easy to make, nutritious and cold-weather friendly, so it's not surprising that more than 8 million Swiss people are said to consume nearly 21 million servings of it each year.
Torn pieces of bread are stirred into the hot cheese with a long-handled fork, and some black pepper can be sprinkled on top to enhance the flavour, or served with pickles to relieve the fatigue. But many foreign tourists are not used to the "stinky" taste of cheese, do you want to try it?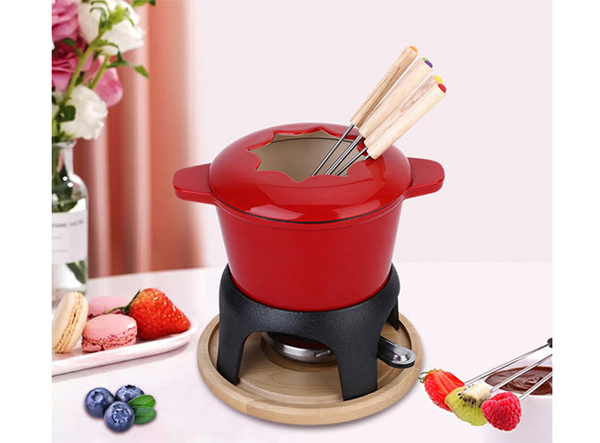 Chocolate fondue
Chocolate fondue is the only fondue comparable to cheese fondue in Switzerland, and it is one of the world's highest consumers of chocolate. Similar to cheese fondue, the chocolate and brandy are put into a pot and the cream is added according to taste, and it can be heated underwater to make the chocolate solution silkier.
The dip can be a variety of fruits, dried fruits, cakes desserts, high calorie and balanced nutrition, really suitable for high latitude countries gathering to enjoy. High sweetness may not be acceptable to some people, but the chocolate fondue plate is very good-looking, as afternoon tea and friends to talk while eating or very suitable.
1. CAST IRON MATERIALS
Selected high quality pig iron, after high temperature smelting, fine casting process, it is safety and healthy; it provides superior heat retention and even heat distribution; it's incredibly durable.
2.VALUE SETS
This cheese fondue set includes hotpot, cast iron bracket, wood holder, alcohol box and fork.Just one set for you to enjoy the warm moment of cheese fondue.
3.CUSTOMIZED ACCEPT
This Fondue Pan is enamelled, has a non—stick coating, the color can be customized by Pantone code or template.
Sarchi Cookware was founded in 2013, located in Hebei province, China. We are specialized in cast iron cookware. Our products have been exported to more than 30 countries and regions. We have cooperated with at least 150 customers and supplied more than 100 brands. Strictly Quality Control and timely After-Sale Service make more than 90% of customers reorder products every year.
If you want to get more information about cast iron cookware price,please contact us.