Cast Iron Mini Fondue Set Details

Material

Cast iron

Size

16.5*16.5*10cm

Finished

Enamel

Color

Red, Orange, or customized color

Logo

Customized
About the cast iron mini fondue set:

Perfect for entertaining, dinner parties, and special occasions, the Sarchi's cast iron fondue set is a beautiful centerpiece that will impress your guests and provide classy fun for everyone.
This cast iron mini fondue set includes 6 piece fondue gift set includes an enameled cast iron fondue pot, 6 dipping forks, a fondue pot base, an adjustable fondue pot burner, a cast iron fondue stand, and a wooden base. The long-stemmed forks are easy to grip and fit perfectly into the fondue pot in between uses, as they rest against the cutout grooves in the customized lid. Dip cubed bread, sliced fruit, or roasted vegetables into cheese fondue, or dip cubed cake, sliced fruit, or marshmallows into chocolate fondue. Enjoy this Swiss delicacy at any time, from the comfort of your own.
Click to view enamel cast iron cheese fondue with long handle
Sarchi cast iron mini fondue set brings back the old, authentic way of making luscious fondue – but made more conveniently! It features a super sleek and portable design that allows you to create an elegant centerpiece for your table setting - perfect for entertaining, dinner parties, and special occasions! In winter, you can't be happier than sitting around a hot pot with three or five friends, feeling the heat and watching the ingredients tumble happily. A Fondue pot with melted cheese or sweet chocolate, strawberries, bread cubes, and other ingredients, and a rich flavor with a pulling texture, is definitely an unforgettable feast for the palate.
Click to view: Delicious Chocolate and Cheese Fondue at Home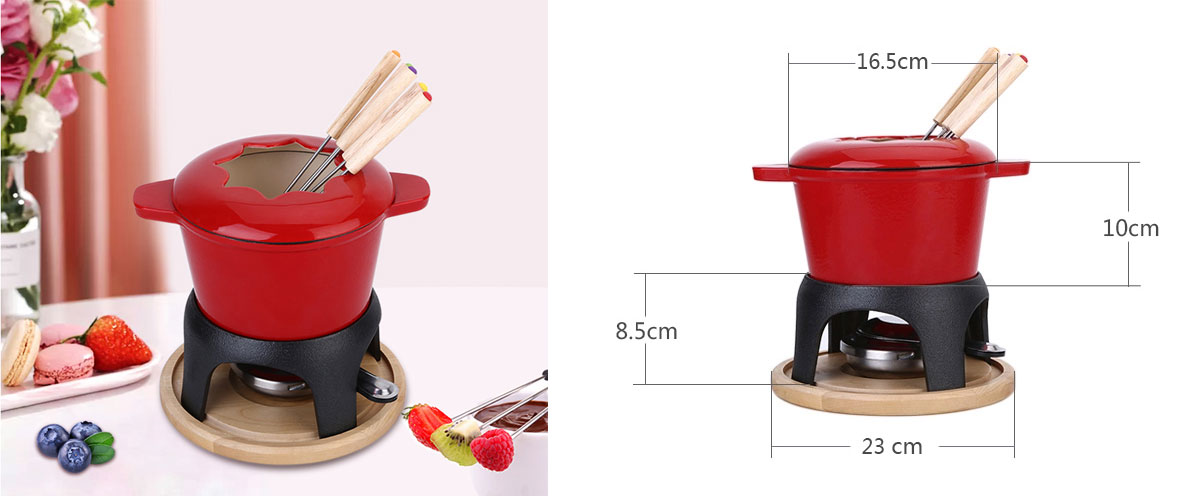 Advantages of cast iron mini fondue set
Perfectly Melted Ingredients - With its enameled cast iron construction, this fondue pot melts your chocolate and cheese to the perfect temperature. It boasts excellent heat retention and distribution that keeps your fondue warm. You can easily control the flame with a simple turn on the included adjuster.
Convenience Included: Fonduer maker has an Inside and out enamel surface for easy cleaning of sticky cheese fondue and chocolate fondue with no pre-seasoning required.
Fondue Set Includes: Cast Iron Fondue Pot, Cast Iron Base, Six Fondue Forks, and liquid fuel holder (fuel not included)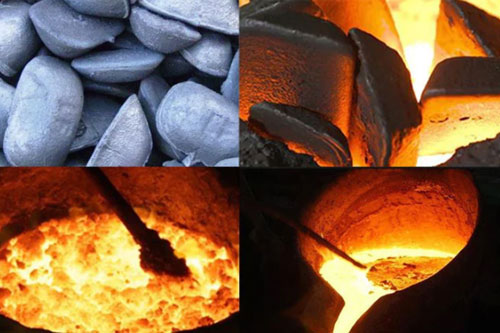 CAST IRON MATERIALS
Selected high quality pig iron, after high temperature smelting, fine casting process, it is safety and healthy; it provides superior heat retention and even heat distribution; it's incredibly durable.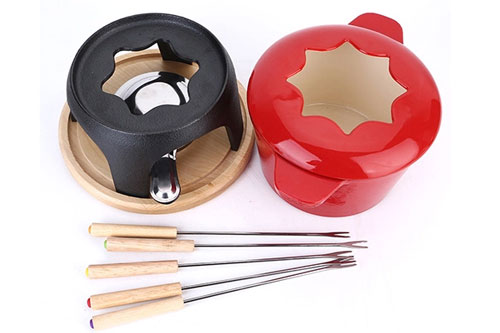 VALUE SETS
This cheese fondue set includes hotpot, cast iron bracket, wood holder, alcohol box and fork.Just one set for you to enjoy the warm moment of cheese fondue.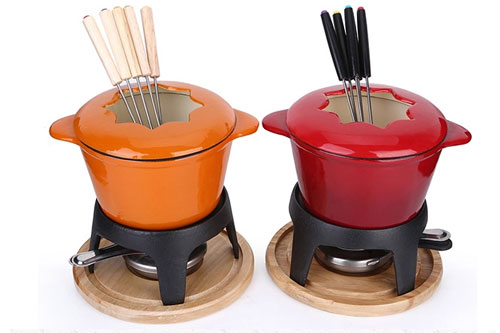 CUSTOMIZED ACCEPT
This Fondue Pan is enamelled, has a non—stick coating, the color can be customized by Pantone code or template.