Enamel cast iron oval white double casserole grill pan

Material

Cast Iron

Size

36*24.5*10cm

Finished

Enamel coating

Color

White or customized

Parts

Chainmail scrubber, Silicone handle holder, and Scrapper can be available

Logo

Available
Oval Double Dutch Oven with A Grill Pan Lid Description:
The beautiful enamel finish of the double cast iron dutch oven allows for incredibly versatile use in your kitchen. Use the Dutch Oven to marinate, cook, serve, and/or store your meals. The beautiful color makes these Dutch Ovens a staple item on anyone's table or stovetop. Dutch ovens can be used on gas, electric, ceramic, and induction cooktops. Cast iron cookware distributes and retains heat evenly. Cast Iron has been used for centuries to slow-cook things like soups, stews, sauces, bread, and more. On top of that, you can broil, bake, or roast in the oven up to 500°F. Use wooden, silicon, or nylon utensils for the best care as metal can scratch.
The advantage of the double dutch oven:
Multifunctional Lid for Use, the lid with a unique ribbed design converts a grill pan easily, which provides a ribbed bottom for healthy cooking as a skillet. With a loop handle, grips easily and conveniently.

Condensation rings on the underside of the heavy lid continuously circulate vapor back into the food in order to lock in steam and flavor. Sarchi enameled cast iron, colorful and beautiful cookware for every kitchen.
Cast iron has great heat retaining abilities and can handle heat up to 500˚F; ideal for simmering, stewing, grilling, frying, braising, pickling, and chilled storage of food. Cast iron construction offers superior heat retention and continuous simmering away from fire, making it perfect for serving from oven to table. Energy and time-saving design improve the taste of food.

Compatible with gas, electric, oven, stove, and open-fire cooktops. Cast iron exterior offers the benefits of even heat conductivity and distribution; the bottom may be darkened if it is used over an open fire.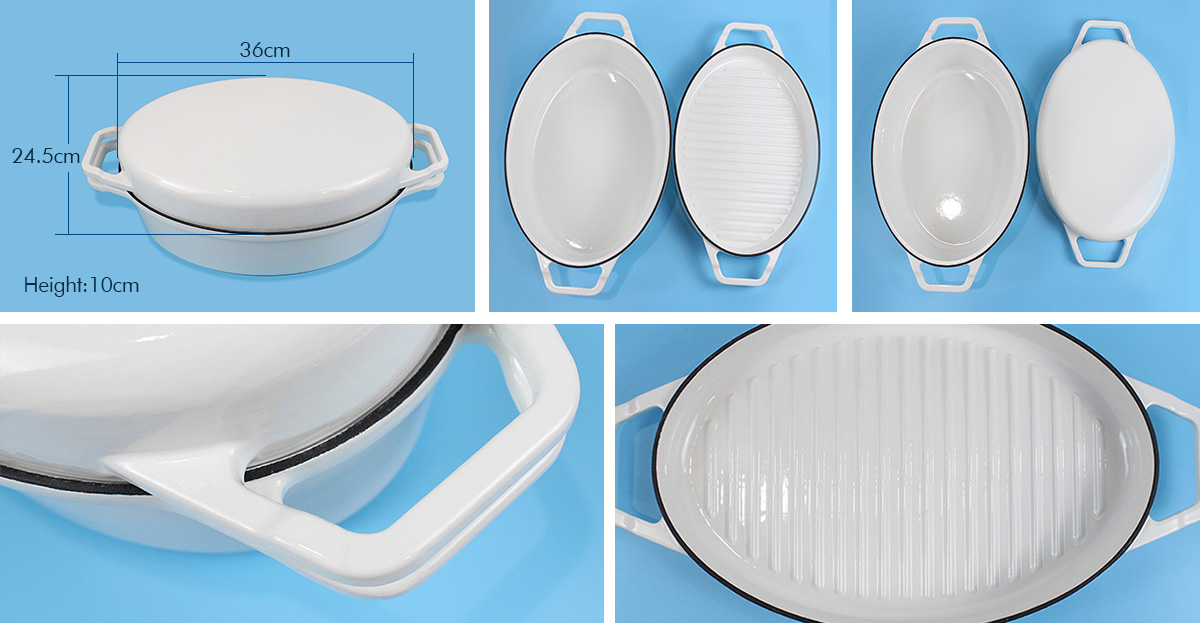 From prep to presentation, this attractive enameled cast iron pot goes with ease, featuring generously sized lid handles for a secure, confident grip.
This 2 in 1 enameled cast iron Oval double dutch oven Includes a snug-fitting cast iron lid cover for high temp retention. The self-basting ridge-lined lid directs heat & vapor onto food. Designed to catch steam as it rises in the pot & condense the steam back into water inside the lid.
Two Big loop handles make the grip feel more comfortable, it is durable and easy to operate. We can also provide you with silicone hot handle holders.
Unique 2-in-1 Design, use this braiser Dutch oven pot with a lid to braise, simmer, sear, roast, bake & more.
About Accessories:
Accessories can also be added, including silicone hot handle holders, proximity gloves, etc. If you have special needs, please let us know and we will do our best to realize it for you. In addition to the following accessories, we can also provide matching glass covers, as long as you have requirements.