When you think of a Dutch oven, you usually think of cast iron. For centuries, it has been the metal of choice for Dutch ovens. Today, Dutch ovens are used in home kitchens, so there are many different types of Dutch ovens available. However, not all of these Dutch oven materials are suitable for camping! For example, enameled Dutch ovens (which look very ornate) are not actually suitable for camping because the enamel can be damaged by very high temperatures (such as those you would find on an open fire).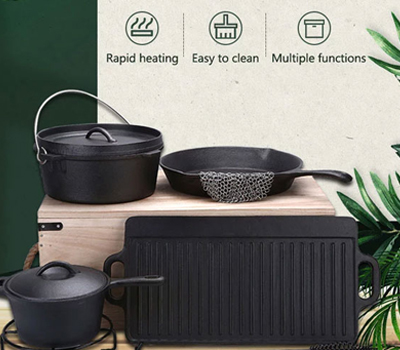 Sarchi Cast Iron Cookware Set In Wooden Box
Cast Iron Dutch Ovens
As mentioned earlier, this is the de facto material used for camping Dutch ovens, and for good reason. Cast iron cookware is known for its durability and heat retention.
Cast iron is incredibly resilient and durable. It is not uncommon for cast iron cookware to be passed down for years or even generations. It can withstand high temperatures (although you must be careful of rapid changes in temperature or uneven heating, which can lead to cracking) and, if properly seasoned, can have a highly functional non-stick surface for years.
Keeping warm is an important feature of a Dutch oven because sometimes you need lower heat. Instead of finding a very tall tripod or swing to suspend your Dutch oven over the fire, with a cast-iron Dutch oven, you can remove the oven from the fire and still cook or heat food for a long time!
Cast iron has an amazing, sometimes fussy, a thing called seasoning. Seasoning is essentially polymerized oil that is cooked and embedded in the pores of the cast iron to create a non-stick surface. If you have an experienced pan, cast iron is usually pretty forgiving of what you do to it, but re-seasoning a pan can take some time and effort.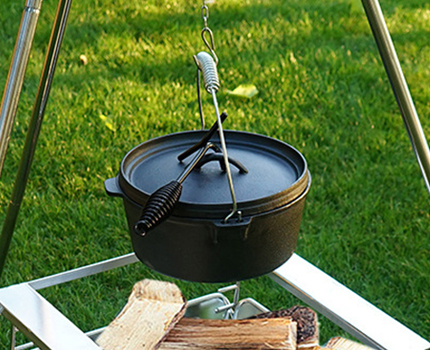 Camping Cast Iron Flat Bottom Dutch Oven
There's something special about mealtime while camping - the food always tastes better! There are several ways to cook at a campground, but one of the best ways is to cook in a Dutch oven. And a Dutch oven for camping makes it easy.
One of the easiest ways to ensure successful Dutch oven cooking is to obtain a quality Dutch oven for camping.
There are several Dutch ovens to choose from, but a few things use the Dutch oven for camping and another for home use.
Cast Iron Dutch Ovens
In my opinion, a cast-iron Dutch oven is the best Dutch oven for camping. It will last for years if properly maintained. It is a good heat conductor and will hold heat for a long time.
Many people have enameled cast iron for home ovens and like the non-stick surface and nice color. But enameled cast iron is not the best choice for camping - it is more likely to chip and cannot withstand the heat as well as regular cast iron. Enameled cast iron usually doesn't have the next important feature.

Camping Cast Iron Dutch Oven With Three Legs Lid
Dutch Oven Legs
A good camping Dutch oven has 3 legs on the bottom. This is perfect for cooking with hot coals.
Some people will choose a Dutch oven without legs if they are going to cook on a tripod over a fire - if you plan to cook this way, make sure the Dutch oven has been handled. But a Dutch oven with legs can also be used on a cooking tripod.
Deep Lids for Camping Dutch Ovens
Another option you want to look for in a good camping Dutch oven is a deep-framed lid. This allows you to place hot coals on the lid to ensure more even cooking. Some people use these lids for cooking as well.
All-round Dutch Oven - The integral legs on both pot and lid allow the oven to sit perfectly over the campfire; the lid can also be used as a skillet for frying.
Compared with pots of other materials, the Sarchi Dutch Oven is made of high-quality cast iron and will last a lifetime if cared for properly. It can be used both on the stove and in the oven at home, providing value for money.
Energy-saving - heat is evenly distributed and held, making it great for deep frying, searing, and baking. It also has the advantages of great heat insulation and a good seal, so even a novice camper can do a delicious roasted chicken with this pot.

Cast Iron Camp Cookware Accessories
Cast iron camp cookware accessories can also be added, including a lid lifter, tripod, dutch oven bags, silicone hot handle holder, etc. If you have special needs, please let us know and we will do our best to realize it for you. And we can also add your logo on the product or on the accessories as long as you have requirements. as long as you have requirements.
Customized service - The cast iron camping dutch oven is one of Sarchi's most popular products, and it is also a very popular dutch oven on the market. We can provide you with customized services, if you want to make the surface an enamel coating, or other colors and the accessories, even your logo on the products, you can contact us at any time.