Seafood boiling is characterized by cooking a variety of seafood together. When cooking seafood, people usually use a large pot or cauldron; and mix the seafood with a variety of spices and seasonings. The tradition of seafood boiling originated in the southern part of the United States and remains an essential social feature there today.
If you are looking for the perfect meal to bring the family together and have always wanted to learn how to cook seafood, read on to find out more.
How to cook seafood?
One warning about boiling seafood is that the preparation process can be messy, so be sure to be prepared. There are many different ways to cook seafood and you can use many ingredients.
Boiling seafood depends entirely on the time. If you boil it for too long, you risk overcooking the ingredients and ruining the flavour. On the other hand, undercooking can also affect the flavour, so make sure you cook the protein to 145 degrees so that your lobsters and prawns are bright white and pink and no longer translucent or grey.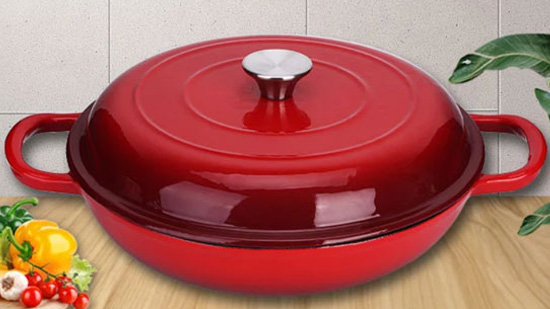 Cast Iron Enamel Shallow Casserole
Best overall cast-iron pot
The cast iron enamel shallow casserole is one of Sarchi's most popular products, and it is also a very popular product in the market. The unparalleled colour and shape make him a handicraft, very ornamental. At the table, people enjoy the food while also admiring the beauty. The cast iron enamel shallow pan has a flat bottom to ensure the largest contact surface between the food and the heat source, suitable for paella or steamed fish. Ergonomic knobs and handles are designed for easy lifting.
● Multipurpose casserole crock: A shallow casserole pan is a classic tool for every kitchen. The enamel cast iron shallow casserole can do a variety of jobs and is easy to use once seasoned. the cast iron shallow casserole is great for many things, including stews, braises, and sauces.
● Even heat distribution non-stick: This cast iron shallow casserole with a lid distributes heat evenly for long periods of time. These crock pots with lids will keep your food warm for hours, even long after you're done cooking. In addition, this cast iron shallow casserole prevents food from sticking to the cookware, making it perfect for cooking meats, pasta and vegetables.
●Scratch and stain resistant: Enamel-coated cast iron cookware prevents bare iron from reacting with acids in tomato, vinegar and wine-based sauces, which can leach large amounts of dietary iron into them. The heavy-duty enamel coating on this cast iron casserole pan is smooth and will not scratch the microcrystalline glass surface.
●Available in different vibrant colors: This cast iron casserole crock comes in a variety of gorgeous colors (navy blue, burgundy, gradient red, gray, lemon green, pre-seasoned black, pumpkin spice and silver) and styles to fit any kitchen. If you prefer color, then you can use Braiser enameled cast iron for both beauty and practicality.

Color of Cast Iron Enamel Shallow Casserole
How to keep enamelled cast iron clean?
1. Use enamelled cast iron on any hob top or oven.
Sarchi enamel-coated cast iron cookware is a must-have kitchen item for any serious home cook. The cast iron casserole crock is oven and heat-safe at temperatures up to 500°F (200°C). The 3.9-quart casserole dish with lid features a 12-inch-wide diameter size for larger meals and includes cool-touch handle stainless steel lid knobs.
2. Always lift your enameled cast iron cookware.
To avoid scratching ceramic or glass hobs, do not slide the enameled cast iron, and always lift it.
3. Use oil or cooking spray.
For a better cooking experience and easier cleaning, use oil or cooking spray.
4. Use low to medium heat.
For best results, add water or oil to the heat and start with a low heat. Do not preheat an empty piece of enameled cast iron on the hob: it will cause cracked enamel and damage to the cookware!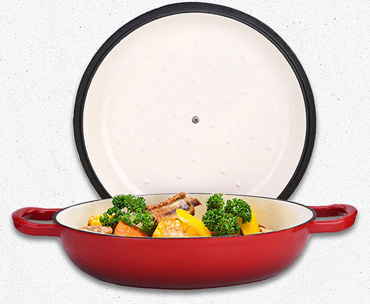 Cast Iron Enamel Shallow Casserole
How to clean enamelled cast iron?

1. Allow the cookware to cool.
2. Although enameled cast iron is dishwasher safe, it is recommended that it is hand washed in warm soapy water with a nylon brush to preserve the original appearance of the cookware. Citrus juices and citrus-based cleaners (including some dishwasher cleaners) should not be used as they will dull the exterior shine. It is harmless and will not affect cooking performance, however, the use of these products is not covered by our warranty.
3. Use a nylon pad or scraper to remove food residue if necessary; metal pads or utensils can scratch or flake the porcelain.
4. Always dry the cookware thoroughly and replace the pan protector between the rim and lid before storing it in a cool, dry place. Do not stack cookware.
Please note: Enamelled cookware may show a small amount of staining, but this will not affect performance.