Are your pots still plain and single-colored?
In recent years, with the improvement of people's living standards, people have begun to pay attention to the aesthetics of life. Compared with the traditional ones of black, white and gray, colored casseroles can improve the style of the kitchen, and are very popular among people. All kinds of cooking and stir-frying pots with cute colors and trendy shapes must give up plain colors and single colors. It is best to choose red, green, blue, yellow, and other colors for cooking. They are not only easy to use, also their beautiful shape is full of taste, and they can be directly used as tableware to hold food, cook and serve, all in one pot. Accompanied by colorful pots and utensils, the kitchen and dining room are full of joy and an artistic atmosphere.
As a professional cast iron pan manufacturer and factory from China, Sarchi cookware has rich experience in the supply of cast iron pans, is committed to creating high-quality and durable cookware, and has been working hard. More than a dozen DISA automatic production equipment and dozens of enamel and vegetable oil spraying equipment enable us to easily supply various styles and colors of vegetable oil and enamel cast iron products.
Here are some popular color pots and our new colors in the market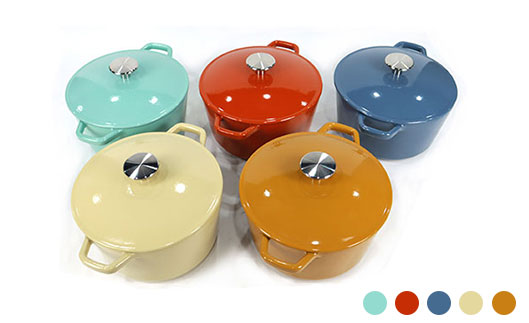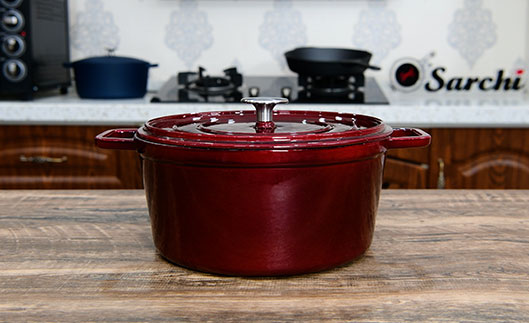 High-end mirror enamel casseroles
Other popular colors of cookware
Of course, besides the beautiful color, you have other reasons to choose our cast iron pan
1. A good-looking pot is not only a cooking utensil, also excellent tableware, and its beautiful shape is full of taste. It can be directly used as tableware to hold food, making the kitchen and restaurant full of an artistic atmosphere.
2. Sarchi cooking utensils range from frying pans, and soup pots to outdoor dutch ovens, with various styles and sizes, which can meet your different needs.
3. The cast iron pan has a thick body and good heat preservation. The water vapor is not easy to lose during the cooking process. Good sealing can guide the original deliciousness and nutrition of the ingredients.
4. We have a professional design department, and our designers can provide customized mold design and packaging designs according to customer requirements. At the same time, we will also provide customized LOGO designs and customized colors.
If you need custom colors or other services, please send us your color samples or Pantone color codes, or directly contact us.