Cast iron pans are cast in sand molds, and every manufacturer uses sand molds, both in the 1800s and in modern times. The sand mold creates bumps. In other words, cast iron will always release unevenly from sand impressions. That's why cast iron pans don't look so flat these days.
Drawing inspiration from the classic old, paying homage to the best features of vintage cast iron cookware, and seeking to recreate the former glory of vintage cast iron in the modern age, Sarchi cookware combines machined cooking surfaces with timeless design to create a unique new product — Machined cast iron cookware that will amaze you both in appearance and performance. The products are a wooden single-handle frying pan, a double-handle serving pan with integrated handles, and a very practical oval Dutch oven.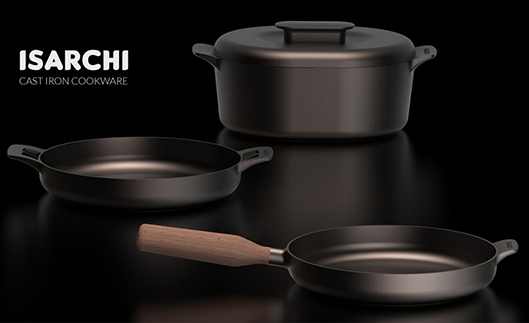 While retaining the advantages of traditional cast iron pans, it also incorporates the concept of modern industrialization to make the products solemn but not old-fashioned, elegant, and avant-garde. The modern industrial concept endows us with an unprecedented sensory and user experience on traditional cast iron pans. The inner wall and bottom of the single-handle and double-handle frying pans are automatically polished. The difference between this process and traditional manual polishing is that the polished area appears round. The ring-shaped thread has the luster and feel of stainless steel, which is not available in traditional cast iron frying pans. In short, the mechanically polished frying pan will bring people a very good sensory experience and user experience. When using it at a reasonable cooking temperature, It is rare for food to stick to the cookware, and it has the characteristics of a physical non-stick.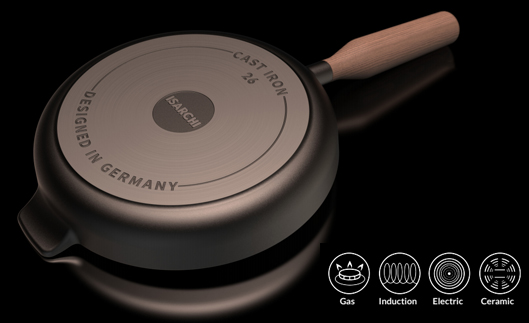 How to Care for Polished Cast Iron

Cast iron skillets or other cookware need to be seasoned to provide a durable and rust-resistant maintainable surface. To do this, a layer of cooking oil can be baked on the surface of the pan. Set the oven to low bake (about 350 degrees Fahrenheit), then coat a pan with cooking oil and rub it into the surface with a paper towel. Place the pan in the oven until the surface is dry. Repeat this for at least three layers.
How to Clean Polished Cast Iron
Do not use soap or detergent when cleaning any type of cast iron, as it will destroy the protective coating and cause the metal to rust. Wipe the surface clean with hot water and paper towels. If your pan is particularly dirty, you can use a few teaspoons of salt as a stain remover to remove hard spots from baked goods. If scrubbing the pan, re-coat the area with cooking oil and dry it on low heat on the burner before storing.
So should the choice of cast iron be smooth or somewhat rough on the surface?

This is a good question and one that many people debate. Advocates of smooth say it's far more nonstick than rough cast iron. Those who like texture will tell you that chunky ones are better for seasoning.
However, smooth cast iron skillets make cleanup easy Get all the benefits of cooking with cast iron plus one big advantage - a smooth surface!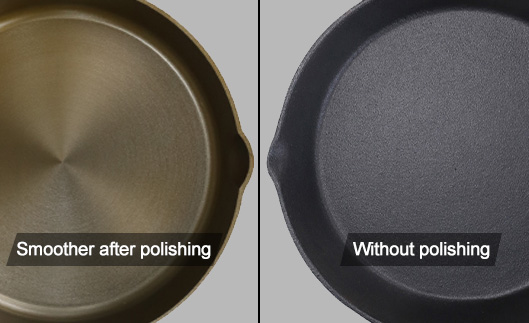 But whether it's a smooth cast iron skillet or one with a rough finish, Sarchi can customize your cast iron skillet to your liking. As a cast iron cookware manufacturer, Sarchi Cookware is the cast iron pan manufacturer you can trust. We can customize the size for you. Similarly, we can also customize your logo for you and guarantee the best quality.
Sarchi cookware has always focused on people's real feelings about the use of cookware in daily life. From the feedback on useful information, valuable details that need to be improved are extracted for product upgrade and optimization. Professional experiments and evaluations, all indicators meet the conditions for mass production, and product quality, It is our long-term creed that the appearance meets the customer's expectations and even brings greater surprises to the customer.
We got into cast iron cookware design and development, working meticulously to make our pots and pans even better. Our cookware incorporates the essentials of soulful cooking for optimal cooking experience and performance wherever you go.
For more information on sanding cast iron pans, please contact us at sales@sarchicookware.com. We'd love to help you!