This quick and easy cast iron skillet pizza is a great way to change up your usual Friday night pizza routine! This deep-dish pizza has a thick crust that's crispy on the outside and chewy on the inside - it's so good you can keep the toppings simple with cheese or pepperoni! Make the perfect pizza every time using store-bought or homemade pizza dough!
Find out why we love using cast iron pizza pans in the oven or on the grill.
Benefits of a cast iron pizza pan
Aside from the iron content, there are many benefits to cooking pizzas in a cast iron pan. It is always better than a traditional pizza stone. Silicon, non-stick pans, or any other material can't compete with cast iron. It's like not needing any additional equipment other than heat-resistant gloves to protect your hands. The pizza will be as crispy as a pizza stone and it is easier to hold thanks to the handles.

Traditional pizza stones do not have handles and putting the pizza in and taking it out of the oven can be tricky. You need to be careful and use extra equipment when transferring pizzas to and from the stone and pans made of silicone, non-stick or other materials will not crisp up the pizza.
The walls of the pan helps to keep the dough and all the toppings in place and prevent the cheese and juices from spilling out onto the bottom of the oven. This prevents the cheese and other toppings from burning and causing smoke at the bottom of the oven.
1. Heat.
Pre-heating the pizza pan is the key to getting the delicious, crispy crust your local pizzeria is known for. Cast iron provides excellent heat retention even when cooking, and it heats up fast! The cast iron pizza pan will stay hot as you transfer the dough to the pan to prepare the pizza.
2. Sturdy and durable
Cast iron pans are virtually indestructible and, if properly cared for, they can be passed down from generation to generation. Unlike a pizza stone, a cast iron pan can handle all types of cooking temperatures. It can even withstand the highest temperatures in the oven. The non-stick performance improves with every use. Cast iron cookware can be used at any temperature and will not crack in the event of a sudden change in temperature. You can put any frozen food into a very hot cast iron pan without worrying about it, whereas pizza cannot withstand sudden temperature changes.
3. Simple and even preheating
Initially, it takes some time for the cast iron pan to distribute heat evenly, but once it reaches the desired temperature, it stays hot until you don't remove it from the flame. It needs time to cool down. It will not break with sudden temperature changes. Ideal for baking in a hot preheated oven. Place the pizza in a thoroughly preheated cast iron skillet to ensure that it is cooked evenly and is easily removed from the pan. It also takes longer to cook a pizza on a stone than in a cast iron pan. The iron pan shortens the cooking process compared to cooking on a pizza stone.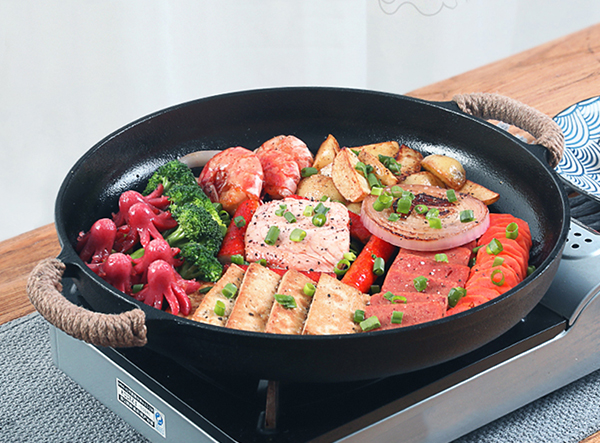 4. Manoeuvrability.
After preheating the cast iron pizza pan, you will need to transfer the pizzas to the hot pan. Some people take the pan completely out of the oven to prepare the pizza, while others transfer the dough via a pizza peel or cutting board. Either way, when you're handling hot pans you need them to be easy to get in and out of the oven. That's why the Sarchi Pizza Pan's double handles are so important. The handles also make it easy to bring the pizza to the table, remove it directly from the pan and keep it warm while you eat it.
5. Clean-up.
Because the pizza slides right off the cast iron pan, clean-up is a breeze. Simply wash the pan by hand, dry it with a lint-free cloth or paper towel and then apply a thin layer of cooking oil to the surface of the pan.
What's the best pizza pan to buy?
Meet the Sarchi 14" Cast Iron Baking Pan.
This 14 inches pure cast iron pizza pan can be put to more use than just pizza. Anything a griddle, skillet, or pizza stone can do, this cast iron pan can do better; burgers, tortillas, dosa, crepes, roti, pancakes, eggs, or giving a steak a good sear—this pan covers it all.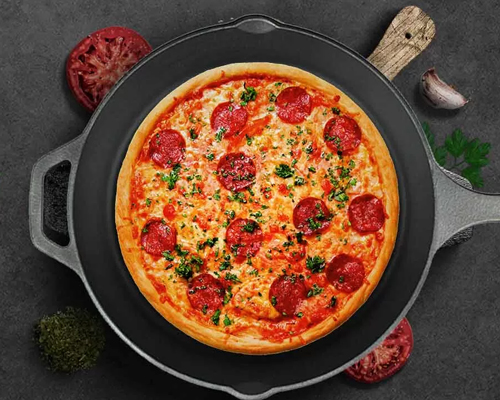 As for heating methods, take your pick: our pan is compatible with stovetops (electric, induction, or gas), the oven, and even campfires for the outdoor savvy. It will retain heat consistently with any of these!
Sarchi 14-inch cast iron pizza pan features a non-stick coated layer surface that ensures quick, effortless food release and eliminates the need for butter, oil, or cooking spray. Makes tasty homemade pizzas slide out easily.
The cast iron skillet baking pan is 35*35*2.8cm(L*W*H), which features a wide diameter size for large meals.
The cast iron baking pan is wide enough to accommodate the largest pie creations, with handles on either side for easy pulling in and out of the oven (unlike the classic pizza stone). It has been pre-seasoned with vegetable oil so it can be used on arrival and the cast iron will only build on its seasoning properties as you use it. It is cleaner than a stone as the sticky ingredients and olive oil never seep in and are easily scrubbed off with steel chain mail or salt and a brush.
To buy: Sarchi 14" Cast Iron Baking Pan