3 Section Cast Iron Divided Egg Fried pan

Material

Cast Iron

Size

21cm and other sizes can be customized

Finished

Vegetation Oil

Color

Black

Parts

Chainmail scrubber, Silicone handle holder, and Scrapper can be available

Logo

OEM, customized logo
The Advantage Of 3 Section Cast Iron Divided Egg Fried pan
For omelets, patties, etc, there are three holes that can be made at the same time.
1. Wooden handle, more comfortable to use.
2. Made of high-quality cast iron, strong and durable.
3. Use for Frying eggs, Pancakes, Crepes, Blinis & Blintzes and etc.
4. Heavy Duty Pan Works on Gas, Halogen, Ceramic & Induction Cooktops.
5. Iron cast pot is also conducive to adding the Iron element to the human body.

A variety of styles are available for you to choose from, welcome to contact us for more details.
3 Section Cast Iron Divided Egg Fried Pan Description
Cook 3 foods at once, rather than having to clean the pan every time you grill one. The egg frying pan features 3 compartments to make cooking quick and easy. 2 egg frying holes and 1 larger square chamber, can be used for frying eggs, pancakes, steaks, etc.
The fried egg pan is made of high-quality cast iron, which can provide exceptional heat retention and distribution than traditional cast iron pans. Meanwhile, the handle is made of wood, which has good properties of heat insulation and protects you from being burnt.
The fried egg pan can be used to make omelets, muffins, burger bacon, etc. Omelets, pancakes, burgers, steaks, vegetables, and other ingredients can be combined with breakfast. The compartments are separate enough to prevent the foods from mixing, which helps you save time and energy to cook breakfast and elaborate lunch in just one pan for you and your family.

Tips: How to protect cast iron from rust?
Storage:
Store cleaned and seasoned pans in a dry place. If stacking pans that will nest together, place a layer of paper towel between each. Don't store cast iron pans with their lids in place unless you put something between the lid and pan to allow air circulation.
During Use:
Heat a pan on a burner slowly, first on low, then increasing to higher settings. Avoid using metal utensils with sharp edges or corners. Avoid cooking acidic foods that may compromise your seasoning. Allow a pan to cool on its own to room temperature before cleaning.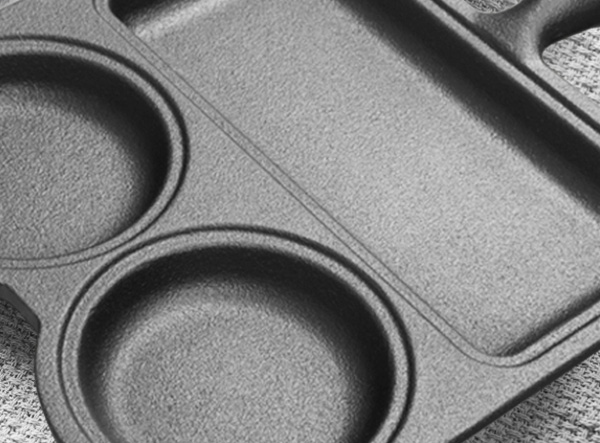 Thickened Pot Wall
This pre-seasoned cast iron divided pan is made of heavy-duty cast iron, with Thickened side walls and a wider cooking surface.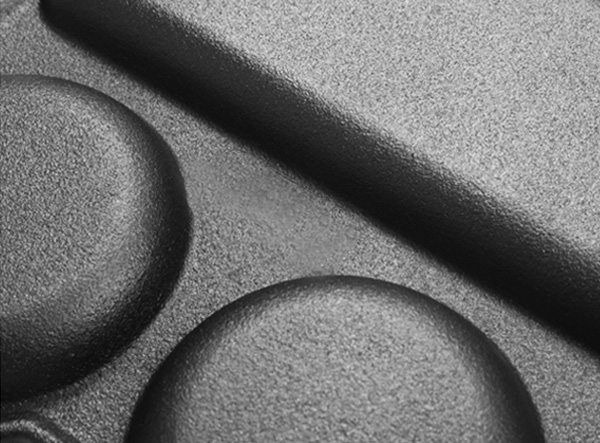 Flat Bottom
Our egg frying pans are flat-bottomed, this frying pan can be used in a very wide variety of settings, grilling or grilling anything indoors or outdoors, as well as gas, induction, and electric cooktops.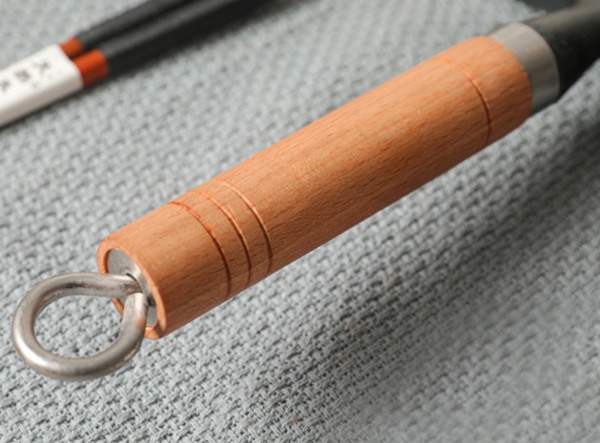 Wooden Handle
The handle is made of wood, which has good properties of heat insulation and protects you from being burnt.