A double-sided Dutch oven is a versatile piece of cast iron cookware with a base similar to a traditional Dutch oven and a domed lid that is usually flatter and deeper than the original lid. The lid and pot have a handle on each side, which is designed to allow the lid to be flipped over and cooked like a frying pan. Allows you to prepare multiple dishes simultaneously in different settings, increasing flexibility and capacity.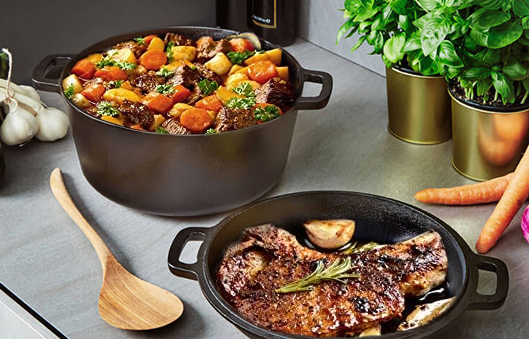 Double-sided Dutch ovens are made of cast iron, so they can get searing hot and retain heat well, which means they're perfect for slow-cooking or roasting a variety of foods, including meats and vegetables. Of course, it's also great for toasting, heat retention and a tight lid are key to crispy country bread. The steam left in the pot when the lid is on gives you the best crust.
The lid can be used as a frying pan on its own for frying steaks, fish, eggs, or pancakes, or you can even use it as a sizzling griddle. Great options for cooking indoors or camping outdoors. It truly realizes multiple uses in one pot, saving time and space.
Double Dutch ovens include all the features of a regular Dutch oven, providing cooking flexibility while saving cooking time. The difference between a double Dutch oven and a regular Dutch oven is that the lid of a Dutch oven is deeper than a regular oven, allowing you to flip the lid over and use it as a skillet. Its handle is in the same position as the oven. Therefore, you can use the heat of the oven to prepare food on the lid. Alternatively, you can use the lid alone as a frying pan over whatever heat source the Dutch oven itself uses. The lid of a Dutch oven is not that deep as it is not used for cooking, just to seal the Dutch oven and retain the heat and flavor.
Double Dutch Oven Features
Premium materials for superior performance
Sarchi Dutch Ovens are made from high-quality cast iron for superior heat retention, effectively storing and transferring heat for fast, even cooking.
Multifunction
A double Dutch oven is a versatile cooker often used for slow-cooking meals or roasting a variety of foods. It can be used as a traditional Dutch oven with a lid that doubles as a frying pan. You can use the oven and lid together or separately.
Suitable for various stoves
The Dutch oven works on most stovetops and heat sources and distributes heat evenly throughout the cast iron Dutch oven. Use the Dutch oven and its convenient cast iron lid on any stovetop, oven, or even a campfire. It is heat resistant up to 500°F (260°C)
Optional coatings
Available in a choice of enamel or vegetable oil coatings, Sarchi's Double Dutch Oven is chemical-free, protecting your health and ensuring quick and easy food release. Easy to clean and maintain.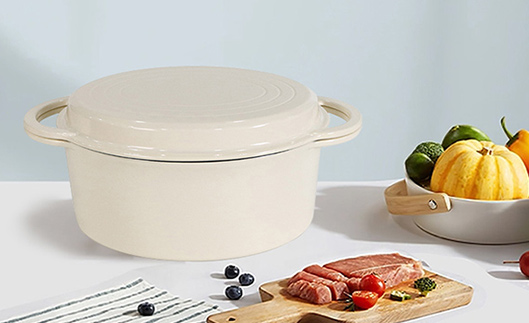 The Best Sarchi Double Dutch Oven
The Sarchi's Multi-Enameled Cast Iron 2-in-1 Dutch Oven with Frying Pan Lid is every cook's dream. Its lid easily converts into a frying pan and dome lid, providing space for baking, no-knead bread recipes, soups, and stews. Available in round and oval shapes. At the same time, we can provide you with customized services, in different styles, sizes, colors, or logos. If you would like to learn more about the best double-sided enameled Dutch ovens or get exclusive customization, please contact us.