Small Cast Iron Frying Pan

Material

Cast Iron

Size

16*16*1.5cm, Other sizes can be customized

Finished

Vegetation Oil

Color

Black

Parts

Chainmail scrubber, Silicone handle holder, and Scrapper can be available

Logo

Available
Mini Cast Iron Frying Pan Description:
The mini-size skillet works well for smaller batches or for specific techniques like toasting, melting, and more. It can also double as a spoon rest.
A good seasoning makes all the difference and provides a natural, easy-release finish that continues to improve with use. These frying pans are nonstick over the same.
The right tool to sear, sauté, bake, broil, braise, fry, or grill. Use at home in the oven, on the stove, on the grill, or over a campfire. You can use it to prepare popular food dishes such as bacon, egg omelet, pancakes, turkey & chicken pieces, steak, bread, and casseroles.

Small Cast Iron Frying Pan
The cast iron frying pan has greater retention and distribution of heat. Even heat distribution for improved cooking and frying, even on grills, stoves, or induction cooktops. Mini skillet is seasoned with 100% vegetable oil, no synthetic coatings or chemicals for a natural, Trace amounts of iron are naturally released when cooking with seasoned cast iron skillet, boosting the mineral in your diet. Cast iron cookware is reliable, long-lasting, non-toxic, nonstick, and full of character.

The Accessories Of Small Cast Iron Frying Pan
Accessories can also be added, including silicone grips, pot brushes, scrapers, etc. If you have special needs, please let us know and we will do our best to realize it for you. In addition to the following accessories, we can also provide matching glass covers, as long as you have requirements

The Package Of Small Cast Iron Frying Pan


Regarding the packaging, this can be customized according to your needs. If you are selling online on Amazon or elsewhere, we can provide mail-order packaging to ensure that it can pass the box drop test. For the content of the box drop test, you can click Learn here. If you are selling in offline stores, we can also provide other packaging methods, such as display boxes.


The Product Certificate
Our products can pass FDA, CA65, EU, LFGB, and other tests. If you want to view our other test certificates, please click here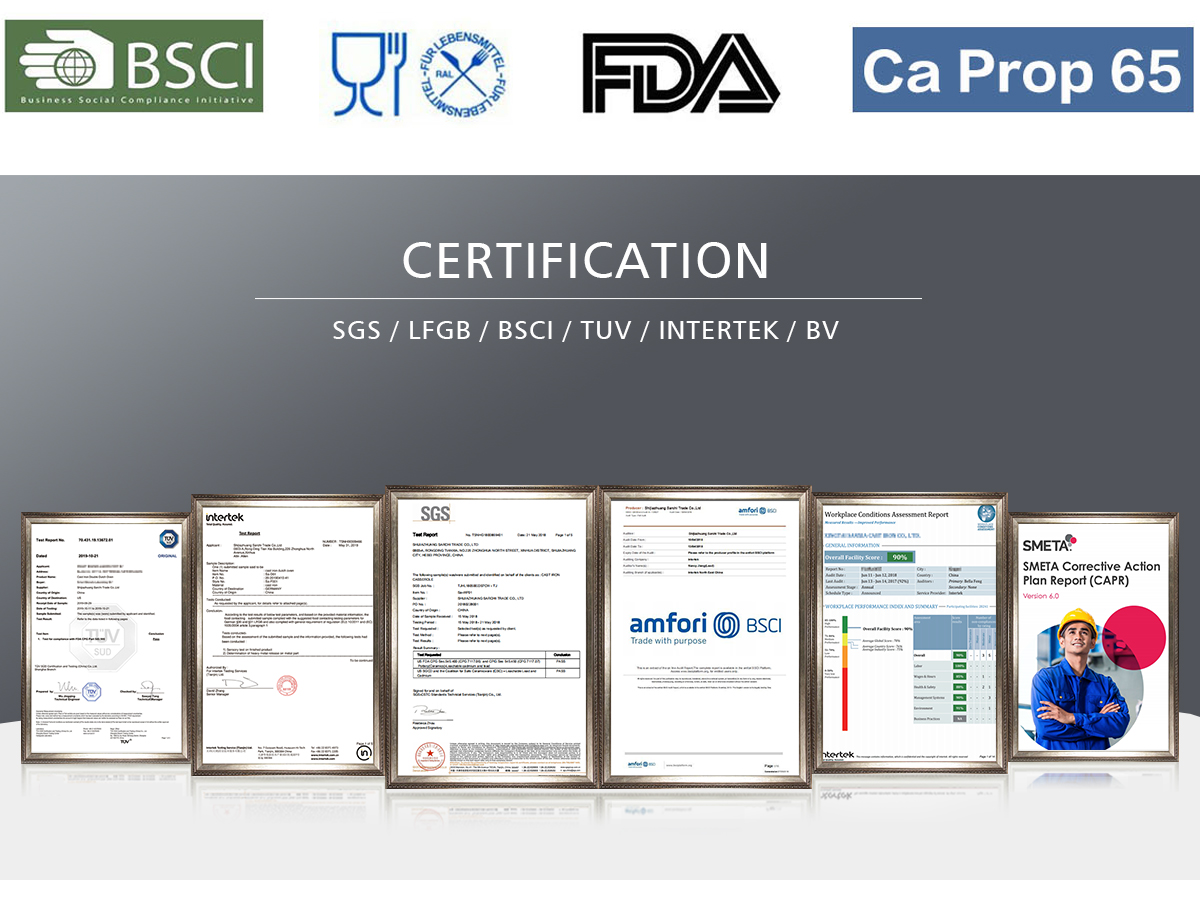 About Factory Strength
Regarding the production process, we will also strictly control and each process will be supervised by our quality inspectors),if you want to know more about the product process, please click the link.
If you are interested in this product, please do not hesitate to contact our professional sales staff, they will provide you with satisfactory service.
As a cast iron cookware manufacturer and supplier, we have advanced production technology and strict quality control, and we provide customized services. If you are looking for a supplier that can provide cast iron cookware in large quantities, we are your reliable Local partners, welcome to contact us!