Bread pans are versatile, not only for quick bread and fermented bread but also for babkas, pound cakes, coffee cakes, and frozen ice cream. For cooks who spend more time creating delicious recipes, sturdy bread pans are the perfect vessel for making meatloaf, baking bread, or even casseroles for the more adventurous cook. Bread pans are made from a variety of baking materials, including metal, cast iron, glass, ceramic, and silicone. Let's take a look at what to consider when buying a bread pan.
What Should I Look For In A Loaf Pan?
Material
1. Metal pans
Metal pans, usually aluminum-plated or anodized steel, are the obvious choice for bread pans due to their excellent conductivity and heat retention. You can find them with or without a non-stick coating, and if possible, we recommend the former. If you have ever faced the daunting task of removing banana bread from a pan, you know that things can deteriorate quickly if your bread sticks to the pan. However, even with an unfinished metal pan, you can still prevent this fate by properly lubricating it to make it non-stick.
2. Cast Iron Loaf Pans
If you like crusty bread, cast iron pans are for you. They heat very evenly and form a golden brown crust with crisp edges. Remember with cast iron bread pans, you need to season it regularly to maintain an easy-to-release surface and prevent rusting. Plus, they're really heavy.
3. Glass Loaf Pans
Glass loaf pans are great if you want to be able to see how the sides and bottom of the bread are formed. However, glass does not have the conductivity of metal pans, which means you may need to adjust the baking time. Baked goods also tend to stick to the glass if they are not properly lubricated. But the good news with glass is that you can always throw it in the dishwasher without worrying that its long-term durability will suffer in any way.
4. Ceramic Bread Pan
Ceramic bread pans have a rustic appeal, and they hold heat extremely well. Like glass pans, they can take a while to heat up. They come in a variety of colors and patterns and usually have a cheerful atmosphere, which is always a plus.
Like glass pots and pans, they are dishwasher safe. Most are also safe in the microwave, but you should check first (some older pans or handmade pans may not be).
5. Silicone Bread Pans
Silicone pans are oven, microwave, and freezer safe. You can put the silicone in the top rack of the dishwasher. It's colorful and pretty. But it does have drawbacks. Because silicone doesn't conduct heat well, baked goods won't turn brown.
Silicone baking pans are also flimsy, which can mean it's hard to handle a full pan. Place it on the baking sheet before filling it with batter or dough. Baking pans are also easier to get in and out of the oven. Its flimsy nature also makes silicone difficult to clean and store; it does not stack easily.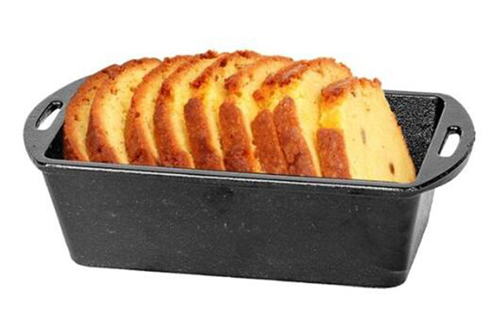 Cast Iron Baking Bread Pot
Unlike things baked in metal, glass, or ceramic pans, bread baked in silicone should be cooled in the pans and then unmolded. Muffins and cupcakes are smaller and can be unmolded in about five minutes. But with larger bread or cakes, some starch conversion still occurs when the hot pan sits, and this has a lot to do with the structural integrity of the bread. Basically, if you want your bread to keep its shape, let it cool in the silicone pan.
Over time, the silicone will form a greasy film. This is completely normal and nothing to worry about, but if it bothers you, you can soak the pan in hot water with plenty of strong detergents. Then scrub well.
Corners
While rounded corners are easier to release bread from, some people prefer the professional look of sharp corners. Metal pans often have sharper corners, while glass, ceramic, and cast iron tend to be more rounded. Ultimately, it all comes down to personal preference.
Size
All loaf pans are the same size, right? Not exactly. There are two standard loaf pan sizes: 9" x 5" and 8.5" x 4.5". That doesn't sound like a big difference, but according to King Arthur, it means a 15% difference in capacity. You are more likely to get a higher dome-shaped rise from the smaller pan size. But as a general rule of thumb, a fully loaded pan is about ⅔ of the way full of batter.
Versatility
Some bread pans can be frozen, and some even come with lids. This may come in handy if you like to batch bake and freeze your bread for later enjoyment.
Now that you've eaten your "bread", take a look at our selection of the best loaf pans.
This cast iron bread baker by Sarchi is the ovenware you've been looking for! The superior design creates kitchen convenience and performance benefits that make baking easy and fun again.
Our premium cast iron baking pan can be used over any heating source effortlessly. As it evenly distributes heat, you can use it on a stove, or oven, and the large capacity can cook a variety of delicious dishes.
The pre-seasoned cast iron multi-cooker set is convenient and is here to help you eat healthier and cook your food more efficiently than ever. Rectangular bread loaf pan, perfect size, and depth for even baking and delicious results; best loaf pan for bread, meatloaf, pound cake, and thousands of recipes.
Enjoy bread, meatloaf, pound cake, fruit cake, and more.
Contact us for the best bread baking pans.