Matte black cast iron enameled dutch oven


Material

Enameled Cast Iron

Certification

CE/EU, FDA, LFGB, ISO

Size

21*21*10cm, 26*26*12cm

Volume

2.6QT, 5.2QT

Finished

Matte black enameled

Color

Black, yellow, dark green, or customized

Logo

OEM Are Acceptable Customized Design, Private Logo
Features of Black Enameled Cast Iron Dutch Oven
● Multipurpose dutch oven: The enameled cast iron dutch oven is a classic tool for every kitchen. The enamel cast iron casserole can do a variety of jobs and is easy to use once seasoned. the cast iron shallow casserole is great for many things, including stews, braises, and sauces.
● Even heat distribution non-stick: This cast iron shallow casserole with a lid distributes heat evenly for long periods of time. These crock pots with lids will keep your food warm for hours, even long after you're done cooking. In addition, this cast iron shallow casserole prevents food from sticking to the cookware, making it perfect for cooking meats, pasta, and vegetables.
● Ideal for high surface temperatures: enamel-coated cast iron cookware is a must-have kitchen item for any serious home cook. The cast iron casserole crock is oven and heat safe at temperatures up to 500°F (200°C). The 2.6-quart and 5.2-quart casserole dish with lid features a wide diameter size for larger meals and includes cool-touch handle stainless steel lid knobs.
● Scratch and stain resistant: Enamel-coated cast iron cookware prevents bare iron from reacting with acids in tomato, vinegar, and wine-based sauces, which can leach large amounts of dietary iron into them. The heavy-duty enamel coating on this cast iron casserole pan is smooth and will not scratch the microcrystalline glass surface.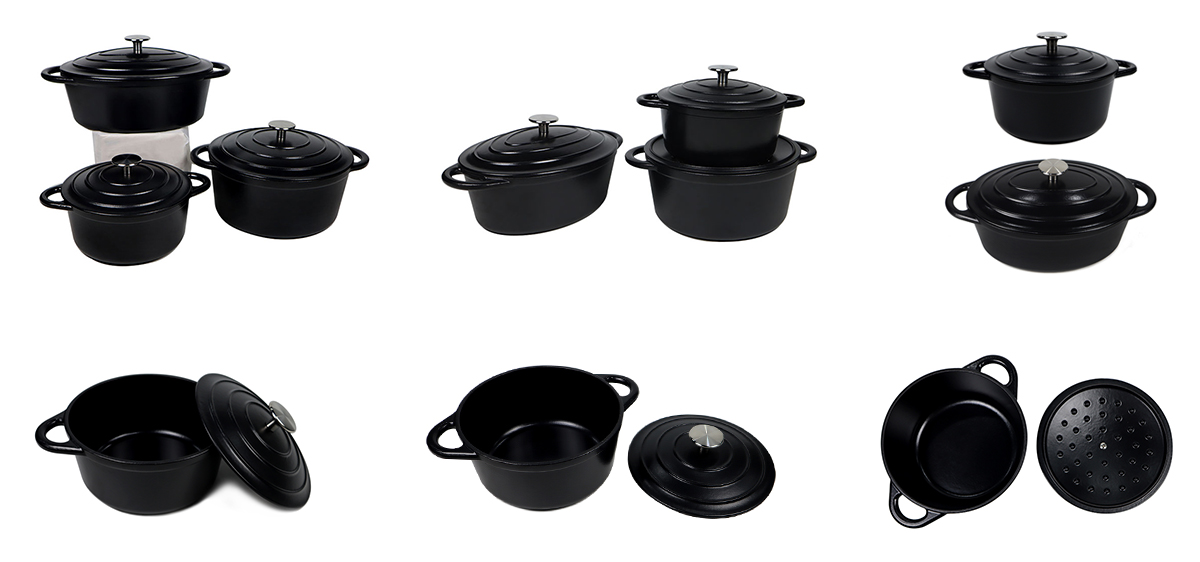 Details of Nonstick Cast Iron Enameled Dutch Oven
Made of durable cast iron with an easy-to-clean and naturally nonstick enamel finish, this classic matte enameled cast iron dutch oven is perfect for roasting, slow cooking, simmering, sautéing, baking, and more. Whether you're making everyday one-pot meals or special Sunday roasts, this kitchen essential serves up consistently delicious results. Condensation rings on the underside of the heavy lid continuously circulate vapor back into the food in order to lock in vapor and flavor. Cast iron construction offers superior heat retention and continuous simmering away from fire, making it perfect for serving from oven to table. Energy and time-saving design improve the taste of food.

Cast iron construction provides superior heat retention and even heat distribution.

Porcelain enamel exterior provides a strong, durable finish in rich colors complementing any kitchen décor; perfect for cooking, serving, and entertaining.

Porcelain enamel interior is ideal for cooking, its surface does not impart flavors or absorb odors.

Safe for induction, halogen, glass/ceramic, gas, and electric stovetops.

Innovative Self-circulating Lid, condensation rings on the underside of the lid act to circulate moisture, continuously redirecting moisture back into the food while cooking to lock in flavor and nutrition.

Heavyweight, tight-fitting lid with bumps ensures moisture retention, worry-free about steam leaking; Wide and comfortable handles for an easy and secure grip.

Oven-safe up to 260ºC/500ºF; Dishwasher safe. Hand washing with warm water and wood/silicone utensils is recommended. Do not clean with a stainless-steel wire ball or other tools that may leave scratches.
Customize Other Colors